WineSnark is a Finalist For Best Editorial/Opinion Writing Award Despite Boycott by Pluto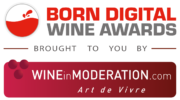 This year the international

Born Digital Wine Awards

received entries from Italy, China, Australia, India, UK, Brazil, Canada, Portugal, France, Germany, Finland, Switzerland, Spain, Greece, USA, Mars, Venus and Uranus. Pluto was disqualified when it lost its "planet" designation. It really didn't matter because their entry took light years to get here and was no longer topical.  Moët Hennessey sponsored the Best Editorial / Opinion Wine Writing category in which WineSnark was named a finalist when it attempted to answer the age-old question, "What's in a Burgundy?"
What's In A Burgundy?
Real Conversation Overheard in a Fine Wine Store:
CUSTOMER: Can you recommend a Chardonnay to go with pan-seared scallops?
ME: I highly recommend this Pouilly-Fuissé from Burgundy.
CUSTOMER: But I asked for Chardonnay.
ME: Yes, white Burgundy is made from Chardonnay.
CUSTOMER: White Burgundy? I thought you were a wine expert. Everybody knows Burgundy is red. Why do you think it's called Burgundy?
As the customer turned to leave it dawned on me that in many circles Burgundy is synonymous with world-class Chardonnay and Pinot Noir, and in other circles people are a stupid pain in the ass.
It's understandable that most Americans don't know what's inside a Burgundy bottle because so many things bear the Burgundy name. First there's the place Burgundy, then there's the wine Burgundy, of course there's the color Burgundy, and most famously there's anchorman Ron Burgundy.
The European practice of naming wine after the place it comes from – rather than the grapes it's made from – may confuse Americans but it makes perfect sense to Europeans who understand that centuries of trial and error have resulted in the perfect pairing of grape variety to the terroir of different wine growing regions.
To add to the confusion, many post-war American wine producers chose to name their wines after famous European wine regions, even if the grapes in their wine did not coincide with the grapes grown in that region. I'm here to
tell you that the 5-liter boxed Chablis at the big box store is not the same as the Chablis Grand Cru Les Clos at the small fine wine merchant.
While Chardonnay and Pinot Noir reign supreme in Burgundy, there are other grape varieties allowed in the appellation, including the black grape Gamay and the white grapes Aligoté, Sauvignon Blanc and Sauvignon Gris.
Gamay
Gamay was once grown throughout Burgundy but today it is predominantly found in Beaujolais, the vast southernmost region of Burgundy. Here the Gamay based wines go by the names Beaujolais, Beaujolais-Villages, or one of the ten cru villages named Saint-Amour, Juliénas, Chénas, Moulin-à-Vent, Fleurie, Chiroubles, Morgon, Régnié, Côte de Brouilly and Brouilly. In November I will write a more detailed, nouveau article about Beaujolais.
Gamay is also a component in the obscure Bourgogne Passetoutgrains AOC and a broad regional AOC that until recently bore the oxymoronic name of Bourgogne Grand Ordinaire (it was wisely changed to Coteaux Bourguignons in 2011).
Passetoutgrains
Passetoutgrains (rough translation; chuck it all in together) is a blend of Gamay and Pinot Noir that is co-fermented using a technique known as carbonic maceration. Up to 15% of the white varieties Chardonnay, Pinot Blanc and Pinot Gris are also allowed in Passetoutgrains but current regulations state the wine must contain at least 30% Pinot Noir and a minimum of 15% Gamay. In practice Passetoutgrains are usually made with 70% Gamay because of its cheaper price tag.
Carbonic Maceration results in a fruity, low-tannin wine that has a lot in common with me. It's made ready to drink and doesn't get any better with age.
Aligoté
Aligoté is differentiated from other white Burgundies by its own classification; Bourgogne Aligoté AOC. To distinguish wines made of Aligoté from those produced from Chardonnay the word Aligoté must the largest typeface on the label. After first tasting Aligoté I thought this large word splashed across the label must be a French warning – ALIGOTÉ; beware, avoid, buy with caution!
Wine writer Oz Clarke politely wrote that Aligoté is "buttermilk-scented" but to my palate it smelled like a combination of parmesan cheese and baby puke and it tasted like unripe lemon pits. And then there was the negative side.
For years I steered clear of Aligoté but some of these wines have shown marked improvements in recent decades and I no longer avoid them like Melania Trump avoids a plagiarism-checker. In fact the last time I drank a bottle of Aligoté I found it paired particularly well with a second bottle of Aligoté.
Sauvignon
Burgundy is also home to a little-known appellation that allows the wines to be made from Sauvignon Blanc and Sauvignon Gris. In 2003 the vineyards surrounding the village of Saint-Bris le Vineux southwest of Chablis were elevated to AOC status. The wines were previously classified as VDQS Sauvignon de Saint-Bris, but even though this is the only region in Burgundy that allows Sauvignon in the wine, the name was shortened to Saint-Bris with the new classification.
Chardonnay
It's the Chardonnay grape that creates the truly great white wines of
Burgundy. It was Burgundian winemakers who introduced the world to the methods associated with Chardonnay production that are popular today. Barrel fermentation and aging, malolactic fermentation and lees contact are French innovations that contribute to the creamy, buttery, rich qualities of Chardonnay.
The style of Burgundian Chardonnay varies dramatically as you travel from north to south. The high acid grapes from the northernmost Chablis district produce wines that are light, lean, and steely. Further south the famous villages of the Cote d'Beaune produce highly complex wines of great balance and complexity. This is where you'll find white wines from the famous villages of Puligny-Montrachet, Chassagne-Montrachet, and Meursault. The large, southern Mâconnais region produces fruitier, riper, fuller-bodied Chardonnay bearing village names such as Pouilly-Fuissé or regional appellation names like Mâcon-Villages.
Medieval Cistercian monks were the first to identify superior vineyard sites and award them cru status. In time the reputation of these Grand Cru vineyards so over-shadowed the villages where they were located that the villages appended their names to include the name of the vineyard. The villages of Chassagne and Puligny, home to Montrachet (one of the most famous vineyards in the world) became Chassagne-Montrachet and Puligny-Montrachet. Several villages have since adopted this practice including Aloxe-Corton and Gevrey-Chambertin.
Pinot Noir
Pinot Noir is the great temperamental red wine grape of Burgundy. It takes terroir, talent and the patience of a Cistercian monk to convert these finicky grapes into world-class wine.
Burgundy's Côte de Nuits region is home to several Pinot Noir growing villages including Gevrey-Chambertin, Chambolle-Musigny, Vougeot, Nuits-Saint-Georges, and Vosne-Romanee. I've consumed my share of Burgundies (okay, maybe it's more than my share) but I sometimes wonder if I couldn't count all the mind-blowing, religious experience Burgundies I've tasted on a single hand.
In the 2004 movie Sideways, Miles Raymond (Paul Giamatti) tried to explain his fixation with Pinot Noir and the rewards it delivers when it's done right.
Pinot needs constant care and attention. You know? And in fact it can only grow in these really specific, little, tucked away corners of the world. And, and only the most patient and nurturing of growers can do it, really. Only somebody who really takes the time to understand Pinot's potential can then coax it into its fullest expression. Then, I mean, oh its flavors, they're just the most haunting and brilliant and thrilling and subtle and… ancient on the planet.
Miles Raymond's preoccupation with Pinot Noir would shortly transform the wine drinking habits of America. Pinot Noir sales and prices skyrocketed (much of it at Merlot's expense) and many Americans now know that Burgundy is more than a color in a Crayola box or a fictitious news anchorman.
In the end, the onus is on consumers to know that Pouilly-Fuissé is made from Chardonnay while Pouilly-Fumé is made from Sauvignon Blanc. You won't find this information on a French wine label so your best bet is to seek out and support a knowledgeable wine merchant before they all go the way of the dinosaurs and Mateus rosé. If you're not sure how knowledgeable your wine merchant is, ask him for a Chablis to pair with pan-seared scallops. If he brings you a 5-liter box you may be shopping in the wrong store.