Wine Tasting Techniques; Weight A Minute.
Ever since I started announcing these posts on Twitter I've had the spooky sensation that people are following me.
Chapter Three. Part Twelve.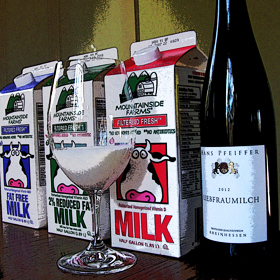 A
nalyzing wine means much more than simply identifying aromas and flavors; you must also learn to identify tactile sensations. This will help you learn what textural profile appeals to you so you can express your likes or dislikes to a salesperson when you're shopping for wine. Take full-bodied wine for example. You might love it. Your spouse hates it. Your goldfish doesn't care one way or the other. And what about wines that are crisp or creamy, hard or soft, regular or decaf?
Wine offers an abundance of textures but the tactile sensation we're discussing today is weight …
Okay, that's long enough.
People often ask me what I mean when I describe wine as light-bodied, medium-bodied or full-bodied. Here's a simple comparison you can use the next time you're pondering the weight of wine. Back in the day, before doctors told us to knock it off, people used to drink whole milk. If you're too young to remember drinking whole milk, I hate you.
Oops, did I say that out loud? I meant to say whole milk feels thicker and heavier than skim milk. If you think of whole milk as full-bodied, at the other end of the spectrum you'll find light-bodied skim milk. When I describe a wine as light to medium-bodied, it's the equivalent of 1% milk, which makes medium to full-bodied wines the counterpart of 2% milk and Amarone the allegorical doppelganger of heavy cream.
Of course milk isn't nearly as much fun on a date as wine, unless you and your date happen to be preschoolers (in which case I'll try to use smaller words). But what if it were? Picture this, you pick up your date and say "I've got a great night planned. We're going to a milk tasting!"
"A what? It sounded like you said a milk tasting."
"That's right. There's going to be organic milk from California, skim milk from Oregon, and whole milk from France."
"Well I'm not going unless there's liebfraumilch from Germany."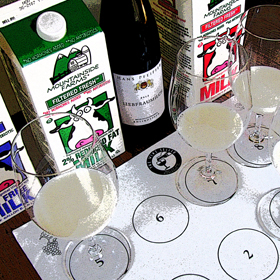 Ignoring the sarcasm, you press on. "I'm really looking forward to sampling some whole milk."
"Whoa. That's a lot of calcium. Don't you have to work in the morning?"
"Don't worry. I'm going to spit it out."
"Sounds like a memorable date. Will they serve cheese and crackers?"
"Oh no," you scoff, "but there should be lots of cookies."
Actually full-bodied wines have nothing to do with cows (other than the fact that they taste so darn good together). I for one was shocked to learn that weight in wine comes from alcohol and not from lactating bovines. The more alcohol present in wine, the heavier or fuller-bodied it feels in your mouth.
A generic "Bordeaux" can be elevated to "Bordeaux Superiéur" stature if it attains a slightly higher alcohol level. This is probably the genesis of the old wives tale that the viscous "legs" running down the inside of the glass indicate a higher quality wine. Legs are actually created from evaporating alcohol which has less to do with high quality and more to do with a quality high.
Most German Rieslings possess low levels of alcohol and therefore seem to weigh less on your palate than other types of wine. They are said to be light-bodied. Tuscan Sangiovese typically has higher levels of alcohol than German Riesling and so they move up the scale to medium-bodied. California Cabernet Sauvignon weighs in with still heftier levels of alcohol, so you guessed it, they are considered full-bodied. California Cabs usually report alcohol levels between 13% and 15% (which we call 30-proof in liquor store jargon). I enjoy drinking these formidable Cabs late at night when I'm writing but they can lead to some extensive 30-proof reading in the morning.
If you think full-bodied wines have gotten heavier in recent years you're not imagining it. Recent technological advances have helped winemakers produce wines with brawny alcohol levels that were unattainable several years ago. It's not uncommon to find alcohol levels over 15%, with some attaining levels in the neighborhood of 17%. Traditional heavyweights like Barolo and Bordeaux feel like 90 pound weaklings next to these sand-kicking bullies.
When talking to my customers I find myself looking for new ways to describe these bruisers. These wines go beyond full-bodied so I find myself saying things like, "This wine is huge" or "This is a massive wine." My doctor told me to cut back on these high alcohol wines so I quit cold turkey. I'm proud to say I have now gone 264 days without a doctor.