Will New Jersey Wineries Finally Get Respect?
The 'Judgment At Don's House' Stuns The International Wine Geek Community!
Wines from New Jersey are the Rodney Dangerfield of the wine world – they don't get no respect. Winemakers here sometimes feel like the rest of the world hates their wines. How could that be? The rest of the world hasn't tasted them yet.
New Jersey's wine industry has made impressive strides in quality over the past decade, even though the Garden State still sucks when it comes to bridge traffic studies. And while Millville isn't exactly Oakville, winemakers from around the world are still genuinely surprised when they taste certain New Jersey wines. Their response is typically, "Am I being punked? Where did this wine really come from?"
At the International Riesling Symposium a few years ago (an event sponsored by Chateau St. Michele and German enologist Dr. Ernst Loosen) winemakers from all the great Riesling producing regions gathered to sample one another's wines.
Tom Sharko, president of Alba Vineyard of Milford New Jersey, was pouring his wine alongside outstanding examples from Germany, Alsace, Washington and the Finger Lakes when two German oenologists stopped to sample his Riesling. They were impressed and asked Sharko where he got his grapes.
"We get them from our vineyards in Milford New Jersey," he replied.
"No, you don't understand," the Germans said. "Where do you buy your grapes?"
"I do understand. We grow them in New Jersey."
Today Sharko chuckles as he recalls the tale. "They kept insisting … wanting to know where we bought the Riesling, and we kept trying to tell them we grew it, and they kept insisting that we bought it. They thought we didn't understand them and we did."
Alba Vineyard has 52 acres under vine in Milford (population 1,216) with 5,000 to 6,000 new vine plantings coming every year. They have all the usual New Jersey hybrids under vine – obscure grapes like Chambourcin, Traminette, and Vidal – but they also grow several popular European varieties.
"This land really suits itself to Pinot Noir, Dijon Clone Chardonnay, Riesling, and Cabernet Franc." Sharko beams like a proud parent in these meticulous vineyards. He looks around and explains, "We do all narrow row, high density planting so it's meter spacing between the vines and the rows are six feet in separation. What we do is so different from everybody else on the east coast. We plant 2,400 vines per acre, where the average east coast vineyard has 600 to 800."
Years ago Sharko visited renowned Oregon Pinot Noir producer Ken Wright. "We told Ken what we're trying to do, and he goes right to the chalkboard and starts explaining his whole theory on vineyards … he's an incredible proponent of narrow row, high density planting, and he really spurred us on. Once we got started with it we stayed with it."
Not only has Alba invested heavily in its vineyards, it is also committed to the expensive and time-consuming practice of aging wine in 100% French oak barrels. "We put everything in French oak for two years," says Sharko. "A very small percentage is new. We're not looking to heavily extract in one year so we like to take advantage of time."
The good news is that Alba Vineyard's practices have paid off. Years ago I wrote that New Jersey wines, "taste like a dirty sweat sock full of Brussel sprouts." When the winery demanded a second opinion I replied, "Okay, they smell bad too."
New Jersey's signature green vegetable characteristics of years gone by aren't present in Alba's current offerings. The Cabernet Franc in particular is impressive for its ripe, extracted fruit and total lack of toxic gas emissions.
But don't wines always taste better when you're at a beautiful winery, chatting with the winemaker as his purring cat gives you a Shiatsu massage? Of course they do. That's why WineSnark decided to put Alba to the cruelest test of all – a blind tasting pitting Alba Cabernet Franc against Cabernet Francs from California and France. No cats allowed.
The Judgment at Don's House, as it came to be known, sent shock waves throughout the dining room. Seven judges rated the wines first, second or third in order of their preference. With this type of rating the wine with the lowest score wins. It's just like golf but without all the swearing. The scoring was close between second and third place, as they finished with 16 and 19 points respectively, but the first place wine received an astonishing 7 points – a unanimous first place vote from every judge.
Here are the official results – no kidding.
1. Alba Vineyards, 2010 Heritage, Warren Hills AVA, New Jersey (7 points)
2. Lang & Reed, 2011 Cabernet Franc, North Coast, California (16 points)
3. Olga Raffault, 2010 Chinon AC, "Les Picasses" France (19 points)
When each wine's identity was revealed, something amazing happened – seven wine judges were actually left speechless. But not for long as one soon asked, "Can I change my vote?"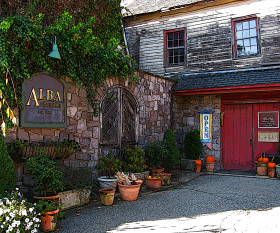 Respect has to be earned and Alba Vineyard has earned WineSnark's and that of several top-flight New Jersey restaurants that now feature their wines. Like the German winemakers at the International Riesling Symposium, "Buddy [Gebhardt] from Park & Orchard couldn't believe that we grew Pinot Noir in New Jersey," explained Sharko. "I had to drive him all through the vineyards to show him. He walked through the vineyard, tried the Pinot and he just couldn't get over it. He's had our Pinot on his wine list ever since."
Restaurants like Park & Orchard, the Ryland Inn, Ninety Acres, and the Ho Ho Kus Inn have all signed on, but not without first asking one inevitable question. It's time to put this to rest once and for all; THE GRAPES COME FROM NEW JERSEY!
Yes, wines from New Jersey are the Rodney Dangerfield of the wine world – but soon they will get the respect they deserve. It's like the old Dangerfield gag, "When I was born, the doctor told my mother, 'I did all I could, but he pulled through anyway.' "
Despite a rough start, New Jersey wineries look like they too, could pull through anyway.
The Judgment at Don's House Tasting Notes;
Alba Vineyards, 2010 Heritage, Warren Hills AVA, New Jersey
Heritage is made from 100% Cabernet Franc grown on the Left Bank. That is to say, the vineyard is about two miles from the left bank of the Delaware River in Milford, New Jersey. It features a nose of dark, sweet cherries with vague aromatic suggestions of mint and coffee. This is a smooth, medium to full-bodied red with loads of bold, ultra-ripe black and red fruit flavors. One taster called it explosive while another said it has great extraction. Maraschino and Bing cherry flavors dominate but there are also hints of cassis, boysenberry or blueberry complemented by a healthy dose of black pepper. The finish delivers some vanilla and cigar box nuances. $37
Rating:
(4.0 / 5)
Lang & Reed, 2011 Cabernet Franc, North Coast, California
I love green bell peppers in a Greek salad. In my wine – not so much. The pepper aromas combine with subdued scents of earth and carry over into a palate that's soft and fleshy almost to a fault. The finish firms up, with some silky tannins saving the wine from becoming flabby. Subtle red fruits are overshadowed by the vegetal notes that could be the result of the difficult '11 vintage. The finish shows some subtle leather nuances and mineral flavors that one taster called 'clay' and another said was 'steely'. $25
Rating:
(2.5 / 5)
Olga Raffault, 2010 Chinon AC, "Les Picasses" France
The nose has a unique funkiness that's as explicit as a Lil Wayne album. Unpleasant sulfur-like aromas meld with scents of tart dried cherry and some riper cherry kirsh notes. This is a medium to full bodied red that's firmly textured and loaded with strong tea-like tannins that ride shotgun over the suppressed fruit flavors. This too had subtle vegetal bell pepper notes that detracted from its appeal. It did get noticeably better when paired with a peppered, smoked turkey breast. $25
Rating:
(2.0 / 5)