'Twas the Night Before the 'Wine of the Year' Was Announced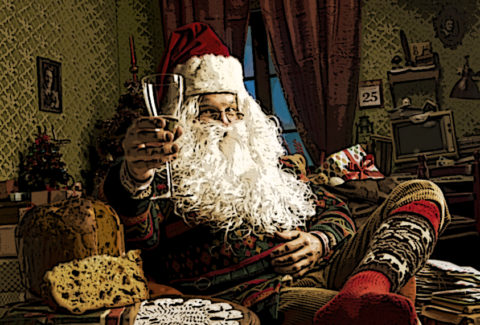 'Twas the night before Christmas and all through the winery,
my tasting room staff wore their holiday finery.
The sales were outstanding. 'Twas like nothing before.
All the wines (even Merlot) seemed to fly out the door.
My winemaker fretted as the deadline drew near.
Wine Spectator 100, would this be the year?
To be on that list would be so prestigious.
But another year missed would be so egregious.
Then out in the vineyard there arose such a clatter.
I feared it was mildew, Pierce's or shatter.
There, atop a small sleigh that defied quantum physics,
sat a round, bearded man and eight tiny critics.
They were chuggin' down Harlan, the music was crankin'.
I knew in a moment it had to be Shanken.
This publishing giant gives ratings to wine.
Get a hundred point score and they'll build you a shrine!
They write about Cabernet, Malbec and Pinot.
They write about Sherry – Oloroso and Fino.
They write about vineyards, terroir and climate.
Thank God they write prose, 'cause it's so hard to rhyme it.
"We've come to sample your wares." He said with a wink.
So I poured them my wines, yes even the pink.
He set his critics to task, like a lord and commander.
Shouting, "When it comes to reviews – We set the standard!"
He laughed a jolly old laugh, loud and bombastic.
So I couldn't tell if he was being sarcastic.
Then he said to his writers, "There's no need to be snobby."
"On Steiman, on Matthews, on Marcus and Laube!"
"Don't ask about Suckling, we got along shittily,
so I threw his ass out, somewhere over Italy!"
As they swirled, sniffed and spat I could see on their faces,
that my Top 100 rank had climbed several places.
Then laying his finger aside of his nose,
he said "We're off to Bordeaux to find some chateaus!"
Then they vanished from sight and I headed to bed.
I tossed and I turned; I was filled with such dread.
When I woke from my slumber I rushed to my stocking,
where stuck in my hose I found something shocking.
I felt queasy the moment I spied the Spectator.
And my wife was so nervous I had to sedate her!
Faster than light or a neutrino particle,
I tore open the cover in search of the article.
I spied the Top 100, and wouldn't you know,
my wine was on top, I was numero uno!
It was like Earth, Mars and Venus had all aligned
and my glorious Cab had become a goldmine!
My wine was now famous, desired and credible.
No one dared drink it; it belonged on a pedestal!
My profits soon soared. I built a new winery,
with huge gleaming tanks like an Exxon refinery.
My life was now perfect and because of Marvin,
my coffers were full. I was no longer starvin'.
I had raison d'être once he showed me a sign,
and for once in my life I could afford my own wine.
And to all of you who read this drivel I write.
Happy Christmas to all, and to all a good night!