The Wines of Anjou-Saumur Take Me Back to a Classier Time
Chapter Sixteen. Part Twelve.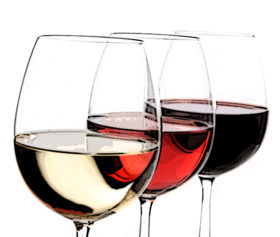 If you follow the Loire River about a hundred miles eastward from Saint-Nazaire on France's Atlantic coastline, you will come to the picturesque vineyards of Anjou and Saumur. Both red and white wines are produced here but the largest production in Anjou is a dry rosé that goes by the name of Rosé d'Anjou.
This uncomplicated wine, produced from the Grolleau grape,  is hardly revered around the world but it has a special place in my heart because it was briefly popular when I was a young man courting my wife. For you Millennials in the audience, "courting" is an English term for "hooking-up". Courting was a refined ritual, a classy pursuit that entailed actually "driving" to her house and "picking her up" in my "car". Then we'd dance and drink Rosé d'Anjou like a couple of sophisticated continentals until we puked.
Today Rosé d'Anjou has fallen out of fashion as young American consumers have decided it's much classier to regurgitate Provence rosé.
The best of the red wines in Anjou-Saumur come from Cabernet Franc, which is the name of a grape and not some local eccentric. Cabernet Franc seems to do its best work in the AOCs of Anjou-Villages Brissac and Anjou-Villages. In addition to Cabernet Franc and Grolleau, there are also plantings of Cabernet Sauvignon, Pineau d'Aunis, and Gamay, all of which might find themselves in a bottle of Rosé d'Anjou.
For white wine production, it's the versatile Chenin Blanc that sparkles, and not just in the Crémants. Wines from the Savennières AOC are generally regarded as the best dry wines of Anjou-Saumur and some wine critics might argue of the world. In addition to this broad appellation, there are two smaller AOCs called Savennières-Roche-aux-Moines and Savennières-Coulée-de-Serrant. The latter appellation is home to a single estate owned by Nicolas Joly, maker of exceptional wines and an early proponent of biodynamic farming practices.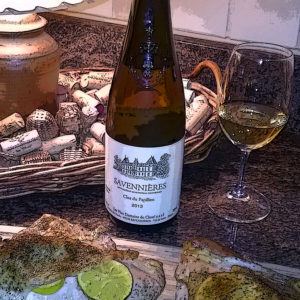 A few decades ago the winemakers of Savennières moved away from making sweet wines and today the wines are almost exclusively dry. Air circulates freely through these vineyards, impeding the development of the noble rot (botrytis cinerea) that affects grape clusters in many neighboring communes. This allows the grapes to hang long into the fall and attain optimum ripeness which offsets some of Chenin Blanc's high natural acidity. Some producers tempt fate further and pick grapes when they have begun to dry in the sun, a process known in some circles as, "Retiring to Miami".
Oops, that's not it. Let me check Wikipedia … okay here it is. The French term is passerillage.
These practices have paid big dividends as the new style of Savennières has received tremendous praise in the wine press. With the price tags of some Savennières around $25 these are certainly worth an exploratory visit to your local fine wine merchant. Keep in mind that with their bracing acidity, these firmly structured Chenin Blancs can be unapproachable when young so don't flinch if you encounter an older vintage.
Noble rot is a fungus that affects grapes and is not a reference to atrocious aristocrats like King Henry VIII. Hank may have been a fun guy when he wasn't beheading his wives but he's not the same fungi responsible for the sweet wines of Anjou-Saumur. This particular blight creates microscopic holes in the grape skin, which allows water to evaporate and concentrates the grape sugars.
Exceptional dessert wine is produced from Chenin Blanc grapes afflicted with noble rot in the Coteaux du Layon AOC, and in the three communes that have been elevated to cru status – Bonnezeaux, Chaume and Quarts de Chaume. Six other communes may opt to append their name to Coteaux du Layon (e.g. Appellation Coteaux du Layon St. Aubin Contrôlée).
Attaining the proper balance between acidity and sugar is critical so workers must harvest in tries, or multiple passes through the vineyard, hand picking only the individual grapes or grape clusters touched by noble rot. The sweetest of these wines may be labelled Sélection de Grains Nobles which translates to "Selection of Noble Berries".
The wines of Coteaux du Layon tend to be a little lighter than their more famous sibling from Sauternes, both in terms of body weight and price tag, and they have the added benefit of being very tasty when first released. These high-toned dessert wines are exotic, sweet and honeyed, and are a great way to end a meal or impress someone you're courting.