The Most Interesting Man in the World is Banished to Mars!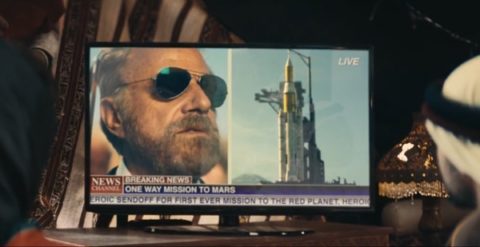 His waterbed is filled with 1945 Chateau Pétrus.
When he buys a bottle of wine, The Wine Advocate automatically gives it 100 points.
He once created the Wine of the Year with Popeil's Veg-O-Matic and some Tupperware. 
He is … "The Most Interesting Man in the World".
At least he was until Dos Equis, the beer brand he helped turn into a popular internet meme, announced he was being replaced by a younger actor. Jonathan Goldsmith, the 77 year-old star who has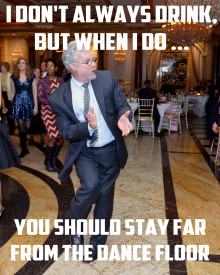 played the role since the ad campaign's inception in 2006, is much more than an old guy with a smarmy Fernando Lamas accent and a bad spray-on tan. He is the life of parties he has never attended. When he drives a new car off the lot, it increases in value. He was last seen entering a rocket ship headed for outer space where he is destined to become "The Most Interesting Man on Mars".
It's bad enough that Dos Equis is putting Goldsmith out to pasture. They're sending him to a pasture on Mars for God's sake! If they wanted to banish him to obscurity they could have sent him to the Lifetime network.
Dos Equis could be making a galactic mistake. How do you fire a man who has won the lifetime achievement award… twice? This is the man who gave his father "the talk" and whose mother has a tattoo that says "Son". Sharks have a week dedicated to him.
Dos Equis's parent company, Heineken USA, announced the wildly successful campaign will continue this fall with an updated, contemporary approach and an unnamed actor in the starring role. If there are any Heineken marketing execs in the audience I'd like to give you a glimpse of my resume;
I once beat the Princeton debate team with my right brain tied behind my back.
If you connect the freckles on my chest it forms a life-sized portrait of Ryan Seacrest, only bigger.
I discovered Picasso wasn't innovative; he just had glaucoma.
At my last job I gave my boss a promotion.
If I wasn't already me, I'd want to be me.
I am … "The Most Intoxicated Man in the World".
Call me.
It's not like Goldsmith didn't deliver for Dos Equis. Advertising Age reports, "Dos Equis sales more than doubled between 2006 and 2011. The Mexican import is still growing today, with sales up 10.2% in the 52 weeks ending Jan. 21." What's a guy got to do to hold onto a job in this economy? If only Goldsmith had known about the secret formula that helps old men stay employed. It's known as the Grecian Formula.
Andrew Katz, VP of marketing for Dos Equis told Advertising Age the updated campaign, "will have a very fresh take on things. It will not feel like we've just swapped actors."
Hey Andy, I have news for you. It's going to feel like you you've just swapped actors. Don't think you can yank an icon out of my living room and expect me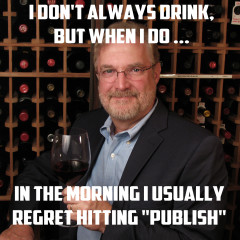 to take it lying down. No sir, I'm angry so I'm writing this blog while sitting up.
To soften the blow to Goldsmith fans, Heineken USA has reached out to their marketing partners at the James Bond movie franchise for guidance. Several actors have successfully portrayed the debonair 007 without diminishing the Bond image and Heineken hopes to emulate their success.
Hey Heineken, I have two words for you;
George Lazenby.
Goldsmith is to Dos Equis what Sean Connery is to James Bond. Everyone knows there's never been a better Bond, James Bond than Sean Connery and the one true "Most Interesting Man in the World" will always be Goldsmith, Jonathan Goldsmith.
Stay Thirsty My Friends.