The Best of WineSnark 2016
"Whenever I think of the past, it brings back so many memories." Steven Wright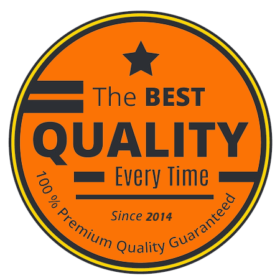 I'm sorry to report that it's that time of year again – time for the annual "Best Of WineSnark". It's been nearly three years since I first put pun to paper for this blog and most nights I still find myself thoughtfully staring into the monitor, a glass of wine in hand, thinking, "I wonder what's on HBO tonight?"
Over the past year this blog has prompted trips to several wine regions and resulted in the consumption of some incredible wine. Unpaid I might add. On some of my posts I received analytical assistance from a group of certified sommeliers. Oops, did I say sommeliers? I meant drunks. The fact is, on many occasions I do find myself drinking with sommeliers and it has made me appreciate what I like most about wine, namely, drinking it alone.
I don't drink completely alone. My cats often join me in the man cave when I drink classified Bordeaux, not that they've ever sprung for a bottle with their own money. Heck, most of them can't even get a Discover card.
Maybe that's why I don't really get along with cats. There's just something about that self- absorbed, narcissistic, egocentric demeanor that my cats don't like. To tell the truth, I don't know why I mentioned my cats. I usually keep my felines to myself.
So this year, after much painstaking review, critical analysis, and consultation with world-renowned wine experts, I've decided to go see what's on HBO.
Here then, are the Top 35 Snarcastic Remarks of 2016.
35.   The Graham's 1963 Vintage Port was my first port experience and to this day Graham's holds a soft spot in my heart and a dark spot on my liver.
34.   Every year in the Cognac region over 20 million bottles disappear to the mysterious phenomenon known as the angel's share, which probably explains why so many angels miss work on Monday.
33.   The study group consisted of 25,096 men who rated their erectile function from 1986 through 2008. 35.6% Reported occurrences of erectile dysfunction, which translates into approximately 8,935 flaccid members in the group.
32.   A mnemonic device helps you remember things. For example, spring forward, fall back is a mnemonic device that helps you remember what to do at the beginning and end of a wine tasting.
31.   If you look inside your average wine blogger you'll find a passion for food and travel, a stimulating intellect, and a blood alcohol level exceeding .08%.
30.   This Syrah comes from a vineyard that, like my crazy, hippie brother-in-law, is organic but has yet to be certified.
29.   There I go dating myself again. I usually wait until my wife is out of town to date myself.
28.   I once beat the Princeton debate team with my right brain tied behind my back.
27.   This Syrah is as big and round as J.Lo's booty, but it's a lot easier to get your hands on.
26.   Residual sugar creates a soft texture and adds weight around the middle, but enough about American consumers.
25.   Given the source of methane gas emissions, shouldn't the greenhouse effect be called the outhouse effect?
24.   I found the earthy strawberry circulated through notes of sweet saddle leather that paired beautifully with the foot I had in my mouth.
23.   I don't really need a GPS, but when I travel I like to have a woman's voice telling me what to do so I don't get homesick.
22.   This port knocked my socks off. The luscious, mouth-caressing texture and rich flavors warmed me right down to the tips of my toes, which was a good thing since I'd lost my socks.
21.   Wine bloggers understand that it's the little things that matter which is why I put all my brainpower into writing.
20.   It was smooth sailing for the Loire wine trade until late in the 19th century when the phylloxera epidemic decimated its vineyards and took the wind out of its sales.
19.   Many Syrahs from the Rhone Valley have pronounced herbal characteristics, whereas this mature Central Coast Syrah has lots of spice but so little thyme.
18.   The nose indicated the wine was in a dumb phase because it just wasn't making scents.
17.   While I found it exceptional, I didn't find it nearly as profound as the Wine Advocate did. Of course WineSnark isn't the Wine Advocate. For one thing we have far better poopy jokes.
16.   To get through Christmas with the family I have to muster up every ounce of courage and several ounces of bourbon.
15.   This wine smelled like a skunk, but you know, in a good way.
14.   Over the past century Loire Valley wines have suffered the slings and arrows of indifferent consumers, resulting in low prices for those without outrageous fortune.
13.   The Napoleonic code also put an end to primogeniture. It's worth pointing out that Napoleon was referring to primogeniture, the practice of leaving one's entire estate to the eldest child, and not the Italian porn star Primo Geniture.
12.   Sauvignon Blanc pairs beautifully with the healthy vegetable platter and low-fat cottage cheese dip brought by the couple who will never be invited back.
11.   In summation, Professor Willie B. Hardigan stated, "The authors are clearly suggesting that men should start drinking red wine to improve erectile function and if they already drink red wine then they should keep it up."
10.   Methane gas emissions come from anaerobic fermentation of endogenous and exogenous carbohydrates by enteric microflora, or what I like to call animal farts. The worst offenders are cows, buffalo, sheep, goats, camels, and my brother-in-law, who always blames the dog.
9.   Wine bloggers are biological creatures just like other human beings who also mistakenly believe people give a damn about their opinion.
8.   Writing has always been a part of my life. Ever since I was ten years old I've known exactly what I wanted to be when I grew up; an astronaut.
7.   Events like the Super Bowl give men a free pass to consume mass quantities of salty fried food. After all, the football players shouldn't be the only ones putting their lives at risk.
6.   This sensual Cabernet possesses full-bodied flavors of blackberry and dark plum that hang around longer than a pole dancer with sticky thighs.
5.   Look inside these women and you'll find compassionate personalities, probing intellect, and intuitive reporting. Look inside me and you'll find some undigested Buffalo wings.
4.   My wife used to drive me to drink, but she stopped when I got my license back.
3.   Harvard University concluded that a diet rich in flavonoids can improve erectile function. This is great news for wine drinkers as the flavonoid anthocyanin is prevalent in red wine. Men who drink white wine may be out of luck but apparently they won't have any hard feelings.
2.   I admit we have our differences but I resent the stereotype that I'm some kind of Neanderthal. I am clearly a Cro Magnon.
1.   When you're the middle child you get used to hand-me-down gifts. I remember some years were so lean that all my mom gave me was second hand smoke.
And speaking of second hand gifts, here's a special holiday bonus excerpt from, Twas the Night Before the 'Wine of the Year' Was Announced;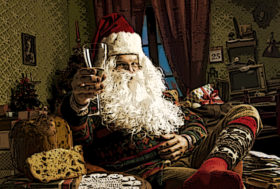 They were chuggin' down Harlan, the music was crankin'.
I knew in a moment it had to be Shanken.
He said to his writers, "There's no need to be snobby."
"On Steiman, on Matthews, on Marcus and Laube!"
"Don't ask about Suckling, we got along shittily,
so I threw his ass out, somewhere over Italy!"
Thank you for indulging me for another year. It's increasingly difficult to find the time to create WineSnark week after week but I'm still having fun and I hope to keep writing as long as you keep reading. Your comments, likes and shares inspire me to continue to educate through humor and insight. You drive me to do better, to do my small part for the enrichment of our existence and the betterment of mankind, to unite the oppressed wine drinkers of the world and give meaning to this struggle we call life. Unless that is, there's something good on HBO.