The Best Of WineSnark 2014.
One Day You'll Look Back At This And It Will All Seem Funny – I Hope.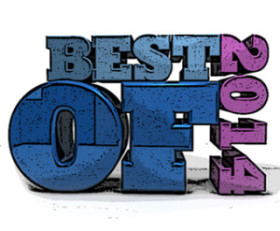 January marks the official start of the "BEST OF" season. Wine publications have already released their TOP 100 WINES OF THE YEAR, strategically unveiled just before the drinking playoffs (also known as the holidays). Soon newsstands will be overflowing with trendy magazines flaunting the SEXIEST MEN & WOMEN OF 2014, the TOP 100 SELFIES OF 2014, or THE TOP 100 STUPIDEST TOP 100 LISTS OF 2014.
In an effort to remain trendy, sexy and stupid, WineSnark has created its own BEST OF 2014 list. I tried to create a TOP 100 list but I dozed off at 30 so that's where I left it. So here are 30 of the snarkiest comments culled from the pages of this august institution and very precisely presented in absolutely no particular order.
THE 30 SNARKIEST COMMENTS OF 2014
1. Ever since I started announcing these posts on Twitter I've had the strangest feeling that people are following me.
2. When my brother was born the doctor told my mother he would grow up to be very tall. When I was born he told my mom I would grow up to be a wise-ass.
3. After studying wine for over thirty years I think it's safe to say that wine is in my blood. In fact, just last night this was confirmed by a New Jersey state trooper.
4. I try to be completely honest in my writing. I also try to be 175 pounds and that's not working out so well either.
5. I've earned a decent living in the wine trade but I could never be accused of being under the affluence of alcohol.
6. There are those who say wine is like a religious experience because, much like sitting in church, it can make you drowsy.
7. Alcohol stimulates the accumbens nucleus, which is the part of your brain responsible for pleasure, laughter, aggression and fear, or as I like to call it, a typical weekend with the in-laws.
8. My seventh grade science teacher explained how our stomach burned the fuel we ate to produce energy. The parts that couldn't be used were like ashes which our bodies discarded. I raised my hand and asked, "When our body discards the ash, does it go out through the ash hole?"
9. Visual indicators may offer you the first tip-off that the wine is flawed. For example, bad wine is often cloudy, off-color, or has a cute animal on the label.
10. The first thing I do when I sit down to create a new wine label is assemble my puns and pencils.
11. We engaged in a battle of wits but to level the playing field I fought with my right brain tied behind my back.
12. I'm not one of those extremists who bring a wine thermometer to a restaurant and obsess over a few degrees. I'd much rather obsess over something important – like who's picking up the check.
13. I caught my mother secretly pouring Sweet and Low into a glass of 1982 Chateau Mouton-Rothschild. It's rumored that on the same day Baron Philippe de Rothschild turned over in his grave.
14. My doctor told me to cut back on high alcohol wines so I quit cold turkey. I'm proud to say I have now gone 264 days without a doctor.
15. County fairs award medals for everything from the biggest bull to the best Cabernet Sauvignon. Much is at stake as a gold medal can result in a prestigious placement at Morton's Steakhouse. This is a great achievement for the winemaker but it's not so great for the bull.
16. I've paired red wine with fish hundreds of times and I haven't suffered any biblical repercussions or been struck down by lightning. But there was this one time when I was drinking Pinot Noir with tilapia and I got a nasty carpet shock.
17. I saw a car in the corner of my eye and I was wondering why it was getting bigger. Then it hit me. I wasn't seriously hurt except for the obvious confusion my lawyer later told me I experienced about not being seriously hurt.
18. When the nurse asked me my blood type I said, "I think it's "O" but I'm not positive."
19. The stigma of owning a BlackBerry is hard to bear but there's comfort in knowing there are others like me who conceal the tiny shame in their pants.
20. This Syrah is as big and round as J.Lo's booty, but it's a lot easier to get your hands on.
21. America's AVA system imitates the French AOC and Italian DOC systems, except that the graft is paid in dollars, not euros.
22. Pavlov taught the world about conditioned reflexes. I learned about conditioned reflexes from my brother-in-law. Every time I open an expensive bottle of wine, he shows up.
23. A little bitterness in wine can leave a pleasing impression especially among those who are used to it, for example disgruntled postal workers and married people.
24. Premier Cru is a French classification term and does not refer to the best employees on a cruise ship.
25. Olfaction is triggered when fragrances are released in your mouth through a combination of chewing, body heat and saliva, which sounds a lot like my honeymoon.
26. You'll find this information useful when analyzing wine, especially if you think Grenache is chocolate pastry filling, Lambrusco is mutton beer, and Charbono is Sonny Bono's ex-wife.
27. I once wrote New Jersey wines, "taste like a dirty sweat sock full of Brussel sprouts." When the winery demanded a second opinion I replied, "Okay, they smell bad too."
28. I always bring Chardonnay to dinner at moms because it pairs so well with condescension and guilt.
29. If, even in the most insignificant way, WineSnark helps you understand the complex world of wine appreciation then I will be able to go to bed at night feeling completely surprised.
30. It fascinates me that grapes grown in flinty soil can smell like gunpowder and wine aged in American oak can taste like dill. I'm amazed that the resolute roots of a grape vine can squeeze through hairpin cracks in a solid rock cliff, seeking moisture one hundred feet underground. I marvel at the wine blenders skill and the barrel coopers craftsmanship. And naturally I love the wine trade and my missionary role as a merchant in that trade. In short, wine gives my life meaning; it's the reason I climb out of bed every afternoon.
Thank you all for following my escapades in 2014 – it has been an eventful year. I started 2014 (and shortly thereafter this blog) as a well-respected New Jersey merchant with an award-winning wine business. I ended the year as a hobbled and humbled unemployed wine professional nursing a ruptured Achilles tendon in a basement office.
Many of you were here when I bid adieu to the Wine Seller, a major part of my life for almost 20 years. You followed me through my "wine summer camp" in Napa Valley, rooted me on when I headed to Santa Barbara as a finalist for Best New Wine Blog, bear witness as I formed a new wine brokerage business in California, and offered sympathies when my plans tumbled down the stairs and ended up in the emergency room.
I couldn't have spread my wings as I did if not for the remarkable backing of my family and friends. In particular I must thank Bob and Elizabeth Van Dyk for supporting my efforts and introducing me to Napa's warm and welcoming community.
You already know that I can be self-centered and bombastic at times. That's why this year I was shocked to learn that I'm not the center of the universe. I realize I could not have walked through Sta. Rita Hills vineyards with Bryan Babcock, sipped Zinfandel with Bob Biale in his Oak Knoll vineyard, or tasted wine with Randy Dunn, Denis Malbec, Tim Mondavi, Bob Foley, Steve Pride and countless others if not for the support, strength, and compassion of an amazing woman.
I know in my heart how much my wife has sacrificed, how much she means to me, and how much I love her. I may have been humbled and hobbled in 2014, but I also know in my heart that I am the luckiest man on Earth.