Terroir; From Great Vines Come Great Wines.
Chapter Eleven. Part Three.

"An important part of the pleasure of wine is its reflection of the total environment that produced it. If I find in a wine no hint of where it was grown, no mark of the summer when the fruit ripened, and no indication of the usages common among those who made it, I am frustrated and disappointed. Because that is what good, honest wine should offer. It is not just a commodity subjected to techniques to boost this or that element to meet the current concept of a marketable product."¹
Gerald Asher, A Vineyard in My Glass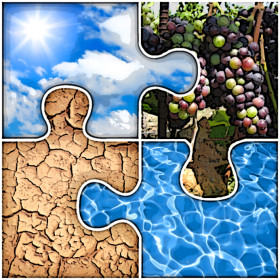 There's an expression among winemakers that says, "95% of every wine is made in the vineyard." This simply means that despite the best efforts of man to manipulate wine, its quality ultimately depends on the grapes they start with. Unless of course man takes his 5% and really screws things up, in which case he'll remind us that 95% of the wine is made in the vineyard. And in case you're wondering, that's the vineyard where sour grapes come from.
So what is this inexplicable force that makes the vineyards on one side of a wall superior to the vineyards on the other side? Why are the wines of a particular place better than wines made somewhere else when they're made from the same grape variety, use indistinguishable fermentation techniques and identical oak aging?
Early winemakers learned that the unique combination of weather, climate, topography, and soil play a major role in the quality of a wine producing region. It is the cumulative effect of these environmental factors that create the "sense of place" that the French call terroir.
"This vivid quality is difficult for many North Americans to detect because we're so used to wine with up-front fruit that we're unfamiliar with the taste and texture of clay, chalk, limestone, and earth. Some people can more easily identify it in various mineral waters than they can in wine."²
Weather refers to the day-to-day temperature and precipitation of a region and its influence is limited to the quality of a single vintage. Climate is the cumulative effect of weather over an extended period of time. Climate is the reason Bordeaux produces such outstanding wine, but weather is the reason they don't do it often enough.
The quality of a wineries entire yearly production can depend on harvesting decisions based on late season precipitation and it often comes down to a choice between harvesting early or late. That's what winemakers mean when they say vintage quality depends on the whether.
Soil type encompasses not only to the composition of the earth, but its drainage, fertility, and heat retention capabilities. When farmers talk about earth they're not just about nutrients and minerals, they're also talking about how the soil affects water and temperature. Rocky terrain has been known to impart stronger, stony mineral traits in some wines which is why they taste boulder.
Proximity to oceans, mountains, valleys, lakes, rivers and creeks can combine to influence the climate of a region, the microclimate of a vineyard, or even a single row within a vineyard. Diamond Creek Vineyard on Diamond Mountain in Napa Valley illustrates how three distinct terroirs can be located within yards of one another. They bottle wine from each vineyard separately so you can taste the distinctive characteristics of the different terroir. The education will cost you 600 bucks for the three bottles but hey, that's still cheaper than three college textbooks.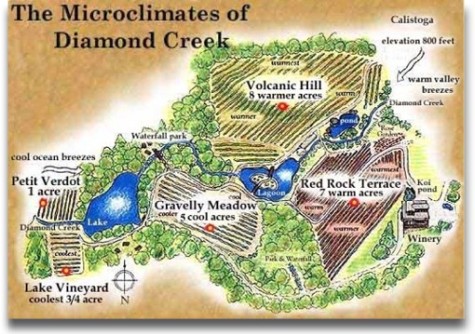 Diamond Creek's flat, rocky Gravelly Meadow vineyard was created by the yearly overflow of Diamond Creek which runs through the middle of the property. The Red Rock Terrace vineyard runs down a steep slope to the creek and gets its name from the red, iron-rich soil that can be seen throughout the terraces. The Volcanic Hill vineyard is composed of 8 million-year-old ash created by the eruption of Mt. Konocti way back when Betty White was still a virgin.
Old-world winemakers also consider grape variety to be an aspect of terroir even though it can be controlled by man. Centuries of trial and error has proven that certain grape varieties flourish in particular wine regions. That's why the vignerons of St. Emilion consider Merlot as much a part of terroir as weather and soil. If you ever get the chance to stroll through an ancient vineyard with the descendants of those who have tended the land for centuries, this mindset will make perfect sense to you.
The discovery of certain regions as superior for wine production was recognized in the ancient world and fine-tuned by Benedictine and Cistercian monks in France centuries ago. The information they gathered and the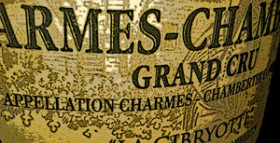 boundaries they established became the basis for the French Appellation d'Origine Contrôlée (AOC), a government regulated guarantee of origin.
These early French winemakers realized that terroir has such a profound impact on the quality of wine that old-world wines are named after their place of origin rather than the grape variety. Chablis and Chianti are not names of grape varieties; they are places on a map, and despite what certain American bulk wine producers would have you believe, it's a map of Europe, not California.
Terroir explains why Grenache grown in the Rhone Valley results in a medium-bodied wine with 13% alcohol and Grenache grown in the Barossa Valley produces a monster sporting 15% alcohol. It is the reason Pinot Noir flourishes in the Willamette Valley and Cabernet Sauvignon thrives in Napa Valley. It explains why Chardonnay from Chablis can taste like chalk and Sauvignon Blanc from Pouilly-Fume can smell like gunpowder (more on that in the next post).
Wine styles continue to fluctuate with the transient tastes of the market, but the mountains, rivers, climate and earth that produce great vineyards remain indifferent to man's vain manipulations. Terroir evolves slowly and with it comes the recognition and acceptance of the next generation of world-class wine regions. Vignerons in many of these embryonic regions are now discovering which grape varieties are best suited to their environmental peculiarities and in time their ancestors will consider those vines as much a part of the terroir as climate, weather, topography and soil.
¹Asher, G. (2011) A Vineyard in My Glass, 2
²MacLean, N. (2006) Red, White and Drunk All Over, 38