Tasting Young Barolo. Somebody Has To Do It.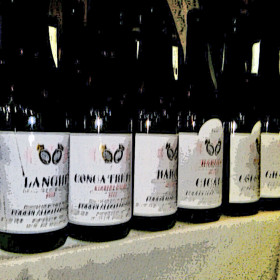 Young Barolo can be aggressively tannic and sampling the new releases is a great way to remove stubborn plaque from your teeth. The young Barolos from Poderi Aldo Conterno however, do not mask their effusive personalities behind a closed door of tannin.
Unlike some old world Barolos that need several years to open up, Conterno Barolos reveal their aromas and flavors when first released. This is a good thing because at the rate some of my old world Barolos are maturing my kids will end up drinking them, probably while they're feeding me cat food through a straw.
Even though the Conterno brothers produce their Barolos with traditional production techniques (e.g. aged exclusively in large Slavonian oak barrels known as "botte") I find the flavor profile leans toward a more modern style. I don't mean to imply these are unstructured weaklings, like California Moscato or the French Canadians; the wines are expressive early on but they possess the same sturdy structure and age worthiness of Clint Eastwood, but they aren't nearly so leathery.
Conterno employs a severe selection process in the vineyards and in the cellar, which resulted in a drop in production from 200,000 bottles in 2000, to just 80,000 bottles in 2007 despite being sourced from the exact same vineyards. I had the same kind of shrinkage in my wine cellar but a new lock fixed the problem.
While these Barolos are a pleasure to taste when released, I recommend lying them down for a few years. You'll know when it's time to drink them. It's when your kids start buying cat food even though you don't own a cat.
A year ago I took a couple of cases of samples on a weekend retreat to the country. I know, I know, I shouldn't take my work home with me but I can't help myself; I'm a workaholic. My wife and I diligently sampled the first few wines and wrote our tasting notes, but when we tasted the fourth wine we stopped dead in our tracks and decided it was time to stop working and enjoy the distinctive wine before us. It was Conterno's unique Langhe Rosso, a wine made from the little known Friesa grape. In wine circles this grape is called the "WTF did you call it" grape. It's blended with a little Merlot and Cabernet Sauvignon so I'm pretty sure it comes from Earth. We made tasting notes when the bottle was freshly opened, and after a couple of hours of breathing – heavy breathing. Oh, and we also let the wine aerate.
I tasted the wine again in this line up, a full 15 months after first tasting it, and I have combined my notes to show how the wine tastes A) when first opened, B) after breathing, and C) a year later.
Poderi Aldo Conterno, 2009 Langhe Rosso, Italy
Depending on the conditions, this wine features aromas of A) dark plummy fruits, violets and faint tar, B) smoky roasted meats, or C) strawberry pudding (which I've never actually smelled, but if I did it I'm sure it would smell just like this wine). In the mouth this wine was uniformly full, dark and lusciously fruity, with silky tannins that glide over your palate. Under conditions A and B) the fruit flavors leaned towards blackberry and subtle ripe boysenberry followed by faint mineral notes of clay or graphite. C) A year later the fruits reminded me of ripe Maraschino cherries or spicy cherry compote. Under condition D) (all of the above) the wine was a delight to drink and a good value to boot.
You know this wine review reminds me of a multiple choice question from my SAT's (and not the one where Friesa leaves Philadelphia at 4:15PM on a train travelling 85 mph, while Merlot leaves Chicago at 5:35…). 400 cases imported. $26 – $29.
Rating:
(3.5 / 5)
Poderi Aldo Conterno, 2010 Barbera d'Alba, Conca Tre Pile, Italy
This modern offering shows old world aromas of subtle campfire, smoked meats and ripe strawberry that are surrounded by new world nuances of sweet vanilla cookie dough. This is a medium to full-bodied red with the salacious disposition of a Renaissance princess with a faulty chastity belt lock. It features extremely ripe flavors of cherry and strawberry, complimented by a tangy touch of spice. 250 cases imported. $35 – $39.
Rating:
(3.5 / 5)
The 2009 Barolos will be released in May.
Poderi Aldo Conterno, 2009 Barolo, Italy
This Barolo displayed so much sweet leather aroma that it reminded me of the time my wife dragged me into a Coach pocket book store, but at $73 a bottle it was considerably less expensive. The leather aromas combine with scents of ripe strawberries and flowery notes that carry over to the palate. It's delightfully floral, with ripe, spicy black cherry flavors. Echoes of sweet leather linger in a finish that also displays some tea-like tannin notes. 350 cases imported. $73.
Rating:
(4 / 5)
Poderi Aldo Conterno, 2009 Barolo Cicala, Italy
Pretty lavender scents combine with sweet spice and subtle hints of vanilla in the nose. The Cicala is framed by rigid tannins that make Dick Cheney seem soft by comparison. With enough air the wine reveals licorice, charcoal and ripe plummy strawberry, but it needs time for the tannins to integrate. 300 six packs imported. $140.
Rating:
(4 / 5)
Poderi Aldo Conterno, 2009 Barolo Colonnello, Italy
The Colonnello is a softer, richer version of the Cicala. It features similar spice, floral, licorice and ripe strawberry traits, but with a fuller mouth feel that manages to be both luscious and powerful, like J.Lo's derrière (hence the higher rating). Cellar the Cicala while you're enjoying the Colonnello, but don't rush into either of these too soon. 300 six packs imported. $140.
Rating:
(4.5 / 5)
Poderi Aldo Conterno, 2005 Barolo Granbussia, Italy
What a delight to breathe in. Pretty flower garden scents combine with strawberry, subtle cherry kirsch, and licorice aromas. Flavors of strawberry are carried on a bed of refined tannins that give the texture a silkiness that persists on the long finish. 300 six packs imported. $375.
Rating:
(4.5 / 5)