Super Bowl – The Menu Says Sweet, Your Friends Want Dry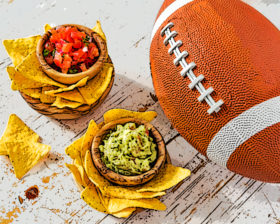 The holiday season comes to an end this Sunday. We celebrated a harvest Thanksgiving, rejoiced in the birth of our savior, and welcomed a new year. Now comes that most sacred of American holidays – the Super Bowl, a holiday commemorated by 114 million people paying homage to hostile 300-pound men battling in day-glo tights. Don't you just love this planet?
I didn't expect the Giants to make it to the Super Bowl and they didn't let me down. They lost in the first round of the playoffs and I spent the following week watching game replays on ESPN because depression makes me so happy. I was so disheartened I actually stopped eating for a minute.
To cheer me up my wife decided to have friends over on Super Bowl Sunday even though she knows I like watching football without a lot of distractions. That's why I always make the kids leave the room when the game begins. This starts with some simple cajoling but usually ends with a tantrum and a lot of tears. Sometimes the kids get upset too.
For some unfathomable reason, my wife thinks you need to have people over when you throw a party. I allowed her to invite friends over because I'm a thoughtful, considerate husband and because she scares the bejesus out of me. I sent out invitations for a 5 PM get-together on February 12th but she caught on when she heard the Super Bowl is on the 5th.
She corrected the date which means now I'll have to watch the game with my pants on. As I've said, I prefer watching the game alone because I don't like to answer a lot of complex questions like, "What's a play action pass?" or "Who farted?"
The house has to be cleaned before the guests arrive which can be exhausting. It seems that every time I settle into the couch or chair my wife tells me to move. But I like to help so I go to HOOters to get out of her way.
We've thrown so many Super Bowl parties that I know exactly what will happen when the guests arrive. My friend from work will bring his dog. I love animals, especially grilled, but don't bring one to my football party because it could be in danger if we run out of kielbasa.
My friend from high school will drink too much and start screaming at the TV, even when we turn it on. I'm pretty good at getting obnoxious drunks under control and I can usually put an end to the belligerent trash talking, cussing and fighting. Sometimes I can even do it with other people.
My brother-in-law will bring his homemade thermonuclear chili. It isn't very good but I eat it to keep my parasite problem in check.
My neighbor will look at me like I'm some sort of pathetic drunk. He's very astute. His wife will bring her "Ambrosia-Marshmallow Surprise" also known as "Shit I Wouldn't Feed My Cat". They're a couple of "foodies" and he always looks at the food I serve like I dropped it on the floor and served it anyway. Did I mention he's very astute?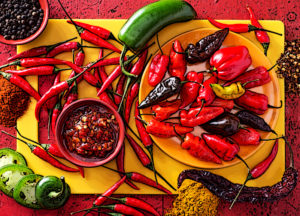 While preparing the menu this year we decided to forego the healthy vegetable crudité with yogurt dip, kale salad and fresh fruit. That makes 35 years in a row. We're going to eat good old-fashioned American cuisine like habanero salsa and jalapeño poppers. I can't imagine a Super Bowl Sunday without spicy food. It somehow seems sacrilegious, like showing up for work on Super Bowl Monday.
The piquant sensation created by spicy foods like chili peppers, horseradish, menthol and alcohol is not perceived by our taste buds. It comes from the chemical stimulation of the Trigeminal nerve and is a sensation more closely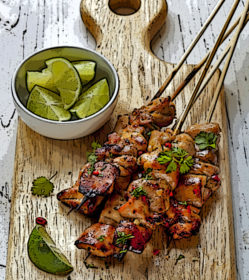 related to pain than taste. We endure the agony of hot, spicy foods on Super Bowl Sunday so that we can identify with our football heroes as they're carted off to the hospital. While there have been no reported concussions from eating my Thai chicken skewers, to be on the safe side my guests are told it's a BYOB party – Bring Your Own Bromoseltzer.
The best option when pairing wine with piquant foods is to opt for a light, slightly sweet wine like Gewurztraminer, Riesling, or Lambrusco. You can read about those and other options in last year's Super Bowl post (here). If your friends are like mine, they won't go anywhere near a sweet white wine so I serve a red wine that's dry but fruity (just because a wine displays lots of fruit flavor doesn't necessarily mean it contains residual sugar). Red wine is high in resveratrol, a compound that has been shown to reduce the risk of heart disease. Since our Super Bowl menu could easily clog an elephant's arteries I'll need lots of red wine. Do you have any idea how much an elephant can drink?
Before the guests arrive I'll open something special like a Classified Bordeaux from a great vintage or a 100-point Cabernet Sauvignon's from the Beckstoffer To-Kalon Vineyard. Oh, and I'll also open some Beaujolais for the guests. Many wines from Beaujolais are fermented using a unique process called carbonic maceration. Whole clusters of grapes are put into a sealed vat filled with carbon dioxide. This produces an anaerobic fermentation at the intracellular level inside the individual grapes, triggering various enzymatic reactions … zzzzzzzz.
Huh? What happened? I must have dozed off – which usually means it's the third quarter. A football game is broken down into four 15-minute quarters which somehow adds up to 4 hours of television. But don't worry, when your friends come over it only feels like 18 hours.
So where was I? Oh yes, I chose Beaujolais for my Super Bowl party because it tends to be light and fruity, kind of like Odell Beckham Jr. Wines that are light-bodied, fruity, and low in tannin are a good choice for any party where spicy foods are served because;
A) Light wines are lower in alcohol. Spice accentuates the impression of heat inherent in alcohol, so bold, alcoholic wines pick up a hot sensation.
B) Capsaicin, the compound that puts the POW in Kung Pao peppers, can enhance the perception of bitterness in wines high in tannin.
C) Fruity wines may not be sweet but they offer the perception of sweetness which has a mellowing, palette refreshing effect on the searing sensation caused by piquance.
D) Beaujolais is cheap.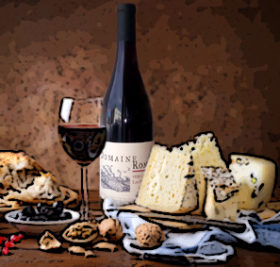 I picked up some 2015 Domaine Romy, Vieilles Vigne Les Pierres Dorées, Beaujolais but upon sampling it I discovered this wine did not undergo carbonic maceration, rendering everything I've just written meaningless. I was really upset and felt more deflated than Tom Brady's football.
To spare my guests I did the right thing and drank the bottle myself. Romy's Beaujolais is a serious wine with black plum, cherry pit and delicate grape skin aromas swirling through elusive scents of smoke, stone and clay. This is a medium-bodied red with supple, tea-like tannins supporting flavors of black cherry and plum complimented by subtle floral notes reminiscent of violets.
Then I remembered an interesting wine that I picked up while visiting Kathleen Inman at Inman Family Wines in the Russian River Valley. It may be hard to find a bottle of the 2013 Inman Family "Whole Buncha Love" Pinot Noir, OGV Estate, Russian River because it's a small production Pinot Noir created through whole cluster carbonic maceration. This unique experiment resulted in a wine with the kind of bright, upfront fruit flavors needed for piquant food pairing. The aromas lead you to believe the taste will be sweet, but this wine exemplifies the expression "fruity but dry". Aromas of cherries, wild berries and strawberry have a hard candy-like quality to them. It's light, bright and a little spicy with a silky, elegant, slightly fleshy texture playing host to candied cherry and subtle grape flavors. There's an interesting finish that reminds me of pudding and bergamot – the fruit that gives Earl Grey tea its unique flavor.
There's only 7 shopping days left until Super Bowl Sunday so visit your local wine merchant and ask him about carbonic maceration. When he gives you a blank expression in return, ask about the lighter, fruitier wines from Beaujolais. If your guests will only drink dry wine, at least serve a low alcohol fruit bomb like Beaujolais. It's one of the few dry wines that stands a chance against piquant foods.
Once the holidays are officially over on Monday I'm going to get back in shape. I've put on too much weight and I realize it's nobody's fault but my wife's. Next year I'm going to put my foot down and only let her invite people over when we're entertaining.