Super Bowl; Because We Need Another Reason To Drink Wine
My family always drinks wine during religious observations, whether it's a baptism, Easter, or Super Bowl Sunday. This year is no different even though the Giants are not playing (I guess God found the New Jersey tithes a little light).
The congregation is meeting at my house this year. That's what happens when you draw the short straw (see illustration 1). We will gather around the 60″ LED 1080i high-definition altar with a glass of wine and watch colossal men try to maim and kill one another. It falls on me to pick the perfect wine to pair with this joyful occasion.
What is the calling, the hidden force, the innate primal drive that makes violent sports so appealing to men? Can anyone explain the macho impulses that drive men to create life threatening competitions like the Super Bowl, cliff diving and beer pong?
The answer is twofold; first, events like the Super Bowl give men a free pass to consume mass quantities of salty fried food. After all, the football players shouldn't be the only ones putting their lives at risk. Second, we really want our team to win. We want it so badly we can taste it, and frankly it could use more salt.
My wife has come to expect very little of me on Super Bowl Sunday and I don't let her down. She's a warm, loving person and I know I shouldn't ignore her like I do on game day because she deserves more and I'm lucky to have her and I do want to be a better husband but let's face it, she just can't throw a forty-yard touchdown pass.
This year will be different. I'm going to pay attention to her during the halftime show. After all, she's working really, really hard to make the day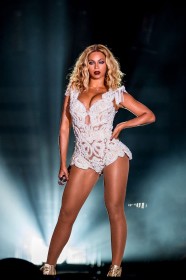 special and she's very cute when she asks, "What inning is it?" and who am I to deny her and … what? Beyoncé is performing at halftime?
Never mind.
(see illustration 2)
I'm in charge of the wine but I also help out by serving hors d'oeuvres with all the speed and grace of a ballerina who has had too many Jell-O shots. Matching Super Bowl cuisine with wine can be challenging, but I've come up with the following suggestions based on my extensive research, my insightful expertise, and my resounding commitment to tube-shaped meats.
Nothing declares, "I'm a foodie" quite like pairing franks with Blaufränkisch. This is a spicy, medium-bodied red and so is the wine. Blaufränkisch also goes by the name Lemberger but bears only a passing resemblance to the cheese. The rustic, earthy flavors of Blaufränkisch complement the toasty flavor of grilled meat-like byproducts; the dark fruit flavors counterbalance the tangy bite of nitrates; and the leathery tannins and high acidity cut through a hot dog's abundant fat like a chainsaw through Crisco.
When choosing a wine to go with the greatest culinary innovation of our time  –  Pigs in a Blanket –  you must consider the strong, spicy flavors of the mustard dipping sauce. The hearty flavor of a bold Zinfandel can stand toe to toe with the strong flavor of mustard but you'll also find a dry Provence Rosé can be as complimentary as a horny teenager on a first date.
Chili can be a real problem and I'm not just talking about the post-bean apocalypse. Piquant dishes elevate your perception of heat in wine which is why your selection needs to be as light and fruity as Perez Hilton. To tame chili's heat, try a Riesling or Gewurztraminer or if you prefer red, try an exuberant Lambrusco or a juicy Beaujolais-Village.
Sauvignon Blanc, Semillon, or a Bordeaux Blanc blend of the two, pair beautifully with the healthy vegetable platter and low-fat cottage cheese dip brought by the couple who will never be invited back.
The saddest thing about Super Bowl Sunday is that come Monday you know the Great Plains will be littered with millions of wingless buffalos (see illustration 3). Choosing a wine to pair with Buffalo wings depends on the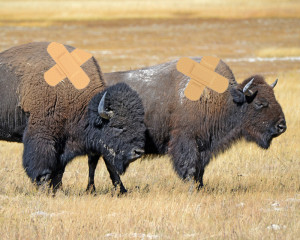 heat factor. If your wings are mild or slightly sweet you can opt for fruit-forward whites such as a California Viognier, an east coast Rkatsitelli, or a Friulano from northern Italy. Look for light reds with little or no oak aging such as Central Coast Pinot Noir, German Dornfelder, or Grenache based Cotes du Rhone. If your wings are hot enough to power the Three Mile Island nuclear reactor you will require some sweetness to tame the heat. A Kabinett level German Riesling is a sure-fire way to put out the fire and Brachetto d'Acqui is a sweet, frothy Italian red wine that has the added benefit of being served chilled.
Super Bowl snacking seems to center around two staples of the American diet; salt and spice. Unfortunately both of these tastes have the unwelcome effect of enhancing the piquant or "hot" sensation of alcohol. When exposed to excessive saltiness or hot, peppery spices, wines high in alcohol will be thrown out of balance as the alcoholic burn is magnified. For a refreshing contrast, try fruity low alcohol wines or wines with enough sweetness to combat the effects of piquance. In chapter 9, part 6 and part 8 you will find a lot of useful information about piquant and salty pairings, as well as a lot of useless puns.
Lest this blog go on longer than a Super Bowl halftime show, here's the short list on many other Super Bowl foods;
Pico de Gallo; Chenin Blanc, (Vouvray)
Sausage and Peppers or Lasagna; Sangiovese (Chianti), Barbera
Pizza – Margherita; Vernaccia di San Gimignano
Pizza – Pepperoni and Sausage; Petite Sirah, Tempranillo
BBQ Ribs; Shiraz, Zinfandel
Hamburgers; Cabernet Franc, Pinotage, Merlot
Bean dip; Gas-X
In the end Super Bowl Sunday is about sharing food and drink with the friends and family that give our lives meaning while watching grown men dismember each other. The Broncos made it to the Super Bowl by beating up the Patriots in Denver's Mile High Stadium (so named when Colorado legalized recreational marijuana use). Over the past five years the Broncos are second only to the Minnesota Vikings in player arrests which explains why they employ such a high-powered defense.
So relax, have a drink and enjoy the show as rising star Cam Newton of the Carolina Panthers goes up against aging veteran Peyton Manning of the Denver Broncos. Manning has many detractors who claim he is too old and should hang up his cleats, but at least Nationwide is on his side.