Spot The Frog
A Blind Tasting Of A Dozen California Reds and One Bordeaux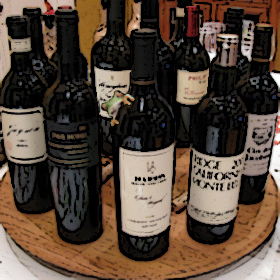 Recently my friends and I blind-tasted a dozen small production Napa Valley Cabernet Sauvignons and Cabernet-based blends from the 2005 vintage. We taste wine blind so we won't be influenced by the name and reputation of the winery and because we feel more at home drinking wine out of a dirty paper bag.
In a game I like to call "Spot the Frog" we included a 2005 Grand Cru Classé from St. Emilion Grand Cru. When wines are young it's not hard to pick out the French ringer in a group of California wines but as wine ages the differences become less apparent. Identifying the lone Bordeaux in a blind tasting had some tasters feeling a little tongue-tied, but I brazenly predicted I could spot the frog with my tongue tied behind my back.
Here are my picks ranked from least to most favorite (with ties for 2nd, 5th and 6th place). I didn't print all the reviews because I'm told blog readers break out in a cold sweat if they can't see the bottom of an article.
By the way, unless Napa Valley is a new Right Bank Bordeaux appellation – I didn't spot the frog.
6. Ridge, 2005 Monte Bello, Santa Cruz Mountains
This historic wine surprised me with its pleasing aromas of sweet baking spices and sugar cookie batter. The spicy Christmas cookie aromas were also apparent in the palate but they couldn't compensate for the lack of substance in the middle. The wine lost ground to the others because it seemed light and devoid of fruit, kind of like the Christmas fruitcake that has been re-gifted by your family for so many years that the fruit flavors have faded and only the spiciness remains.
Rating:
(3 / 5)
6. Philip Togni Vineyard, 2005 Cabernet Sauvignon, Napa Valley
When I took a sip I thought I had a frog in my throat but alas, this was not the Bordeaux. The palate seemed lean and austere next to the highly extracted competition, and I had my doubts about the condition of this particular bottle as the wine had already developed a brickish rim and a faintly musty nose. Togni wines are notoriously long lived and the '05 may simply need more time to flesh out. It displayed interesting scents of charcoal and earth, while subtle leather and spice flavors dominated the palate.
Rating:
(3 / 5)
5. Dancing Hares, 2005 Red Wine, Napa Valley
I thought I'd recognize Dancing Hares since it's a staple of my diet, right up there with Cheerios and Prilosec, however the nose threw me as it revealed little fruit and had a dusty minerality that I didn't recognize. The full-bodied palate is big and lush with ripe black fruit flavors plopped right down in the center of an earthy, clay-like minerality. The amazing team behind this wine consists of winemaker Andy Erickson, vineyard manager David Abreu, and consulting winemaker Michel Rolland.
Rating:
(4 / 5)
5. Pahlmeyer, 2005 Red Wine, Napa Valley
The nose featured a unique (but faint) yeasty, dough-like characteristic that was echoed in the finish. After the wine had a few hours to breathe it developed pleasing herbal scents of oregano and hemp, but that might have emanated from the glassy-eyed taster to my left. This is a full-bodied fruit bomb of a wine with loads of ripe cherry and bold berry flavors wrapped in a velvet thong.
Rating:
(4 / 5)
4. Jayson, 2005 Red Wine, Napa Valley
Jayson is the first name but the second label wine made by Jayson Pahlmeyer, yet in a surprise to all of us, we unanimously picked it ahead of the first label which is Jayson's second name. (Confused? Try writing this after 13 bottles of wine). This usually happens only if the wines are recently released and the marquis wine is too young to show well next to the more accessible second label. The palate was appealingly soft and entirely ready to drink, which was a good thing because so was I. Jayson had none of the doughy aromas displayed in the Pahlmeyer, instead showing ultra-ripe black cherry scents with a hint of barbeque sauce. This full-bodied wine caresses your palate with its soft fleshy texture, and juicy, ripe fruit flavors.
Rating:
(4 / 5)
3. Harris Estate Vineyards, 2005 Treva's Vineyard, Napa Valley
This is another wine that has graced my table several times lately so I was surprised when I noted herbal, tobacco leaf nuances in the nose that I had never previously noticed. The pronounced fruit aromas were bold to the point of over ripeness. Like Vladimir Putin this is a firm, intense red. One minute it appears spicy, the next earthy, the next faintly herbal. Spoiler alert; eventually the brawny tannins grant asylum to the rich core of dark cherry and blackberry fruit.
Rating:
(4.5 / 5)
2. Robert Foley, 2005 Claret, Napa Valley
The nose was closed, revealing only hints of dark fruits, clay and dust. The palate however was as fat and fleshy as Kim Kardashian's tookus but showed none of the barnyard qualities. Spicy oak flavors surround ultra-ripe dark cherry and blackberry, while underneath a vein of clay-like minerality adds depth and persistence.
Rating:
(4.5 / 5)
2. Clos des Jacobins, 2005 Saint Emilion Grand Cru, Bordeaux
The first word on my tasting notes was "unique" so in hindsight I was surprised that this wasn't my first choice as the surreptitious St. Emilion. Next to the others the nose was a funky mix of earthy barnyard and wet leather (reminiscent of an X-rated Dukes of Hazard). It's medium-bodied, at least next to the bruisers from California, with fruit flavors that favored earthy berries, bordering on cranberry or pomegranate. Subdued oak spice flavors lingered in the finish, no doubt a clever ruse by the winemaker to throw me off. Unlike most tastings where the subtleties of Bordeaux wines are overpowered by bolder California wines, Clos des Jacobins benefitted from its uniqueness and moved up the list.
Rating:
(4.5 / 5)
1. Buccella, 2005 Cabernet Sauvignon, Napa Valley
This wine stole the show with its intense concentration. It didn't smell like cherries, it smelled like Kirsch liqueur. It didn't remind me of raspberry but of raspberry compote. Everything about this wine is big and showy, from its concentrated core of cherry/raspberry syrup flavors, to its rich, viscous texture and flowery lavender finish. It's massively endowed with oak, fruit and weighty glycerin, yet keeps it all in brawny proportion.
Rating:
(5 / 5)
So when the votes were tallied, the long-lived Togni seemed a bit old, Pahlmeyer split hairs with Dancing Hares, the frog turned out to be a prince, and the big, bold Buccella, which translates to small mouthful, turned out to be anything but.
A special thanks to Bob and Elizabeth Van Dyk for opening their home and their wine cellar for this fantastic event. In particular I'd like to say thanks for putting up with our off-key and off-color song parody. You never know what 13 bottles of wine will lead to.
To find Bob and Elizabeth's wines visit, vandykfamilywines.com.