Oak – The Grandfathered Ingredient.
Chapter Thirteen, Part One.
"Oak in wine should be like a ghost in a chateau; you sense its presence, but you don't actually recognize it." Pierre Seillan
Before his untimely death in 2002, I had lunch with Bruce Guimaraens, the fifth generation winemaker for the esteemed port houses Fonseca and Taylor-Fladgate. Guimaraens was the great, great grandson of Manoel Guimaraens, who founded Fonseca-Guimaraens in 1822. I probably think being a great, great grandson is a big deal because I was never a great, great grandson; I was just an average great grandson.
My most pressing question for Mr. Guimaraens regarded the label variations on the old Vintage Port bottles in my collection. Wine collectors have come to expect bottle variation in forty year-old wines, but I was perplexed by the variation in forty year-old wine labels.
"Why," I asked, "do some bottles of the same wine, from the same vintage, proclaim 'Finest' or 'Finest Reserve' while others do not. Why don't the typefaces match and why are some labels white while others are black?"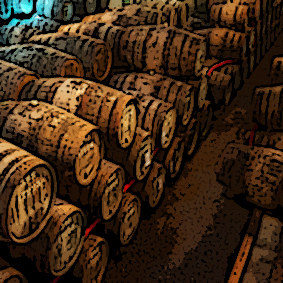 "Not that long ago we shipped our port to merchants in London in wooden casks," replied Guimaraens. "The merchants bottled the wine for us and as you might expect, each merchant had a slightly different interpretation of the label."
"Good Lord! Didn't different bottlers expose you to inconsistency, production discrepancies and, and, and irritable bowel syndrome?" I stammered.
Guimaraens confirmed that these problems did occasionally arise but by the 1970's port producers put an end to the troubles by instituting estate bottling and eating less fiber.
"Once, while visiting one of our long-standing merchants," Guimaraens said, "I came upon a barrel of Fonseca Vintage Port that was long overdue for bottling and I demanded to know why the wine was still in cask."
"We haven't gotten around to it just yet," came the merchants reply. "We'll have it bottled and labeled straight away."
"No you won't," boomed Guimaraens. "This barrel no longer contains Fonseca Vintage Port!"
What Guimaraens knew, and the merchant certainly should have known, is that oak barrels are much more than vessels for storing and shipping wine. Today oak is recognized for what it really is, a flavoring agent.
U.S. federal regulations do not require wine labels to list ingredients (and oak was long ago great grandfathered in as a "container") but if the truth be told, oak chemically changes wine, adding flavor and texture to the finished product. This is exemplified by the modern practice of altering mass-produced wine during production by adding oak staves, oak chips, and even oak granulates or powders (which isn't nearly as disturbing to vegans as my revelation in chapter 12 regarding fining wine with bull's blood, bone char and sturgeon bladder).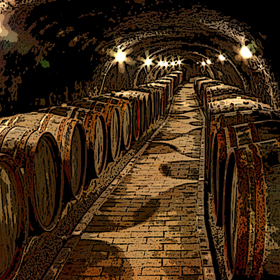 One of the factors that determine the degree to which oak alters wine is the amount of time they spend in contact with each other. Guimaraens was understandably upset with the merchant because Vintage Port, the rarest and most expensive of all ports, is meant to be aged in oak casks for two years before bottling. If it stays in oak barrels longer, esters, tannins and oxygen will continue to leach into the wine, transforming it into a Late Bottled Vintage, a Tawny, or a Coheita – designations for ports that deliberately spend more time in oak barrels to alter their flavor profile. 
Because the barrel that Guimaraens encountered had spent too much time in cask, it was no longer representative of true Vintage Port, and of course that left me wondering; what the heck is in all those expensive bottles in my wine cellar?
I recalled my memorable lunch with Bruce Guimaraens while enjoying a bottle of 1970 Taylor-Fladgate Vintage Port. When I drink old Fonseca or Taylor-Fladgate ports I often find myself channeling Bruce Guimaraens which is a side effect of alcohol consumption I neglected to mention earlier. Guimaraens suggested this would be a good story to introduce the chapter on oak and since I've been suffering from writer's block it was only logical I heed the advice of a ghostwriter.