Not Another Boring Thanksgiving Wine Pairing Article
Chapter Nine, Part Four.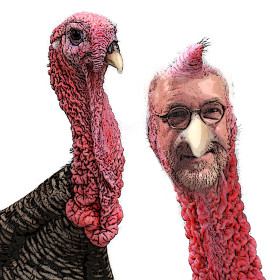 On Thanksgiving my family comes together, shares some wine, enjoys a harvest feast, and watches football, football, and more football. It's an afternoon filled with aggressive, smash-mouth offence and bold defensive maneuvers. Then we turn on the TV and watch the game.
Cooking a Thanksgiving meal for 20 people can be a lot of work and very stressful for everyone involved, by which I mean my wife. Of course I help out in a big way as I'm in charge of the wine and stay far from the kitchen. That probably doesn't sound like much help to you, but then you haven't been at my house when the wine locusts arrive. The eighth plague was nothing compared to what happens when my people are thirsty.
My wine selection process is simple. I sit on the front porch and sample wine before the guests arrive. Last year the first wine I tasted was so good that I drank the whole bottle. I wasn't alone mind you, there were lots of people driving by.
Don't get the wrong idea. I have a lovely family. In fact I love my wife's brother like a brother-in-law. We gather around the table and I take a heart-warming look at the family, my Uncle Ralph, the turkey, and then my wife brings in the bird. No casual attire at this table. No sir, even the greens are collard.
When it comes to Thanksgiving with Uncle Ralph I can tell you the potatoes aren't the only thing that are twice baked. Before he arrives he enjoys a big helping of Bourbon maple cheesecake, minus the maple cheesecake. Every year he bugs me to let him carve the turkey. He just won't let up and I eventually give him the bird.
We give thanks and then discuss the age-old question that has puzzled Thanksgiving tables since the Pilgrims first broke bread with the Indians. What, dear Lord, is the difference between a sweet potato and a yam? In my home, and in homes all across America, this discussion inevitably erupts in violence.
It's scenes like these that make Thanksgiving so special. That, and the 18 pounds of butter we get to consume. Last year we ate so much butter that for several months the folks in Wisconsin had to go without milk in their coffee.
Soon, every wine blogger, retailer, and magazine will roll out their picks for the perfect wine to pair with turkey, which means you're going to hear a lot about Pinot Noir; and why not? Pinot Noir goes with turkey like gravy goes with heart disease.
When Dinner Outweighs Your Wine
Matching food and wine by similar weight and flavor characteristics is a long-standing sommelier practice, just like belittling customers and overcharging.
I once wrote, "As a rule of thumb I generally thumb my nose at rules, but when it comes to pairing food and wine I invariably start by matching the weight of the wine to the weight of the meal."
My loving and supportive wife will be the first to attest, "that's a stupid idea." Okay, she's not cruel enough to call my idea stupid. She actually called it "half-assed" which is just her way of saying, "that's brilliant darling".
While pairings based on weight similarities offer a sure-fire starting point, much more interesting match-ups occur when lively, contrasting flavor considerations override weight pairing principles. In fact, very flavorful wines, regardless of how light they may be, usually offer sufficient stuffing to supersede the weight matching approach.
I understand it can be difficult to convince your guests to drink something other than Pinot Noir or Chardonnay on Thanksgiving because it takes them out of their comfort zone. I've learned my sister-in-law only drinks Chardonnay on Thanksgiving because it pairs so well with aggravation. The truth is I know lots and lots of women who will only drink Chardonnay. I guess you could say Chardonnay has broad appeal.
But when you consider the sum effect of the various dishes served at a traditional Thanksgiving dinner – sweet potatoes bathed in butter, mashed potatoes smothered in copious layers of buttery gravy, or roasted root vegetables covered in … you guessed it … butter, you see how quickly they add up to a hearty meal. A full-bodied, buttery Chardonnay is an acceptable Thanksgiving pairing, based on similarities in both weight and flavor, but if I'm going to eat my weight in butter on Thanksgiving (a very real possibility) I don't need more of the same in my wine.
I often suggest a light-bodied, aromatic white on this holiday. Riesling or Gewurztraminer can range from light to full-bodied but even the lighter styles offer the requisite flavor to bring counterbalancing refreshment to this transaction. Before you – I-Only-Drink-Dry-Wine – snobs reach for the mouse, keep in mind these varietals are made with varying degrees of sweetness, including many made in a fully dry style.
Speaking of dry, my Aunt Tootie insists on bringing the turkey on Thanksgiving Day. What that woman does to a turkey is criminal. She must cook it in a conviction oven.
Gewurztraminer, Riesling, or Viognier offer the bright, contrasting qualities needed to bring Tootie's turkey back to life. Combine the flowery traits of these wines with the rustic, earthy tastes of a Thanksgiving feast and watch the flavors come out like Caitlyn Jenner in a Versace gown.
When Wine Outweighs Your Dinner
So if light but flavorful wines can stand up to robust food, what happens when the wine is heavier than the meal? While it's easier to overpower wine with a hearty dish than it is to overpower your dinner with a hearty wine, a middleweight entrée like turkey could be overmatched by a heavyweight wine unless interesting flavor contrasts are present.
A California Zinfandel weighing in with 15% alcohol is certainly more robust than turkey, but give this pairing a try and you will discover that the bold, jammy berry flavors found in Zinfandel contrast with the gamy flavor of turkey, creating a lively, complimentary coupling. Much like a flavorful (but underweight) Riesling or Gewurztraminer matchup, the tension generated by these contrasting flavors is far more interesting than a pairing based on weight and flavor similarities, and if you happen to get carried away and indulge in the giblets and mincemeat, Zinfandel's 15% alcohol may also help you forget you ate mutton fat and organ meat.
Zinfandel also pairs well with turkey because it is a high acid varietal and interacts much like the tangy zing of cranberry dressing, livening up the rustic (i.e. boring) texture of the bird. However, there is one major difference between cranberry dressing and Zinfandel; chances are you won't be throwing away the Zinfandel after the meal.
This year, step away from your boring, traditional Thanksgiving wine choices and liven up your meal with some juicy, contrasting alternatives. You may have several turkeys sitting at your Thanksgiving table, but there should only be one turkey on your table. Don't let it be the wine.
I'm very thankful and fortunate to have a truly loving family in my life. They put up with a relentless barrage of snarky comments and bad puns, for which I am eternally grateful. This Thanksgiving, in addition to giving thanks for the loved ones in my life, I'd like to say a prayer for my French colleagues, their families, and their countrymen. May we someday all live in peace.