New Year's Eve, A Pahlmeyer Tasting & Downton Abbey.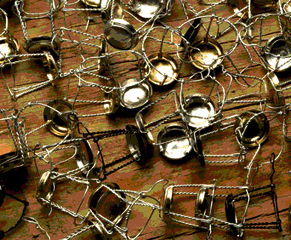 For New Year's Eve I decided to spend the night in quiet meditation while channeling my inner tranquility, by which I mean I got more fried than a Paula Deen chicken.
I did this with some friends who are selling their house up north and want to thin out the wine cellar so they won't have to move it. They don't know how many wines are stacked down in the basement but I told them that given a few days we could get to the bottom of it. So a bunch of us headed north to usher in the New Year by ushering out some old wines. By the way, this is a service that I offer people in need of wine cellar cleansing. The service is free, but only for those who can afford it.
We began the evening with a challenging vertical tasting but finished the evening feeling vertically challenged. A vertical tasting is one where you taste wines from several different vintages, but all from one winery. Horizontal tasting means you didn't spit out wine at the vertical tasting and finished the night on the floor. Okay, what it really means is you taste wines from different wineries but all from the same vintage.
Our vertical lineup included four vintages of the legendary Pahlmeyer Proprietary Red from Napa Valley. This blend is made from traditional Bordeaux varieties by the legendary Jayson Pahlmeyer, and by "Jayson Pahlmeyer" I mean legendary winemakers Bob Levy and Helen Turley. Wines and winemakers attain "legendary" status when enough magazines and knucklehead wine bloggers use "legendary" as a meaningless adjective.
My wife insisted we be home in time for the long anticipated season premiere of Downton Abbey. Oh, and maybe I could catch a little show called THE NFL PLAYOFFS! The truth is I like Downton Abbey as much as football because Lady Mary's boudoir has seen more Bump and Run than the Cowboy's secondary.
I transcribed my New Year's Eve tasting notes while watching Downton Abbey, but I may have gotten distracted when things also got hot in Lady Edith's bedchamber. Here are the results;
The Pahlmeyer, 1990 Proprietary Red has all of the elegance of the Dowager Countess of Grantham but without the piercing after bite (that's Maggie Smith's role for you guys who think "public television" is any TV found in a bar). Aromas of clay, earth and dark cocoa combine with ripe strawberry scents that seem remarkably fresh for a 24 year-old wine. This medium-bodied red displays flashes of spicy ripe fruit but there's a firm club of tannin that beats the crap out of the mellow, aged flavors of dried cherry and subtle leather. With its strawberry nose, cherry-pit mid-palate, and leather nuances, it reminded me of an aged Sangiovese. The 1990 finished last in both my ranking and that of the entire group.
Rating:
(3 / 5)
If the 1990 is the Dowager Countess of Grantham, then the Pahlmeyer, 1994 Proprietary Red is downstairs cook Mrs. Patmore – lovable for its buxomous full-body and soft, fleshy texture. Even the nose seemed fleshy, with scents of sweet saddle-leather, ultra-ripe cherry and Christmas spices. Silky tannins add support and maintain balance with the lush cherry and strawberry flavors that dominate the fruit profile. There's also something riper and slightly raisony in the mid palate that hinted at bar-b-que sauce. With its lush fruit, tannins, and leather all wrapped in a fat, fleshy texture, this wine is like a big chubby jelly-hug from your favorite aunt.
Rating:
(3.5 / 5)
The Pahlmeyer, 1996 Proprietary Red lacked the sensual fleshiness of the '94 but I rated them equally and it came in second place on the combined group ranking. What really impressed me about the '96 Pahlmeyer was the lengthy finish that hangs on longer than the Earl of Grantham clings to a collapsing caste system (I know this wine description has become so common that it's now a cliché). The sweet leather and ripe black cherry aromas are pronounced and concentrated, while the attack is rich and smooth. This is a medium to full-bodied blend with abundant black cherry fruit followed by a unique cinnamon stick spiciness.
Rating:
(3.5 / 5)
Here finally, is the moment I've all been waiting for. My highest rated Pahlmeyer of the night was the Pahlmeyer, 2005 Proprietary Red. Now I don't want to lose my male audience so I'm going to knock off the Downton Abbey similes (and by the way, how about those Packers?). The '05 Pahlmeyer is chock full of deep, inviting aromas of plums, dark cocoa, and mint. It's very full and soft with spicy black cherry cobbler and plum pudding flavors. This wine made me feel all warm and fuzzy inside, like when Matthew and Lady Mary finally got together. Oops! Well at least the Pahlmeyer doesn't end in a fiery death; it does however end with a touch of chocolate and silky nuances of bergamot.
Rating:
(4 / 5)
So another New Year's Eve has come and gone. It was filled with laughter, camaraderie, and take no prisoners pinochle; a crazy, howl at the moon, shoot fireworks out of your ass kind of night.
And then there was our night. We partied until nearly 12:05 in the morning! What can I say? We bid farewell to 2014 in a fashion that can only be described as "legendary".