New Jersey Wineries Are Bringing Home The Bling.
I recently picked up a brochure about all the great things happening in New Jersey. It was a very thin brochure. As I perused the pamphlet I was beginning to think there's not much to do here once you've seen Lucy the Elephant (six stories tall in Margate) or visited the world's largest light bulb (14 feet tall, 8 tons in Edison). But then a section about New Jersey wineries caught my eye.
I was shocked to learn my beloved state is now host to approximately fifty wineries. As recently as the year 2000 there were only a dozen New Jersey wineries and after visiting one a few decades ago I didn't see any reason to build more. Fifty New Jersey wineries reminded me of that old joke about bad diner food; "This food is horrible, but at least there's lots of it."
Of course I was basing my outdated opinion on a decades old visit to the Blazing River Winery, located on the bubonic shores of the Arthur Kill waterway that separates New Jersey from New York's Staten Island. They named it Blazing River because the Arthur Kill was known to routinely catch on fire.
Bobby "the fermentinator" Anastasia met me at the gates of Blazing River and escorted me through a barbed wire fence into the sorting room.
"This is where we sort the fruit when it comes into the winery," explained Bobby.
"You separate the grapes from the stems and leaves?"
"Nah. We separate the grapes from the garbage. You know, like old license plates and tires and stuff."
Just then a garbage truck backed up to the sorting table and dumped a fresh harvest of grapes and assorted junk onto the table.
"Blazing River is a very 'green' winery. We save energy by using the same trucks that we use in our waste management division," Bobby whispered as he led me past some napping teamsters.
"Our wines are all organic," he continued. "We don't need pesticides because our grapes are all genetically modified. The pesticides have been genetically implanted into the grape's DNA. We call it GMO, Genetically Modified Organic."
"I've never heard of that before," I replied.
"Yeah, we made it up so we could market our wines to tree huggers. And for the wine geeks we age our wines in one year old barrels."
"French oak barrels?" I asked.
"Nah. We reuse the oil barrels from our petroleum division. Like I told you, we're green. Here, try our Love Canal White. We named it after a vineyard in upstate New York."
"Hmm, it has some petrol notes in the nose," I remarked.
"Yeah, that's what we call 'terroir' in the wine biz. Love Canal has a very distinctive petroleum aroma and when you look down into your glass you can see little rainbows swirling on the surface. By the way," added Bobby, "there's no smoking near our wines."
I might be exaggerating a little, thirty years ago they didn't bother separating the grapes from the garbage (and okay, there never was a Blazing River Winery). Just the same, a lot has changed and today New Jersey really is the Garden State and not just because it produces chemical room deodorizers in pleasing scents of lilac, lavender and apple blossom.
The brochure had piqued my interest so I did a little research into today's New Jersey wine industry. Sure, I know what you're thinking; vineyards growing in the shadows of ominous oil refineries, pharmaceutical companies engineering synthetic Merlot flavors in the laboratory, or ultra-fruity wines made from animal byproducts. I get it. Jersey ain't exactly Napa Valley, but like I said, it's different now that the rain on the Turnpike no longer burns holes in your car finish.
Yet New Jersey wineries still find it hard to shake the stigma of the mediocre wines produced just a few decades ago. Rather than take on the arduous task of erasing established opinions, New Jersey wineries are embracing the advent of American Viticultural Areas or AVAs and in a sense, changing their address. AVAs are wine growing regions demarcated by the federal Alcohol and Tobacco Tax and Trade Bureau. The program imitates the French AOC or Italian DOC systems, except that the graft is paid in dollars, not euros.
John Cifelli, executive director of the Garden State Wine Growers Association (GSWGA) informed me, "The move for AVA status was born more for the wineries to be able to brand their wines as something other than 'New Jersey' because New Jersey had a poor reputation for quite some time."
New Jerseyans are used to that sort of sleight of hand, after all, the two football teams that play here are called the New York Giants and the New York Jets. Sometimes I refuse to leave the house bcause living in New Jersey gives me an interiority complex.
In the future, Cifelli says, "You'll see some of the finer wines being produced will carry AVA designations instead of New Jersey designations."
New Jersey currently has three AVAs. From north to south they're referred to as the Central Delaware Valley AVA, the Warren Hills AVA, and the broad Outer Coastal Plain AVA. Cape May is currently petitioning for a separate sub AVA within the Outer Coastal Plain designation and I'm all for letting them go their own way – the place is crawling with Pennsylvanians anyway.
Ultimately it's the quality of New Jersey wines and not the nomenclature that's making people sit up and take notice. According to the GSWGA, in recent years New Jersey wines have consistently fared well against California wines in the prestigious San Francisco Chronicle Wine Competition. So well in fact that New Jersey wineries have recently been presented with two 'best-of-class' awards for varietal wines. In 2012 New Jersey wines took home seventy-six medals at the New York Finger Lakes International Wine Competition.
Seventy-six! Bada-Bing, that's a lot of bling.
New Jersey wineries have actually been winning awards since colonial times. In 1758 two local vintners launched New Jersey's wine industry when they were awarded £200 for producing "quality wine" by Great Britain's Royal Society of the Arts. Okay, so it wasn't a Wine Spectator Cellar Selection but it was a start. Today New Jersey is the seventh largest producer of American wines, which is almost as high as our unemployment rate.
The California wine industry was catapulted onto the world stage in 1976 when they beat some of France's most prestigious wines in a blind tasting that came to be known as the "Judgment of Paris". TIME magazine correspondent George Tabor was the lone journalist at the event and his report sent shock waves through the wine world. In 2012 the American Association of Wine Economists recreated the tasting in an event called the "Judgment of Princeton". The French wines were from the same producers as those in 1976 but the California wines were replaced by wines from (gasp!) New Jersey.
George Tabor led the event, which featured nine judges from France, Belgium and the United States. This time the top honors were taken home by the French but overall the results were very surprising (as none of the judges were seen gagging).
Joseph Drouhin's Clos de Mouches from Burgundy was the clear-cut winner in the white category, but New Jersey wineries produced the second, third and fourth place contenders. For the reds, Chateau Mouton-Rothschild and Chateau Haut-Brion from Bordeaux took first and second place respectively, but New Jersey winemakers took solace in the knowledge that both French judges preferred the New Jersey reds over the Bordeaux. They were also quick to point out that consumers could buy a couple of cases of their wine for the price of a single bottle of the Bordeaux.
"We were very close to having our very own Bottle Shock moment,"¹ said Cifelli. "When you ran an analysis of the scores it was basically a tie. There was no statistical difference in quality."
The American Association of Wine Economists reported,
A statistical evaluation of the tasting, conducted by Princeton Professor Richard Quandt, further shows that the rank order of the wines was mostly insignificant … From a statistically viewpoint, most wines were undistinguishable. Only the best white and the lowest ranked red were significantly different from the others wines.²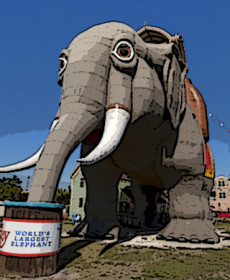 So what do you know? Apparently there are some impressive wines being made right here in New Jersey and as soon as I am able I'm headed to wine country. New Jersey wine country that is. And I'll be sure to visit the world's largest light bulb and Lucy the Elephant while I'm on the road.
¹Bottle Shock is a movie about the original Judgment of Paris
²http://www.wine-economics.org/the-judgment-of-princeton/
JUDGMENT OF PRINCETON, RESULTS WHITE;
1. 2009 Joseph Drouhin, Beaune Clos des Mouches, Burgundy
2. 2010 Unionville Vineyards, Pheasant Hill Chardonnay, New Jersey
3. 2010 Heritage Vineyards, Chardonnay, New Jersey
4. 2010 Silver Decoy Winery, "Black Feather" Chardonnay, New Jersey
5. 2009 Domaine Leflaive, Puligny Montrachet, Burgundy
6. Tied 2010 Bellview Winery, Chardonnay, New Jersey
6. Tied 2009 Marc-Antonin Blain, Bâtard Montrachet Grand Cru, Burgundy
8. 2008 Amalthea Cellars, Chardonnay, New Jersey
9. 2010 Ventimiglia Vineyard, Chardonnay, New Jersey
10. 2008 Jean Latour-Labille, Meursault-Charmes 1er Cru, Burgundy
JUDGMENT OF PRINCETON, RESULTS RED;
1. 2004 Chateau Mouton Rothschild, Pauillac, Bordeaux
2. 2004 Chateau Haut Brion, Pessac-Leognan, Bordeaux
3. 2010 Heritage Vineyards, BDX (Bordeaux style blend), New Jersey
4. 2004 Chateau Montrose, St. Estephe, Bordeaux
5. 2007 Tomasello Winery, Oak Reserve Cabernet Sauvignon, New Jersey
6. 2004 Chateau Leoville-Las Cases, Saint-Julien, Bordeaux
7. 2010 Bellview Winery, Lumiere (Bordeaux style blend), New Jersey
8. 2008 Silver Decoy Winery, Cabernet Franc, New Jersey
9. 2008 Amalthea Cellars, Europa VI (Bordeaux style blend), New Jersey
10. 2008 Four JG's Vineyards, Cabernet Franc, New Jersey