Napa Auction Sets New Records For Single Lot, E-Auction, Barrel Tasting, & Blood Alcohol Level.
The Auction Napa Valley 2015 came to a close on Sunday night after raising $15.8 million for programs in children's education and community health. While the total didn't break the old record, new highs were set for a single Live Auction item, the E-Auction total, the Barrel Tasting total and how many gallons of Cabernet I can drink without falling down.
The Napa Valley Vintners reported, "Since its inception in 1981, the NVV has given more than $145 million in Auction Napa Valley proceeds to Napa County nonprofits." The proceeds help more than 90,000 clients annually in Napa County, some of whom need the community health assistance after trying to lift all that money.
The Napa Valley Vintners rolled out the red carpet for wine aficionados from around the world on Thursday, and probably rolled a few New Jersey drunks out the door on Monday. I wasn't one of those drunken New Jersey wine consumers who showed up in a garish, wine splattered Tommy Bahama shirt. No sir, not me. I was one of the drunken New Jersey wine pourers who showed up in a garish, wine-splattered Tommy Bahama shirt.
That's right, this year I got a behind the scenes look at the Barrel Tasting. In case you're wondering, "behind the scenes" is a romantic way of saying, "schlep that 600-pound barrel of wine around Napa," and I couldn't have enjoyed myself more.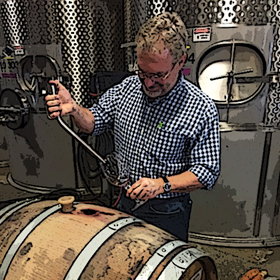 On Monday before the event I met Elizabeth and Bob Van Dyk of Van Dyk Family Wines, and together with winemaker Victoria Coleman, blended their 2013 Cabernet Sauvignon. The VDFW Cabernet Sauvignon is from a four-acre vineyard located at an elevation of 1,600 feet on Atlas Peak. The vineyard also sells grapes to Caymus, Stag's Leap Wine Cellars and Quintessa but the Van Dyk's asked for my help first so the others were out of luck.
We tasted through several barrels to analyze and pick the best. I preferred the new French Boutes barrel for its rich, concentrated black fruit notes, the new French Vicard barrel for its subtle blueberry and vanilla nose and silky tannins, and the new French Baron Premium (Center of France) barrel for its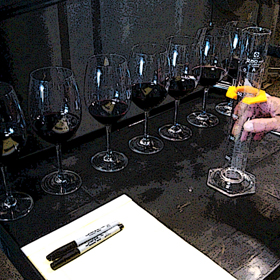 sweet vanilla and oak spice aromas and its soft but intense palate presence. After creating three sample blends based on our various preferences, plus one that we called the "kitchen sink" because it included wine from every barrel, we re-tasted and selected the unanimous winner – the kitchen sink. I guess that explains why I'm in sales and marketing and not winemaking.
Meanwhile 119 other wineries were doing the same thing and on Friday we all converged on Hall Winery in St. Helena for the Barrel Tasting event. Participants syphoned wine samples directly out of the barrel for the 2,000 attendees using a resourceful device appropriately called a thief. I think it's called that because when we point it at their glass the guests hand over their money. Patrons had the opportunity to taste and mingle with Napa's most recognizable and famous winemakers, winery owners, and me. I had to fight them off with a shtick.
Of course many big name wineries and some cult-cab darlings presented barrels at the tasting. You could sample wines from the likes of Beaulieu
Vineyard, Beringer, Blackbird, Chateau Boswell, Continuum, Darioush, Duckhorn, D.R. Stephens, Far Niente, Ghost Block, Hall, Hartwell, Hourglass, Joseph Phelps, Knights Bridge, Kenzo, Merus, Nickel & Nickel, Outpost, Paradigm, Pride Mountain, Robert Mondavi, Rombauer, Shafer, Spottswoode, Stag's Leap, and Turnbull. I realize name-dropping is a cheap way to draw attention to myself and that's exactly what I said to Tim Mondavi and Bill Harlan.
Meanwhile another 100 Napa wines were poured under 5 massive tents, while 40 renowned chefs and food purveyors offered amazing samples. I can still close my eyes and taste the foie gras stuffed profiterole with a cherry glaze from Auberge du Soleil. The pigs-in-a-basket weren't bad either.
In one of the tents conductor Ming Luke jumped atop a wine barrel and started a rousing rendition of Beethoven's "Ode to Joy" with a small group of musicians who seemed to materialize out of thin air. Soon more musicians appeared and Luke twirled around and around to conduct the expanding 360° ensemble. The excitement swelled as the flash mob performance grew to
80 musicians and vocalists and attendees were engulfed by the rousing recital.
On Saturday the auction moved over to the Meadowood Napa Valley Resort where 850 people gathered under a tent to drink and nosh on lunch prepared by Chef Michael Chiarello. We moved inside for the Live Auction where we were treated to a surprise performance of "All of Me" by singer-songwriter John Legend.
I strategically kept my hands in my pockets during the bidding for the Chairman's Lot donated by Opus One. The lot consisted of a two-week, private
jet journey to a dozen esteemed wineries throughout Europe, culminating in two nights at Napa's Auberge du Soleil and a library tasting of Opus One led by winemaker Michael Silacci. As a little souvenir, winners get to take home the complete collection of Opus One in magnum, from the first vintage in 1979 to the as yet unreleased 2013 vintage.
The Chairman's Lot sold for $800,000 but auctioneer Fritz Hatton wasn't going to stop there. With a little cajoling he convinced Opus One CEO David
Pearson to double the lot and eventually triple it, making it the top grossing single lot of all time at $2.4 million. After each successful bid, Michael Silacci of Opus One and Bob Van Dyk of Van Dyk Family Wines brought the crowd to their feet as they danced and circled the winning bidder's table while launching thunderous paper fireworks into the air.
A few days earlier I woke with some thunderous fireworks of my own banging around my head. It was the morning after Victoria invited me to the Wine Spectator's Magnum party. Northern California's top winemakers can bring one guest but they must bring one magnum to the party at Tre Vigne in St. Helena. Victoria brought a great magnum of Cabernet Sauvignon so she got one out of two right. It was an impressive showing as all the Napa trophy wives were in attendance. No, wait, that's a typo! I meant trophy wines.
This year the Wine Spectator combined the Napa and Sonoma winemakers so I could wash down Realm and Bond Cabernets with Kosta Browne and Martinelli Pinot Noir. The Barrel Auction may have had the big names but this party had the cult cabs. Marvin Shanken, Jim Laube and the rest of the Wine Spectator crew were on hand but I passed the time chatting with Paul Hobbs, Steve Lagier, Carole Meredith, Andy Erikson, Annie Favia, Aaron Pott, Tom Rinaldi, and Cyril Chappellet, which I only mention because I'm an insecure putz crying out for attention.
It's been awhile since I've closed two places in one night, but after shutting down Tre Vigne we headed to Bouchon in Yountville for some late night French fries and Moscow Mules. It's no wonder I felt like an ass in the morning.
After all the poking fun, name dropping and pitiful puns I'd like to point out how much the Napa Valley wine trade gives back to the community. Wineries large and small donate the goods and services that draw passionate wine consumers to the auction; wine consumers just like me, except that they're successful and have money. To those who donated their wines, homes, dinners, vacations and services I'd like to say thank you. I may not have raised my paddle very often this weekend but I did raise my glass to you, several hundred times.
The complete list of participating Barrel Tasting wineries can be found at http://auctionnapavalley.org/auction-lots/barrel-auction-lots.aspx.