Muscadet. Do I Taste Seashells or is it Just a Fluke?
Chapter Sixteen. Part Twelve.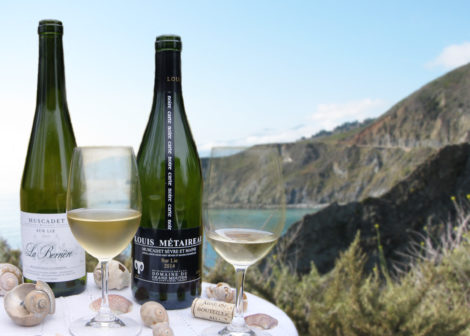 The Muscadet wine region surrounds the French city of Nantes, where the Loire River meets the Atlantic Ocean. This is the westernmost of the Loire Valley appellations and is the home to the Melon de Bourgogne grape. As the name implies, Melon de Bourgogne originated in Burgundy but despite the other half of its name, it has no connection to the cantaloupe.
The Melon de Bourgogne grape has become so synonymous with the region that today the grape itself has come to be called Muscadet. All you fans of exuberant, aromatic wines can relax, this is a subtle variety and has no relationship to the more flamboyant Muscat family of grapes.
On its own, the Melon de Bourgogne is pretty boring, which is why the best wines from Muscadet undergo sur lie aging. Sur lie or "on the lees" means the wine is kept in contact with the dead yeast cells (lees) throughout production and during the winter months following fermentation. These solids fall to the bottom of the tank and occasionally undergo batonnâge (stirring) to keep the sediment in contact with the developing wine. Lees impart a rich mouth feel, enhanced aromas and added complexity to the wine. Like Champagnes that also spend extended time on the lees, sur lie aging occasionally adds a yeasty, raw bread characteristic to the finished wine.
While studying for my WSET certification in 1994 I noticed the distinctive taste of salt in a glass of Muscadet. My instructor, writer Mary Ewing-Mulligan, explained that the briny sea air has been known to find its way into the wines maturing along the Atlantic coastline, imparting subtle salty nuances. It's very rare but should you experience it, rest assured that no one salted your wine when you weren't looking.
The wines of Muscadet are generally light-bodied with razor-sharp acidity and piercing minerality. The region is home to one broad appellation called simply AOC Muscadet, and three regional appellations; AOC Muscadet-Coteaux de la Loire, AOC Muscadet-Côtes de Grandlieu, and AOC Muscadet-Sèvre et Maine. Of these, Muscadet Sèvre et Maine consistently produces the best wines. It gets its name from its location at the intersection of the Sèvre and Maine rivers.
In 2011 three cru sub-appellations were approved within Muscadet de Sèvre et Maine. These wines, from the Gorges, Clisson, and La Pallet crus, have stricter regulations regarding yields, potential alcohol and minimum vine age. Depending on the cru, the wines must undergo extended lees contact of 18 to 36 months. Ironically this extended process falls outside of the dates stipulated for a sur lie designation, which means that even though these superior wines spend more time on the lees, they cannot use the term sur lie on their labels.
In 2013 La Berriere¹ produced a sur lie wine from the broad Muscadet appellation that illustrates the round, mouth filling consistency that lees contact imparts to wine. On the palette, La Berriere's leesy viscosity wears down the zesty, underlying acidity, eroding it like the winter waves that pulverize oyster shells in the nearby Atlantic and send their iodine rich scents into the salty mist that washes over casks of maturing wine in nearby Nantes. The aromas and flavors speak of nutty almonds with tangy lemon and lime zest afloat in a tide of crunchy minerality.
Rating: 2.5 of 5 Bottles (sorry my cute rating plugin is still broken but you can read about my ratings here)
To raise the quality of Muscadet, winemakers initiated innovative winemaking improvements like extended maceration (skin contact during fermentation), oak barrel fermentation, and stirring of the lees (dead yeast cells). Before these innovations Muscadet was considered simple and unexciting – much like my sex life – but apparently all that was needed to improve quality was some skin contact, wood, and yeast stirring which also improved the wine.
Muscadet illustrates the idea that when choosing a wine and food pairing, common geography can be a good place to start. Local wines often pair well with local cuisine and the wines of Muscadet are no exception. They make a brilliant companion to shellfish  –  and oysters in particular  –  which abound along the nearby Atlantic coastline.
Domaine Louis Métaireau Grand-Mouton 2014 Muscadet-Sèvre et Maine sur lie² presents a good example of the refreshing acidity and crushed seashell minerality typical in Muscadet. This wine is built on a bed of piercing acidity that bristles over your tongue – not quite pétillant or frizzante – but vibrant, like a billion infinitesimal electric shocks. It displays lemongrass and green pear on the nose but the flavors are closer to tart Granny Smith apple skins and lemon peel. Subtle yeast notes seem to surface as the wine warms, but I kept coming back to that briny, stony, seashell thing. The other tasters couldn't taste it so who knows, maybe it was just a fluke. Sometimes I flounder with descriptions.
Rating: 3 of 5 Bottles
¹ Purchased at The Wine Seller, Ridgewood, NJ.
² Purchased at Beekman's Wines & Liquor, Glen Rock, NJ.