Message On A Bottle.
Chapter Seven, Part Two.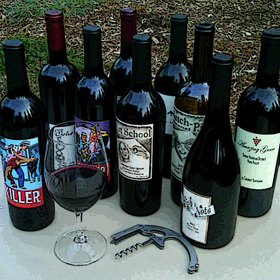 The first thing I do when I sit down to create a new wine label is assemble my puns and pencils. I've learned that my irreverent approach to wine labeling often conflicts with local wine laws, so many of my efforts will not soon be coming to a store near you.
I once worked with an importer to create a label for an inexpensive line of wines from the south of France. Inspired by the great wines of Burgundy's Côte d'Or we developed an image of a chateau sitting near an ancient clos. Clos is a French term meaning a walled vineyard. Our chateau door was wide open, and the winery name below the image announced, Clos de d'Or. It turned out the French have laws against this kind of chicanery and they quickly closed the door on this label.
We eventually succeeded in getting a label approved by the French authorities when they returned from lunch in September. We created a tale for the back label about two young wine students,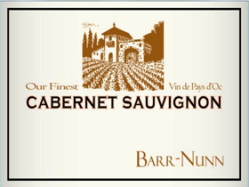 Christophe Nunn and Anne-Marie Barr, who fell in love and settled in the south of France to produce the wine that bears their name. The understated front label depicts an idyllic chateau and the inconspicuous copy "Our Finest Cabernet Sauvignon, BARR-NUNN".
The first time I was asked to write the tasting notes on a bottle of wine I thought, "My friends aren't going to believe this. I'm going to need proof. I'm going to need a secret signature." I jotted down some stilted tasting notes and sent them to the winery in an un-editable computer format. A few months later while having dinner with friends I mentioned the wine we were drinking featured my tasting notes on the back label. This was met with some skepticism so I pointed out my signature on the back label, as clear as the government warning. My secret signature was exactly that, a secret kept from everyone, including the winery, even though it was easily readable if you knew where to look.
Can you spot my name on this back label? (Hint; you're looking for Carter, Donald). I'll give you another clue; you won't find it hidden in the government warning. I may mess with the French wine police from time to time but Alcohol Beverage Control agents carry guns in New Jersey.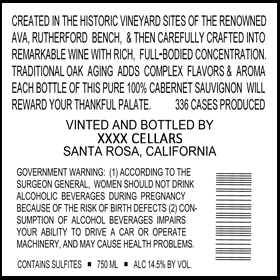 Speaking of government warnings, the warning above is required to be on every alcoholic beverage sold in America, which is a lot of words to cram onto a 50ml airplane nip. The government is zealous about this warning and their regulations must be followed to the letter to gain label approval. Most labels are paper adhered to the bottle, but some wineries silkscreen ink directly onto the glass. Several years ago a California winery presented an empty silk-screened bottle to the authorities for label approval. The government warning was clearly visible in black lettering and the bottle was approved as it met all the required specifications. The winery then filled the bottles with inky black Cabernet Sauvignon and the government warning disappeared.
I once received a call from a large retailers association looking for help with a label for a tasty new line of California wines with the not-so-tasty name of "Killer".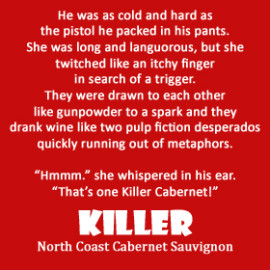 I looked over their ideas which included images of blood splatters and chalk outlines of dead bodies and I had a brilliant idea; I thought, "I've got to work with a better class of people."
I suggested the Killer labels be modeled after the covers of pulp fiction crime novels from the 40's and 50's. I helped finalize two labels; one portraying a dapper Don dancing with a dangerous dame while his henchmen look on with icy stares, the other showing a perfidious poker player and his winsome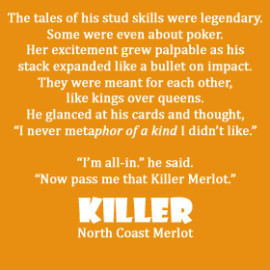 wench engaged in some high-stakes Texas Hold 'Em. Pleased with the graphic results, the winery asked me to quickly write a description of each wine for the back label. Five minutes later I sent them these two labels.
If I knew they were actually going to use my notes I would have spent ten minutes writing them.
Occasionally, wines gain federal label approval only to run into trouble at the state level. Cycles Gladiator is a California brand with an art-nouveau rendering of a nude woman flying across the sky while clinging to a bicycle (I'll have whatever they were drinking when they came up with that idea). The Alabama Alcohol Beverage Control Board banned the wine because they have rules against "a person posed in an immoral or sensuous manner." This same government has no problem with incestuous marriages, providing the honeymoon pictures don't end up on a wine label. The winery immediately created a marketing campaign to capitalize on the publicity by creating store displays that read "Banned in Bama." My sister-in-law is a fan of the wine, but because I have three young nephews, I'm required to draw bathing suits on every bottle she buys.
The touching tales behind many wine labels are more historical than hysterical. Shortly after the attacks on September 11, 2001, Napa Valley winemakers Steve and Linda Sherwin of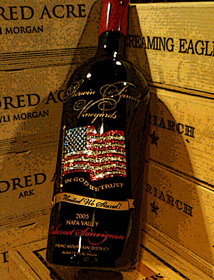 Sherwin Family Vineyards participated in a wine auction to benefit the families of the Windows of the World employees who lost their lives in the attack. For the event they produced a stunning 1.5 liter bottle, hand-etched and painted with an American flag and the words "In God We Trust. United We Stand!" Thrilled with the success of the auction, Steve and Linda decided to create more bottles for the cause, going so far as to have some incrusted with Swarovski crystals.
Just before the Sherwin's presented the bottle to the BATF for label approval they were informed of a law prohibiting the use of an American flag on packages containing alcohol. A determined Steve was not ready to give up. He had the bottle hand-delivered to the BATF offices with details of his charitable intentions. He then settled in to await the ruling which typically takes several weeks. Maybe it was the emotionally charged atmosphere of the nation or the groundswell of patriotism following the attack, but, for reasons known only to the clerks at the BATF, the bottle was granted approval on the spot, right over the counter! Today, the Sherwin's continue to produce the only wine in America to sport an American flag, and they continue to donate these beautiful bottles to various charitable organizations.
By the way, do you remember the back label with the secret signature? Here it is for those of you who couldn't spot it.