It's Willamette Dammit. Oregon Pinot Noir Rated in Blind Tasting.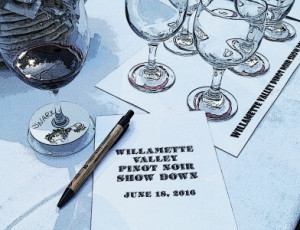 Everybody does it the first time. You pick up a bottle of Pinot Noir from Willamette, Oregon and the little voice in your head says, "That's pronounced WILLA-met". Years later you find yourself at a wine tasting and you tell a winemaker, "I'm a big fan of WILLA-met wines'. He rolls his eyes and says, "It's pronounced will-AM-et, dammit."
Get it? "will-AM-et, dammit" is a mnemonic device. No, not an iron lung, that's a pneumonic device. It's not an air compressor either, that's a pneumatic device. A mnemonic device helps you remember things. For example, spring forward, fall back is a mnemonic device that helps you remember what to do at the beginning and end of a wine tasting.
Fifty years ago David Lett of Eyrie Vineyards planted Pinot Noir vines in the Willamette Valley. Today there are over 400 wineries in this 100-mile long valley and when Mother Nature cooperates they can compete with the best Pinot Noirs on Earth, and probably Mars and Venus too.
The broad Willamette Valley appellation includes six smaller AVA's within its borders. From north to south they are Chehalem Mountains, Yamhill-Carlton, Ribbon Ridge, Dundee Hills, McMinnville and Eola-Amity Hills.
Pinot Noir reigns supreme in this valley but there are also plantings of Pinot Gris, Pinot Blanc, Chardonnay, Riesling and Gewurztraminer. There have been reports that you may find Oregon Sauvignon Blanc, Merlot, Cabernet Sauvignon and Syrah, but this could be an urban myth just like the existence of Sasquatch or outstanding Carmenère.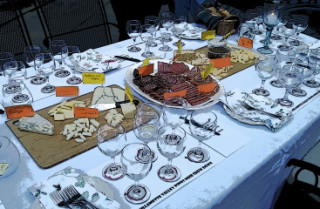 I recently assembled an erudite panel of wine experts to participate in a blind tasting of several Willamette Valley Pinot Noirs. The academic objective of this scholarly event was to convince my friends to bring me lots of free wine.
It was organized as a 'single blind' tasting which means after the event I had to close one eye to see straight. Single blind tasting also means we knew which wines were included in the tasting but we didn't know which one was in each glass.
The six judges ranked the wines from first through last with 10 points awarded to first place, 8 points for second place, 7 points for third and so on. Keep in mind the total points have nothing to do with the 100-point scale. The highest score attainable is 60 and the lowest is 24. We encountered two wines that were 'very good to outstanding', two that were 'outstanding', one we felt was 'exceptional' and one that was so disappointing I've redacted its name to protect the guilty.
One of the contenders was not what you would call a food pairing wine unless you know some food you want to punish. It features the eye-watering aroma of the Jersey Turnpike as it passes through Elizabeth, but at least the flavor sucks. The wine label said "Sulfur Free" but I don't want it even at that price.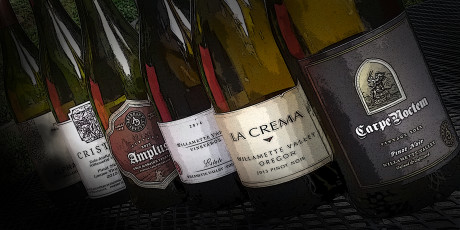 The XXXXX XXXXXXX 2014 Pinot Noir was picked dead last on every ballot. The finish is as short as this review.
Rating:
(1 / 5) group rating 24
The Cristom 2013 Pinot Noir Louise Vineyard from the Eola-Amity Hills AVA fared much better in the judge's eyes (and mouths) and landed in the "very good to outstanding" category. The nose features smoky scents of ripe cherry compote followed by a smooth, medium-bodied palate that's like a bowl full of ripe cherries with a few tart ones thrown in by a disgruntled cherry picker. There are also hints of strawberry jam and some baking spice – not much – but enough to tingle a taste bud or two. $59
Rating:
(3 / 5) group rating 34
Aberrant Cellars, 2012 Pinot Noir Amplus from the Yamhill-Carlton AVA is a medium-bodied Pinot Noir that's as easy to enjoy as a large-print David Sedaris paperback. The nose oscillates between dried cherry, flowers, truffles and dusty mineral scents. The palate is smooth and slightly plumper than the Cristom with ripe, juicy cherry flavors surrounded by a touch of stony mineral. As the name implies, the ample finish sticks around for a while. $44
Rating:
(3 / 5) group rating 36
Our next Pinot Noir featured a brilliant red robe reminiscent of the Sherwin Williams Gypsy Red SW 6865 paint chip. The Willamette Valley Vineyards 2014 Estate Pinot Noir, which we rated "outstanding", wasn't as fat as the Aberrant Cellars, leaning instead towards a lighter style. Its lack of weight didn't seem to matter to the tasters. In fact the physics teacher at the table went so far as to say it anti-matters. This aromatic red presents a perfumed floral nose and flavors of strawberry and cherry pit followed by a faint glimpse of leather.  The finish shows a little sweet oak spice that reminded my ever so slightly of chocolate. $30
Rating:
(3.5 / 5) group rating 46
I must confess that when a guest brought La Crema to the contest I felt like a California interloper had crashed our Oregon hippie party. After all, La Crema is part of the Sonoma-based Kendall-Jackson conglomerate, and aren't Oregon wines all made by Nirvana-listening, tie-dye wearing, tree-hugging stoners? Oh wait, that's Mendocino. It was like that uneasy feeling you get when you bring your bumptious brother-in-law to a party but rather than embarrass you he turns out to be the life of the party.
The 2013 La Crema 2013 Pinot Noir from the Willamette Valley is definitely worth seeking out and bringing to the party. The nose displays complex aromas of earth and truffle, bordering on barnyard, but not enough to take away from the notes of ripe strawberry. This is a fuller style of Pinot Noir with a smooth core of ripe cherry kirsch and cranberry followed by earthy nuances of cedar. One taster commented, "I need a calendar to measure the finish." $30
Rating:
(3.5 / 5) group rating 47
Every competition must have a winner, a contender who will rise above the rest and seize the day. As it was getting late, our winner did not carpe diem but it did carpe noctem! The highest rated wine of in the group was the Aberrant Cellars 2012 Pinot Noir Carpe Noctem from the Eola-Amity Hills AVA. The aromas were deeper and darker than the others and were redolent of concentrated cherry and subtle cocoa. This is a medium to full-bodied red that's soft, rich and silky but maintains a bright core of acidity that kept me coming back for more. Like so many of the wines we tasted in this event, cherry was the dominant fruit characteristic – there's an earthy edge to the cherry but it's cherry nonetheless. $56
Rating:
(4 / 5) group rating 56
Willamette Valley Pinot Noir had been off my radar for a few years. I'm not sure why or when I lost interest, I only know that like O.J. Simpson it lost its appeal.
This little competition has rekindled my love for this noble wine and I hope it has kindled your interest as well. Just remember the next time you're talking to an Oregon winemaker, it's Willamette dammit!