It Was The Best Of Wines. It Was The Worst Of Wines.
Chapter Eleven. Parts One & Two.
The November 1997 issue of the Wine Spectator rated the Louis Latour 1990 Corton-Charlemagne 98 points … and 88 points.
98 LOUIS LATOUR Corton-Charlemagne 1990
Exotic, wild and savage. A deep, "gonzo-crazy" terroir wine, full-bodied and packed with dried herbs, honey and spicy oak. Almost tannic in structure, it explodes like a small volcano on the palate for an unbelievable experience. Not for the faint of heart though.
88 LOUIS LATOUR Corton-Charlemagne 1990
Mature, with an herbal, slightly leathery accent to the pear and oak flavors. Shows its age via dryness and coarseness on the finish.
In the same issue the 1995 Arrowood Réserve Spéciale received 95 points … and 82 points, and the Rochioli 1995 Allen Vineyard Reserve was awarded 96 points … and 85 points. These dyslexic point spreads were not the result of ADD (Alcohol Drinking Disorder); these Dickensian observations were simply a tale of two critics.
The Wine Spectator assembled a blind tasting slating 20 of California's most esteemed Chardonnays against 20 renowned Chardonnays from Burgundy. The judges for The Chardonnay Challenge, as it came to be known, were two senior Wine Spectator editors, James Laube and Per-Henrik Mansson. These seasoned critics certainly have the experience and credentials to know a good wine when they taste one – so how do you explain the double-digit discrepancies in their scoring?
Laube is an expert on the wines of California and after this experiment I think it's safe to say he prefers wines made in a new-world style. New-world wines are those made in the Americas, South Africa, Australia and New Zealand. These wine regions generally have warmer climates than northern Europe which results in riper grapes, higher alcohol, and fuller-bodied wines. New-world wines are marked by more pronounced fruit flavors and a more approachable style of winemaking. Many new-world wines are further amped-up through the use of new oak barrels which impart stronger oak flavors. Critics find new-world wines to be formulaic, over-extracted, display overwhelming oak influence, and lack any sense of region, soil, or even grape variety.
The Switzerland-based Mansson is a former managing editor and was the Wine Spectator's leading critic for the wines of Burgundy and the Rhone Valley. As you might expect from his resumé, Mansson favors old-world wines. These are wines made by traditional methods from vineyards located across Europe. Tradition (or restrictions imposed by local law) discourages old-world winemakers from producing the kind of flamboyant wines made in the new-world. For example, some new-world vineyards are located in deserts with viniculture only made possible through irrigation. Many of the historic vineyards of Europe on the other hand, are forbidden from irrigating even under the worst drought conditions. Old-world wines are more nuanced and reserved in style, with less obvious fruit and oak and a firmer structure that bodes well for food pairing and age-worthiness. Aficionados of new-world wines find old-world wines austere, hard, tannic or steely.
Old World Meets New World.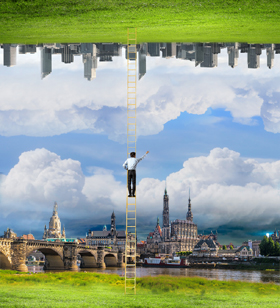 When I'm asked to recommend wine for an event I always ask if the wine is for a dinner party. If yes, I typically recommend old-world wines because of their favorable food pairing abilities. If it's not a dinner party I may suggest new-world wines because they pair so well with inane cocktail party banter.
I'll often bring a new-world California Cabernet Sauvignon and a comparable bottle of old-world Bordeaux to dinner with friends. We open and pour both simultaneously and invariably the results are the same. Initially the California wine, with its softer texture and more approachable style is the clear-cut favorite. But as the Bordeaux breathes and the evening unravels there's a subtle shift in our perceptions as well as our preferences. You see an old-world wine needs a little breathing room and the welcome addition of bread at the table to show its best. It's this inexplicable interaction of wine with oxygen, food and friendship that creates a great gustatory experience. By the end of the meal we've come full circle and the old-world wine has replaced the new-world wine as the favorite wine of the night.
It's this interaction of wine with food that makes comparisons between the two styles so difficult. At trade tastings, hundreds or even thousands of wines are lined up to be hastily sniffed, swished and spat before judgement is passed. Showy, ready-to-drink new-world wines receive higher marks at these events because old-world wines don't get a chance to show what they do best – be an integral part of a meal or celebration.
Several years ago at a luncheon where many first growth Bordeaux were tasted side by side with Robert Mondavi Reserve Cabernet Sauvignon I asked Michael Mondavi why his French partners from Chateau Mouton-Rothschild were not represented. "They have asked us not to pour Mouton at these comparison tastings and we honor their wishes." he replied. The reason was apparent and I tactfully decided not to follow up.
Today there's a blurring of the lines between new-world and old-world wines. Many new-world winemakers strive to reproduce the characteristics of old-world wine and many European wine regions have moved towards modern, new-world winemaking styles.
In the 1970's some adventurous Tuscan vintners ripped out their native grape vines and planted French varieties. The resulting wines did not adhere to traditional Italian wine laws and consequently they were lumped into the lowest legal classification, vino da tavola, or table wine. These upstarts were given a much catchier moniker by the wine press, who anointed them the Super Tuscans. It wasn't long before these lowly table wines were outscoring and out-pricing the old-world wines produced by their neighbors.
Winemakers are a traditional lot by nature, but they are also in the business of selling wine. Upon seeing the success of these new wines, scores of rebellious Chianti producers opted to ignore the law, which oddly enough is not against the law, and produce their own Super Tuscan wines (although some of these efforts were not so super, they were more like So-So Tuscans).
Winemakers did away with the customary practice of adding Trebbiano (a white variety) and other native grape varieties to their wine. They opted to make wine from 100% Sangiovese, or a blend of Sangiovese and non-indigenous varieties like Cabernet Sauvignon, Merlot or Syrah. Eventually the Italian government addressed the tempest against what many wineries considered outdated and restrictive rules. They amended many regulations and in 1992 they created a new quality designation called Indicazione Geografica Tipica (IGT) which brought many Super Tuscan and So-So Tuscan winemakers back under the regulatory umbrella.