Harvard Study; Men Who Drink Wine Give Wives A Hard Time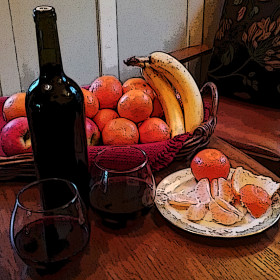 A recent study published in The American Journal of Clinical Nutrition, conducted by the University of East Anglia in Norwich, England in conjunction with Harvard University concluded that a diet rich in flavonoids can improve erectile function. This is great news for wine drinkers as the flavonoid anthocyanin is prevalent in red wine. Men who drink white wine may be out of luck but apparently they won't have any hard feelings.
When asked to comment on the findings, Adjunct Professor Willie B. Hardigan, from a local community college of little or no significance was quoted as saying, "WOO-HOO!"
The study group consisted of 25,096 men who rated their erectile function from 1986 through 2008. From these 25,096 men, some 35.6% reported occurrences of erectile dysfunction (ED), which translates into approximately 8,935 flaccid members in the group.
After adjusting for variables such as cancer, cardiovascular disease (CDV), smoking, physical activity, hypertension, and diabetes, the end result revealed that participants with higher intake of flavanones, flavones and anthocyanins experienced fewer incidences of ED. The best sources for flavanones, flavones, and anthocyanins are strawberries, blueberries, apples/pears, citrus products, and (Ta Da!) red wine.
From his research booth in the back of the University Motor Lounge & Tiki Bar, Professor Hardigan reported, "Of course wine reduces erectile dysfunction. Haven't you noticed how much better the babes look when you're plastered?"
The report claims to be, "the first observational study to suggest that increased habitual intakes of several dietary flavonoids are associated with improved erectile function. Specifically … men in the highest compared with the lowest quintile of intakes of flavanones, flavones, and anthocyanins had a 9–11% reduced incidence of ED."¹ Individuals who were physically active in addition to consuming high amounts of anthocyanins, flavanones, and flavones saw a 21% reduction in ED.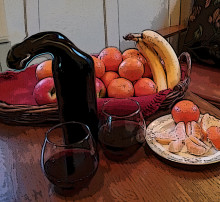 After reviewing the study, Professor Hardigan commented, "It's great to learn that there is help out there for men with this condition. It's comforting to know that when it comes to erectile dysfunction I won't have to take matters into my own hands."
This study does much more than raise the sagging spirits and drooping heads of the 18 million American men who suffer from erectile dysfunction.² Evidence now suggests erectile dysfunction is caused by vascular rather than psychogenic or neuropathic conditions (as previously believed) and as such it serves as an early indicator of cardiovascular disease.
ED provides an opportunity for early intervention for the prevention of CVD … Men with ED are likely to be highly motivated to adapt a healthy lifestyle, including dietary approaches, to improve sexual health with resulting benefits to cardiovascular health. In addition, men are likely to recognize dysfunction in their sexual health early, in contrast to risk factors for CVD, which are frequently identified after much of the irreversible vascular damage has occurred.³
There you have it – evidence that drinking red wine can save your life! Well, make it more enjoyable anyway. More importantly this study shows that red wine consumption really does improve sexual performance and not just in your own mind. In summation, Professor Hardigan stated, "The authors are clearly suggesting that men should start drinking red wine to improve erectile function and if they already drink red wine then they should keep it up."
¹,³ A. Cassidy, M. Franz, E. B. Rimm. Dietary flavonoid intake and incidence of erectile dysfunction. The American Journal of Clinical Nutrition. Jan. 13, 2016. http://ajcn.nutrition.org/content/early/2016/01/06/ajcn.115.122010.full.pdf+html
² 18 million males over age 20 suffer from erectile dysfunction. Center for Disease Control and Prevention, Accessed Jan. 18, 2016. http://www.cdc.gov/tobacco/data_statistics/sgr/50th-anniversary/pdfs/fs_smoking_reproduction_508.pdf