Found Object Art Found in Wine Country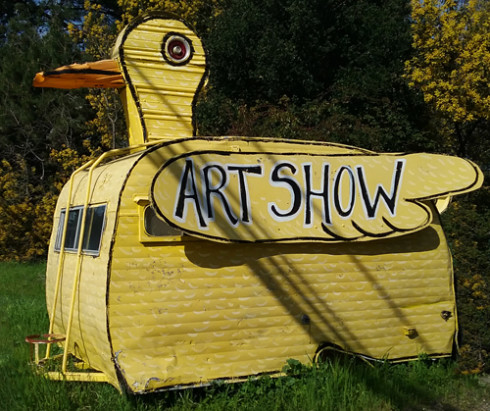 Grapevines aren't the only thing you'll spot when driving through Sonoma County wine country. As you near Sebastopol, located in the heart of Sonoma's Russian River Valley, you're likely to catch a glimpse of an immense metal cow driving a tractor in a field, or a roadside trailer that's been transformed into a colossal yellow duck. Don't worry; you haven't visited one too many tasting rooms. These and hundreds of other metallic creations are located all around Sebastopol.

I first learned Sebastopol was home to these alien personas when a glitch in my GPS system sent me off the main road and onto Florence Avenue. This quiet street, lined with cottages and mission-styled bungalows, is ground zero for the imaginative creatures created by the husband and wife team of Patrick Amiot and Brigitte Laurent (Patrick sculpts and Brigitte paints). I felt compelled to take a closer look and I soon realized that these whimsical sculptures are really garbage. I mean it. This is real trash I'm talking about. No,they're not poor quality, this art is actually created from honest-to-God junk.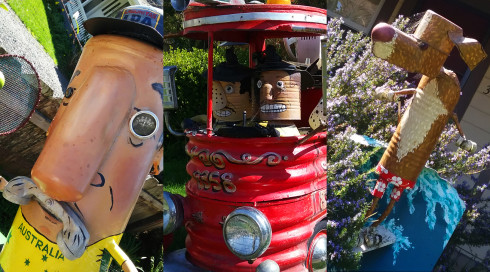 Discarded industrial equipment and household has-beens have found their way into Patrick and Brigitte's work, giving new life to objects otherwise destined for junkyards and landfills. An old-fashioned telephone becomes a mustache, a light socket doubles as a nose, and a snowplow turns into a curling ocean wave for – what else – a surfing hound dog.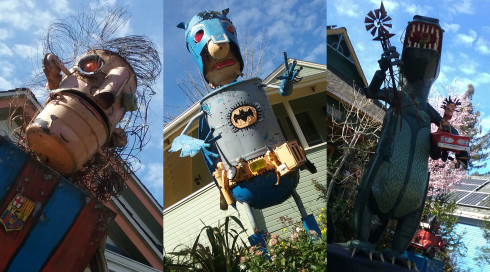 Along Florence Avenue picturesque picket fences keep frenetic soccer players, beleaguered super heroes, and a colossal Godzilla from spilling into the streets of northern California. Babe Ruth takes a mighty swing, a waitress juggles a plate of meatballs (or are those golf balls?), and jugglers, their garbage can torsos stacked three high, tower over passing Homo sapiens.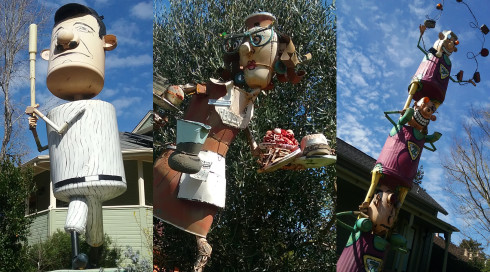 These creations manage to feel both oddly foreign and intimately familiar. The spotted Dalmatian reminds you of your own pooch, but the cat that sits on the dog's head, the bird perched on top of the cat, and the mouse atop the bird remind you that you've been set loose in the wild world of Patrick and Brigitte's imagination.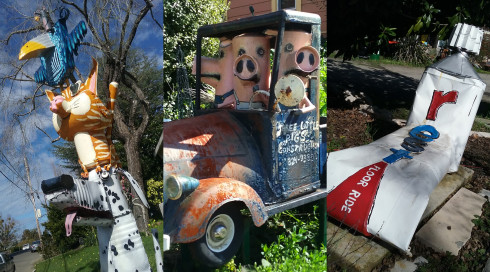 In this surreal universe a pipe wrench, flashlight or watering can might become the nose on any number of unlikely organisms. Here the Three Little Pigs cram into their construction truck and a folded tube of "rest" toothpaste becomes a lounge chair where you can take a "floor ride". On Florence Avenue mischievous characters stare back at you through eyes made from thermostats and pressure gauges while a sizeable mermaid plays the lyre in a front yard.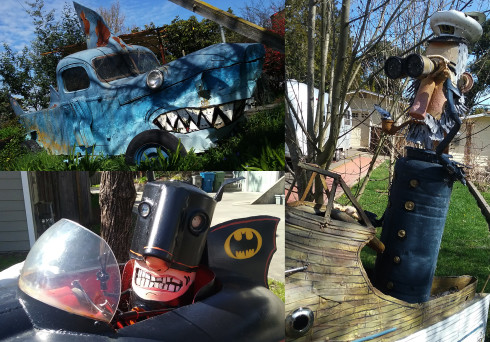 Brigitte and Patrick continue the "Objet trouvé" or found object art movement made famous by Marcel Duchamp a century ago. But to these absurdist artists a "readymade" object like Duchamp's 1913 Bicycle Wheel is not a bicycle wheel at all. It's an enormous eyeball.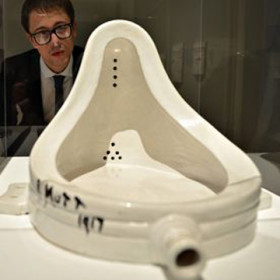 Duchamp shocked the art world when he famously entered a urinal at the 1917 New York Exhibition of Contemporary Art and called it The Fountain. He wanted his audience to look at his work and think. Patrick and Brigitte don't shock so much as amuse with their bold colors and loveable characters. Here in wine country you'll probably just want to look at their work and drink.