Follow This Blog Or The Wine Gets It!
This is a bottle of 1982 Chateau Margaux. It is the rarest and most expensive bottle of wine in this picture. Its life is in danger and only you and a few thousand of your friends can save it. To find out how you'll have to read this blog….
Robert Parker, the great and powerful wizard of wine, has taken his leave somewhere over the Alsace Lorraine-bow, passing the batonnâge to a new generation of wine bloggers. I only mention this because you should know I'm not some mercenary wine blogger trying to take advantage of Parker's departure from The Wine Advocate. I wouldn't stoop that low. No, I write about wine for the money, even though writing about vin de pays very little.
Truthfully, it's not really money that I need, but a platform. At least that's what my friends in publishing tell me. Apparently it's not enough to write about wine; people actually have to read what you write if you want to get published. Who knew?
What's more, it doesn't matter if your writing is good, what matters is how many "followers" or "friends" you have that "like" you. Becoming a wine blogger is like joining some weird cult. It starts with drinking wine but I suspect it ends with drinking the Kool-Aid.
So I'm abandoning my dream of playing harp in a delta blues band and becoming a reluctant wine blogger instead. How long before I become pretentious, arrogant, and boring? (Never mind, that was rhetorical). At what point will my wife grow tired of me rating her meatloaf on a 100 point scale and my friends start acting like I've got brettanomyces breath?
It's surely only a matter of time before people point at me behind my back and whisper, there goes an oenophile! It doesn't matter if oenophilia is legal in most states and that French part of Canada, they'll whisper just the same.
I have to confess, wine bloggers confound me. Where do they find the time for it all? Don't they have jobs, family, illegitimate interests?  Blogging is a big commitment and I'm worried about the consequences when I don't feel like sharing my innermost thoughts about Chateuneuf du Pape. Can I simply say "the dog ate my Rhone work."
You know it's not really bloggers, but bloggees that taint my cork.
As a wine retailer I've been around all kinds of wine geeks. Just last week I asked one of my customers what kind of wine she liked and she said "I like anything rated 90 points or higher." I try not to laugh out loud at customers as it's generally bad for business, and I was able to quickly turn my snort into a cough so she didn't catch on.
"Umm, white, red, or pink?" I asked.
"It doesn't matter. I'll like it if it scored 90 points."
"Hmm, would you like it hard, tannic and clueless, or plump, smooth and gullible?"
"Any of the above will do nicely." She said, "Providing it scored 90 points."
So I sold her a 90 point wine. It received 90 points from my uncle Ralph the sheep farmer and part time wine blogger, but it scored 90 points nonetheless and she was happy.
People like that scare me, which is why I'm feeling some trepidation about writing my first wine blog. I haven't taken any formal writing classes but I have attended my share of grand cru classés. What if my gallant efforts amount to nothing more than noble rot? What happens if I write knowingly about the microclimate and soil of a region but you think my wisenheimer wisecracks are terroirble?
I ask that you stick with me for a while even if my snarky sarcasm is not your cup of Chablis, because sooner or later my blogs will grow on you, kind of like planter's warts or ringworm.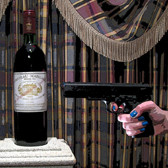 Look, I'm going to need your help if I'm ever going to get noticed by Alfred A. Knopf or even Alfred E. Newman, so here's my offer to all you wine aficionados out there. Read my blog for a while. Love it, hate it, I don't care, but know this; if you don't "share", "follow" and "like" this site, I'll blow away this bottle of 1982 Chateau Margaux!
That's right; if this blog site doesn't have 100,000 visitors within one year, I put a cap in its capsule. Well I don't actually own a gun, but I own a corkscrew so don't underestimate me, share this blog or the wine gets it, one way or the other.