Christmas with Graham's Port – Oh, and the Family's Coming Too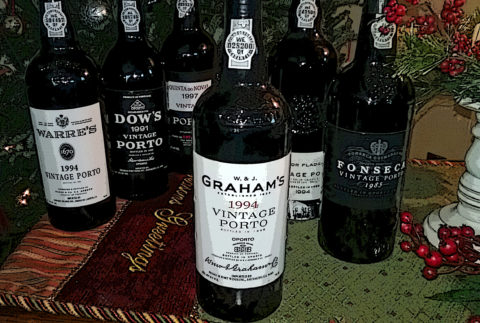 The holidays are all about sharing. I get together with my family on Christmas and we share fine wines, great food, and several strains of influenza. Even though I'm blessed with a terrific family, surviving the holidays can be challenging. To get through Christmas I have to muster up every ounce of courage and several ounces of bourbon.
Our Thanksgiving celebration was weeks ago and the wounds have healed nicely – although the turkey may disagree. The rest of us are speaking again and the ER doctor did a great job on my brother-in-law's stitches.
This Christmas I invited some distant relatives. Not "second cousin twice removed" distant. By "distant" I mean they don't like me very much. I promised my wife I wouldn't be baited into any confrontations and when the most combative relative of all arrives I will greet her with a cheery "Merry Christmas Mom."
In a moment of inspired masochism I invited my cousin Eddie and his new wife Yolanda. I'm not saying the marriage is off to a bad start but their wedding song was "The Thrill is Gone." Yolanda used to drive Eddie to drink, but that stopped when he got his driver's license back.
Cousin Eddie likes to brag about how successful his T-shirt business has become. He started it in his garage 25 years ago and today his business has expanded all the way to the rec-room.
Every year I put together a little wine tasting for the family. This year's theme is dessert wines and in light of the fun-loving assembly I'm calling the event "Dessert Storm". I hope to shock and awe my guests with different styles of port. I chose port so that Eddie's not the only thing at the table that's fortified with brandy.
To prepare for the tasting I met with Anthony Volpi of Premium Port Wines, the North American importer for Symington Family Estates. My family has a lot in common with this historic family. The Symingtons have been supplying the world with port for 14 generations. My family has been drinking port for 14 generations. We're practically related.
Today the Symington family is the driving force behind the sweet wines of Graham's, Dow's, Cockburn's, Smith Woodhouse, Martinez, Quinta de Roriz and Quinta de Vesuvio, which may explain why diabetes runs in my family.
Every port producer has a unique house style that is determined by levels of sweetness, alcohol, body, tannin, and fruit intensity. To my palate Graham's is one of the sweetest, most robust and flamboyant ports on the market. I've always found the long-lived ports from Dow's and Taylor-Fladgate to be slightly drier and firmer, with substantial tannins that bode well for lengthy aging. Fonseca and Warre's tend to be softer, more feminine examples that seduce the palate with luscious texture.
Port producers typically have a flagship brand – an everyday non-vintage ruby port designed to showcase the house style. These products were once called "Vintage Character Port" because they replicate the style of Vintage Port,¹ but not long ago the designation was changed to "Reserve Port". You can find Reserve Port in most wine stores under names like Fonseca Bin 27, Warre's Warrior, or Graham's Six Grapes. Reserve Port offers certain conveniences that Vintage Port lacks. Once opened Reserve Port will keep for a couple of months, it doesn't require years of cellaring, it has no need for decanting, and like my cousin Eddie, it's cheap.
There are over a dozen styles of port available but they fall into two distinctive categories – Ruby and Tawny, which coincidentally are the names of Yolanda's two best friends forever (BFF).
Anthony presented six wines from Graham's, two tawnies and four rubies, all of which are currently available. My very first taste of port was the Graham's 1963 Vintage Port and to this day Graham's holds a soft spot in my heart and a dark spot on my liver.
The first wine we tasted was prototypical Graham's; alluring and toothsome with robust, sweet black fruit flavors. Graham's Six Grapes Reserve Port is a bold, full-bodied wine with aromas of macerated black cherries steeped in blackberry compote. There's an appealing roundness to the mid-palate where more black fruits reside. Black cherry flavors dominate but raspberry and black plum can also be found. The tannic structure is revealed in the firm finish where notes of cocoa peek through. $24
Rating: 3 of 5 Bottles (sorry I broke my cute rating plugin but you can read about my ratings here)
Anthony then introduced me to Six Grapes Special Old Vines Edition, a new addition to the Graham's line up that knocked my socks off. This is a limited (500 case) Reserve Port that's made from Graham's oldest vines. The current release is blended from the outstanding 2011 and 2012 vintages so this is a great time to stock up. Special Old Vines Edition is a softer, richer version of Six Grapes that features deep, dark aromas of cherry liqueur and anise surrounded by succulent scents of cocoa. The luscious, mouth-caressing texture and rich flavors of chocolate-tinged black cherry compote warmed me right down to the tips of my toes, which was a good thing since I'd lost my socks. $40
Rating: 4 of 5 Bottles
Late Bottled Vintage Port (LBV) is produced in good to outstanding vintages. It was created to capture the best characteristics of Vintage Port but due to its production methods, LBV is sediment free, affordable, and when released it's ready to be drunk, which is a good thing because so are my guests.
The Graham's 2009 Late Bottled Vintage Port is dark and plummy on the nose with sweet, macerated blackberry and crushed stone scents. It's full-bodied, dark and sweet (are you starting to see a pattern here?) with sinuous black raspberry flavors gliding through sweet baking spice notes of cinnamon and clove. Restrained crushed rock notes add depth, but the firm, gripping tannins leave me wondering if maybe this is an LBV that could benefit from some bottle age. $23
Rating: 3 of 5 Bottles
Every port producer has their prized vineyard or quinta² that produces the best fruit. Single Quinta Vintage Port is typically produced in a borderline year but because the property is so special the wines can compete with Vintage Port from the very best vintages. Single Quinta Vintage Port also matures much faster – typically 5 years as opposed to 20 years for Vintage Port – which is significant to geriatrics like me. Heck, I won't even buy lottery tickets until moments before the drawing.
Speaking of winning the lottery, Single Quinta Vintage Port is about half the price of Vintage Port. The Graham's 2001 Quinta dos Malvedos displays dark, concentrated, kirsch-like black cherry aromas fused with subtle scents of mint. This is a full-bodied port with palate saturating black cherry and blackberry flavors, followed by a warm, lengthy finish chock full of cocoa powder and sweet baking spice nuances. It's an impressive effort that's big, soft and alluring … like Queen Latifah on Ecstasy. $62
Rating: 4 of 5 Bottles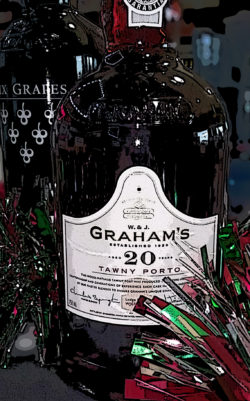 Unlike Vintage Port which is matured in the bottle, tawny port is matured in oak barrels for decades. Rather than a vintage date, these ports are labeled with an 'average age' designation of 10, 20, 30, or 40 year-old. Tawny port is the work of a master blender who combines younger ports, with their youthful vigor and rich fruit flavors, with older ports that impart mellow flavors of walnut, caramel, spice or honey. Because of the slow breathing that takes place inside a barrel, these wines are oxidized when released and will last for months after the bottle has been opened.
Since 10 year-old tawny port has spent an average of ten years in cask, bottle aging isn't necessary. That works well for cousin Eddie who considers wine fully mature and ready to drink when he gets home from the liquor store. Graham's 10 Year-Old Tawny Port has developed nutty, almond-like aromas and I also noticed something indefinably yeasty that was reminiscent of vanilla cookie dough. This is a mellow, medium-bodied dessert wine that's silky, rich and sweet with toasty, baked cherry flavors coated in crushed nuts and dried honey. $32
Rating: 3 of 5 Bottles
Like me, the Graham's 20 Year-Old Tawny Port won't get any better with age. Here the nutty aromas lean towards rich, caramelized walnuts. This is also a medium-bodied port but it has a mellower disposition than the 10 year-old version. Faint orange zest nuances swirl through dark buckwheat honey, all wrapped up in a texture that's as smooth as molasses, and come to think of it, tastes like it too. $53
Rating: 4 of 5 Bottles
So I've stocked up on my favorite Graham's ports and I'll be ready for my 'distant' relatives come Christmas Day. My siblings will share stories from their youth and bacterium from their cold sores. Cousin Eddie will show up in one of his T-shirts that proclaims, "It's the Most Wonderful Time for a Beer", then he'll disturb the sediment in all the vintage wines I've carefully presented while looking for an expiration date. My mom will give me a second hand gift wrapped in tin foil, newspaper or Saran Wrap – whatever is handy. When you're the middle child you get used to hand-me-down gifts. I remember some years were so lean that all my mom gave me was second hand smoke.
Some people believe that fortifying wine with brandy was invented to strengthen and preserve wine on its arduous sea voyage from Portugal to England, but those of us who have been drinking port for 14 generations know the real reason. It's to fortify families during the holidays. I'm not sure why port, which is about seven percent higher in alcohol than your average wine, is so appealing to me. I only know that during the holidays I like port about seven percent more than your average wine.
¹ Vintage Port is the rarest of ports, only produced about three out of every ten years, when the conditions come together in perfect synergy to produce wines worthy of a 'vintage declaration'.
² Quinta can also mean "Winery".