Bordeaux Has Class
Chapter Sixteen, Part Three.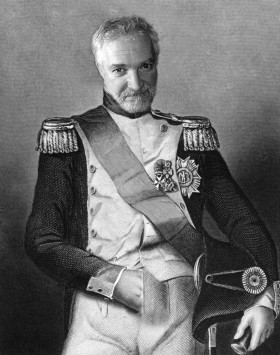 People are always asking me to explain the term Classified Bordeaux. I might be in the emergency room and the attending physician will say, "Can you explain Classified Bordeaux, and by the way this thing has got to come out," or I'll be buying a bottle of Chateau Lafite-Rothschild and the cashier will say, "What exactly is a Classified Bordeaux and that will be $18,000 please." Since the Bordeaux Classification rarely changes, my answer is always the same; "I can tell you but then I'll have to kill you because it's classified!"
On the other hand, regular readers of WineSnark have already died a thousand deaths by sitting through countless recycled jokes like that one so you deserve to know how Bordeaux got its class.
Back in 1855 when I was just a toddler, Emperor Napoleon III requested an official classification of the Bordeaux wines that were to be presented at the Exposition Universelle de Paris. In the century preceding the exposition, many unofficial classifications were put forth by prominent tasters, authors and list makers such as Thomas Jefferson and Martha Stewart. A wine was considered classification worthy when Martha declared, "It's a good thing."
Emperor Napoleon III delegated the task to his cousin Napoleon Jerome, who in turn handed the chore over to the Bordeaux Chamber of Commerce who quickly relegated the assignment to the negociants, or wine brokers. The negociants were given the task for three reasons. 1) They were intimately familiar with the wines of Bordeaux, 2) they were acquainted with the reputations of the various chateaus, and 3) there wasn't anyone left to delegate to.
In 1855 the market price for a cask of wine was an accurate barometer of its quality relative to its competition, and as a result the famous hierarchy created by the Official Bordeaux Wine Classification of 1855 was determined by little more than a wine's price tag. It took the brokers less than two weeks to formulate the list that, 160 years later, still has a profound impact on Bordelais wine. And of course by "Bordelais wine" I mean "our wallets".
There are sixty-one estates that made the grade and they are ranked in five levels. There have been modest changes in the classification through the years, mostly due to the merging or division of some of the original properties. The brokers also established a two level classification of the sweet white dessert wines from Sauternes and Barsac. Years later it was discovered that these sweet wines pair beautifully with crème brûlée and insulin.
With the exception of Chateau Haut-Brion, every estate in the red wine classification is located in the Medoc region. Chateau Haut-Brion is located in AOC Pessac-Léognan in the Graves sub-region. The wines of Graves were popular in England dating back to the twelfth century (when the Medoc was still a swamp) and in the seventeenth century Chateau Haut-Brion became the first estate to gain international recognition making it a shoe-in for First Growth status right from the start.
Of course there are great Bordeaux chateaus outside of Medoc and Pessac-Léognan. Saint-Emilion and Pomerol produce many renowned wines that command prices that are as high as or higher than their Medoc neighbors. However, in 1855 many of these estates did not exist or they were not producing noteworthy wines. Saint-Emilion instituted a classification 100 years after the Bordeaux Classification and Pomerol has yet to produce its own ranking hierarchy.
For you readers who have more time to kill before your boss returns, I've reprinted the entire Official Bordeaux Classification of 1855 as it stands today. It's a good thing.
First Growths (Premiers Crus)
Chateau Lafite-Rothschild, Pauillac
Chateau Latour, Pauillac
Chateau Haut-Brion, Pessac (Graves)
Chateau Margaux, Margaux
Chateau Mouton-Rothschild, Pauillac
Second Growths (Deuxièmes Crus)
Chateau Brane-Cantenac, Margaux
Chateau Cos d'Estournel, Saint-Estèphe
Chateau Ducru-Beaucaillou, Saint-Julien
Chateau Durfort-Vivens, Margaux
Chateau Gruaud-Larose, Saint-Julien
Chateau Lascombes, Margaux
Chateau Léoville-Barton, Saint-Julien
Chateau Léoville Las Cases, Saint-Julien
Chateau Léoville-Poyferre, Saint-Julien
Chateau Montrose, Saint-Estèphe
Chateau Pichon-Longueville Baron, Pauillac
Chateau Pichon-Longueville Comtesse de Lalande, Pauillac
Chateau Rauzan-Gassies, Margaux
Chateau Rauzan-Segla, Margaux
Third Growths (Troisièmes Crus)
Chateau Boyd-Cantenac, Margaux
Chateau Calon-Segur, Saint-Estèphe
Chateau Cantenac-Brown, Margaux
Chateau Desmirail, Margaux
Chateau Ferriere, Margaux
Chateau Giscours, Margaux
Chateau d'Issan, Margaux
Chateau Kirwan, Margaux
Chateau La Lagune, Haut-Médoc
Chateau Lagrange, Saint-Julien
Chateau Langoa-Barton, Saint-Julien
Chateau Malescot St-Exupéry, Margaux
Chateau Marquis d'Alesme Becker, Margaux
Chateau Palmer, Margaux
Fourth Growths (Quatrièmes Crus)
Chateau Beychevelle, Saint-Julien
Chateau Branaire-Ducru, Saint-Julien
Chateau Duhart-Milon, Pauillac
Chateau La Tour-Carnet, Haut Médoc
Chateau Lafon-Rochet, Saint-Estèphe
Chateau Marquis de Terme, Margaux
Chateau Pouget, Margaux
Chateau Prieure-Lichine, Margaux
Château Saint-Pierre, Saint-Julien
Chateau Talbot, Saint-Julien
Fifth Growths (Cinquièmes Crus)
Chateau d'Armailhac, Pauillac
Chateau Batailley, Pauillac
Chateau Belgrave, Haut-Médoc
Chateau de Camensac, Haut-Médoc
Chateau Cantemerle, Haut-Médoc
Chateau Clerc-Milon, Pauillac
Chateau Cos-Labory, Saint-Estèphe
Chateau Croizet-Bages, Pauillac
Chateau Dauzac, Margaux
Chateau Du Tertre, Margaux
Chateau Grand-Puy-Ducasse, Pauillac
Chateau Grand-Puy-Lacoste, Pauillac
Chateau Haut-Bages-Liberal, Pauillac
Chateau Haut-Batailley, Pauillac
Chateau Lynch-Bages, Pauillac
Chateau Lynch-Moussas, Pauillac
Chateau Pedesclaux, Pauillac
Chateau Pontet-Canet, Pauillac