Another Tough Day At Work.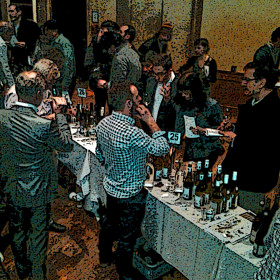 I spent last Monday afternoon at the City Winery in lower Manhattan having my teeth stained purple. The occasion was a wine tasting sponsored by Massanois, a terrific young wine importer and wholesaler that represents an impressive selection of boutique to mid-sized wineries from around the world. Between chatting with winemakers and jockeying for position at the spit bucket, I managed to sample 150 of the 400 wines presented. I must be slowing down in my old age.
I woke up feeling like something had died in my mouth which is probably why they call it the mourning after. If you've been there before I'm sure you can feel my pun.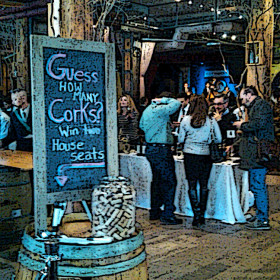 Events like this are all about discovering up and coming wineries, picking the wines that offer outstanding value (no matter what the price) and buying wines that are a good fit for retail. Of course it's also time to taste new vintages of old favorites and say hello to old friends. I'm not really that selective, I'll also say hello to my young friends.
Here are some of my picks from the event with my hastily scribbled notes. Because wholesale pricing varies from state to state, these are rough prices. An explanation of WineSnark scoring can be found under Wine & Spirit Reviews.
Ampelos Cellars, 2009 Grenache, Sta. Rita Hills, CA
Ampelos Cellars owner Peter Work told me he produced just 6 barrels (130 cases) of this food-friendly red. It features bright aromas and flavors with explosive concentration. This is a medium-bodied wine with a medley of cherry and berry flavors, including nice notes of ultra-ripe strawberry followed by subtle peppery nuances. Ampelos is certified organic and biodynamic. $37 – $40.
Rating:
(3.5 / 5)
When I asked Peter about the barrel regimen used for some of his wines he told me about hybrid barrels. "Hey, I'm all for a wine that gives me more miles per gallon." I thought. Then he explained that hybrids are made with American oak staves and French oak heads for a 76%/24% mix. Who says an old dog can't learn about new sticks?
Daniel Rion, 2011 Bourgogne Rouge, Burgundy, France
I found this to be a great value by Burgundy standards, which is kind of like saying that's great sex for an octogenarian. The nose displays ripe, sweet cherry aromas, and the palate has some satisfying fleshiness for this price-point. Dried, slightly tart cherry flavors fill out the middle. $21 – $24.
Rating:
(3 / 5)
Daniel Rion, 2011 Nuits-St-Georges, Les Grands Vignes, Burgundy, France
Take notice all you Burgundy hounds, this has that earthy, smoky nose that makes you want to bury it in the back yard with your other Beaunes (and Cote de Nuits). The palate is a smorgasbord of rich, roasted and smoked meats offset by an underpinning of ripe black cherry and plum fruit flavors. $48 – $52.
Rating:
(3.5 / 5)
Hoopes, 2010 Cabernet Sauvignon, Napa Valley, CA
This Napa Cab hails from some of the oldest vines in Oakville, which isn't all that old when you consider I've got liver spots that are older. It features a smoky, cedary, cigar box nose. The palate is full and dark, with great intensity and a healthy dollop of spicy oak coating a reclusive core of cassis. $60 – $65.
Rating:
(3.5 / 5)
Hoopla, 2012 Chardonnay, North Coast, CA
This un-oaked wine spends time in contact with the lees, or dead yeast cells, which sounds a lot like a M. Night Shyamalan movie. The lees contact imparts rich yeast aromas and a full, silky mouth feel. Clean minerality is also apparent in the nose, while the palate delivers rich apple flavors. $35 – $40.
Rating:
(3 / 5)

Lustig, 2012 Gruner Veltliner, Austria.
This affordable white gives newcomers to the varietal a good idea of the light, crisp style of Grüner Veltliner. The nose has sweet flowery aromas that seem faintly soapy (which explains why my mom makes me drink it when I say bad words). It possesses the telltale zesty acidity of Grüner Veltliner, but still comes across with some roundness in the palate. The subtle flavors fluctuate between orange and lemon. Good Value. $10 – $12.
Rating:
(3 / 5)
Nals Margreid, 2012 Muller Thurgau Classico, Alto Adige, Italy
This refreshing white features pronounced aromas of wet limestone and bright lemon pith. The explosive fruit rings the bell like Arnold Schwarzenegger is wielding the mallet. Green apple, and lively lemon/lime are followed by subtle coriander and echoes of minerals in the finish. $18 – $20
Rating:
(3 / 5)
Reunion, 2012 Torrontes, Salta, Argentina
Refreshing floral-infused aromas of orange peel and peach combine with a faint oiliness that's not uncommon in this Argentine varietal. The palate also features ripe flavors of tropical citrus followed by faint mineral nuances. Last vintage this wine displayed almond characteristics that aren't apparent in the new release. Who knows, with time maybe this too will grow some nuts.  Good Value. $14 – $16.
Rating:
(3 / 5)
Schmid, 2011 Grüner Veltliner, Alte Reben, Austria
This crisp, high-acid white comes from Schmid's old vines (alte reben). The nose possesses stony mineral aromas and lively scents of grapefruit and fresh lemon. The palate is clean and zesty with lemon meringue and subtle orange zest flavors. I once read a wine list that featured about two dozen Austrian whites. I said to the sommelier, "You must sell a lot of Grüner Veltliner here." He replied, "No, but I have a supplier who does." $28 – $30.
Rating:
(3 / 5)
Soluve, 2010 Chianti Classico Riserva, Italy
To handle extra production, the highly rated winery Viticcio, bottles wine under the Soluve label. These wines straddle the fence between old world and new. Traditional delicate strawberry aromas and flavors combine with darker, sweet plum and black cherry characteristics. This is a medium-bodied Sangiovese, but it carries itself like a middleweight boxer wrapped in a thick velvet robe. $19 – $22.
Rating:
(3 / 5)