All Beaujolais Is Burgundy But Not All Burgundy Is Beaujolais
Chapter Sixteen. Part Nine.
Every November Beaujolais Nouveau simultaneously arrives at wine shops, supermarkets, restaurants and bars all over the world. This special day reminds my generation of a simpler time, a time when we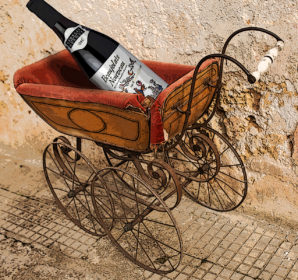 drank cheap, unpretentious wines and missed work the next day. Beaujolais Nouveau has lost much of its appeal but it's still a fall tradition, an autumnal ritual, a seasonal custom that ranks right up there with getting a flu shot.
Millennials probably aren't familiar with the Beaujolais Nouveau phenomenon but this wine was a big deal not too many years ago – but more on that in a minute.
Beaujolais. A Place. A Wine. A Phenomenon.
Beaujolais is a broad region located south of Burgundy's more prestigious Chablis, Côte d'Or, Côte Chalonnaise and Mâconnais regions. While technically classified as AOC Bourgogne (Burgundy), the grape variety, fermentation techniques and price points found in Beaujolais are a world apart from its northern neighbors.
As is the custom in France, the wines bear the names of their appellation or place of origin. Therefore wines from this region are known as Beaujolais, Beaujolais-Villages, or one of ten crus (individual villages singled out for their superior wines). There are also miniscule amounts of white and rose wine produced.
Unlike the rest of Burgundy, where Pinot Noir and Chardonnay reign supreme, 99% of Beaujolais vineyards are planted with the black grape Gamay. The 1% is comprised of – what else, billionaires. No wait that's not it! The other 1% is made up of Chardonnay and Aligoté, which also happen to be white.
Gamay produces aromatic red wines that can display bubblegum-like flavors of grape, cherry, raspberry and even banana. They are typically light, fruity and low in tannin and their approachable flavors make them an ideal wine for consumers looking to transition from white to red.
Gamay's flavors are accentuated by a unique vinification method called carbonic maceration. Whole grapes are placed in a sealed container and the oxygen is replaced with carbon dioxide, causing the fermentation to take place inside each individual grape. The end result is wines that are less tannic and flamboyantly fruity.
Beaujolais is the source of Beaujolais Nouveau; France's much ballyhooed first wine release of the year. Beaujolais Nouveau doesn't have an appellation in its own right. These wines typically come from AOC Beaujolais, a designation that can be used by any village in Beaujolais but is largely spread across the southernmost areas.
Beaujolais Nouveau is not always the first wine of the year to reach American consumers. The wines of the southern hemisphere are fermented in the spring and occasionally these young wines land at American wine stores before the Beaujolais Nouveau arrives.
The Worst First Wine of the Year
To capture Gamay's fresh fruit characteristics, Beaujolais Nouveau undergoes a short fermentation and is then bottled and immediately shipped across the globe for simultaneous release on the third Thursday of November. In its heyday roughly 70 million bottles of Beaujolais Nouveau were produced. By November 2016 a little over a million bottles arrived in America – but they were strategically timed to arrive just as the country needed about a million drinks to cope with the election.
In the 1970's the novelty of Beaujolais Nouveau was promoted by racing the fresh wine from Beaujolais to the bistros and wine shops of Paris. Merchants and restaurants anxious to be the first to serve the new wine, posted banners proclaiming, "Le Beaujolais Nouveau est arrivé!" ("The new Beaujolais has arrived!"). The Beaujolais Nouveau fanfare spread to other countries and soon well-publicized deliveries were being made by motorcycle, balloon, helicopter, rickshaw and the Concorde jet to simultaneous Beaujolais Nouveau parties held at wine bars and restaurants worldwide.
As its popularity and production ramped up, the quality of Beaujolais Nouveau suffered (not that it was much to write home about in the first place). Wine savvy American consumers lost interest in these light, simple wines and by the time the 2001 vintage rolled around, over 12 million bottles had to be destroyed or distilled just to be rid of it.
The problem was exacerbated when French wine critic François Mauss referred to Beaujolais Nouveau as vin de merde (shit wine). Worldwide media coverage of the resulting lawsuit created more of a merde-orage (shit storm) and nouveau wine was soon old news. To illustrate just how far this wine has fallen out of fashion; in 1994 I sold about 150 cases of Beaujolais Nouveau. This year my former store sold just three cases.
Not All Beaujolais Is Nouveau
North of AOC Beaujolais in terms of geography and quality sits the appellation Beaujolais-Villages. This region is comprised of thirty-nine villages that produce wines with more fortitude than generic Beaujolais or Beaujolais Nouveau. In this appellation there's more granite in the soil which results in richer, more complex wines. Typically Beaujolais-Villages are a blend from several villages, but you may encounter wine labeled AOC Beaujolais-Villages that is produced in a single village.
There are ten villages that have been identified for their ability to produce superior wines and they've been elevated to cru status. These villages are allowed to label their wines with the individual village or commune name (i.e. Saint-Amour AOC).
From north to south the ten Beaujolais crus are;
Saint-Amour AOC
Juliénas AOC
Chénas AOC
Moulin-à-Vent AOC
Fleurie AOC
Chiroubles AOC
Morgon AOC
Régnié AOC
Côte de Brouilly AOC
Brouilly AOC
The darker, fuller-bodied wines coming from these ten villages are a far cry from the light and simple Beaujolais Nouveau. In fact, local regulations prohibit these villages from producing nouveau and many producers refuse to use the word Beaujolais on their label.
Unlike typical Beaujolais, many of these wines are produced with traditional fermentation methods and may undergo oak aging. Oak aged wines may be identified on the label by the term Élevé en fûts de chêne (aged in oak barrels). Beaujolais crus will improve with bottle age and in some rare cases, the fuller-bodied wines from Morgon or Moulin-à-Vent can resemble the Pinot Noirs produced in Burgundy's more prestigious appellations.
So if you're looking for juicy, fruit forward red wine, look no further than Beaujolais. You can opt for the light and simple Beaujolais Nouveau, the more substantial Beaujolais-Villages, or the richer, more complex oak-aged wines from one of the cru appellations.
As for the sorry state of Beaujolais Nouveau sales, perhaps what's needed is a new slogan. Its popularity probably had more to do with marketing than with quality so let's ditch "Le Beaujolais Nouveau est arrivé!" and go with "Beaujolais Nouveau; Quand vous voulez manquer le travail demain!" (Beaujolais Nouveau; When you want to miss work tomorrow!).