Adventures on the Wine Route (or This Sure Ain't France)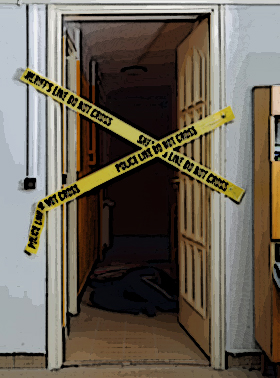 In 1988 wine importer Kermit Lynch wrote Adventures on the Wine Route about his quest to find exceptional French wines for his customers. Yesterday, in my own version of Adventures on the Wine Route, I traveled to Paso Robles in search of exceptional wines for my customers but so far my adventure isn't nearly as romantic as Kermit's.
As I left the airport I received a call from the motel that I had booked based on the sterling reviews of those most discerning of all critics – Expedia customers. I was told I must "cancel my reservation" because there was "police activity" on the property. When I pressed for more information I was told the motel was in a "police lockdown". It had been evacuated as local lawmen surrounded a room they suspected housed notorious and dangerous criminals. After a 13-hour showdown the police broke down the door to find the room empty. I think they were negotiating with a very loud rerun of The Simpsons.
I was informed that the crisis had just come to its disappointing conclusion (everyone had already seen that particular Simpson's episode) but the staff needed several hours to change sheets, scrub bathtubs and vacuum crystal meth residue.
I explained that my GPS said I wouldn't be there for a couple of hours and they gave me the greenlight to check in. I don't really need a GPS, but when I travel I like to have a woman's voice telling me what to do so that I don't get homesick.
I removed the yellow police tape and entered a room painted "prison garb orange". A quick look around confirmed there were no criminals present, although they might very well have been standing against the walls in their prison uniforms, perfectly camouflaged from detection.
I phoned my wife to tell her about the ordeal and she said, "I told you to stay in the Hilton. They cater to a much higher class of criminal."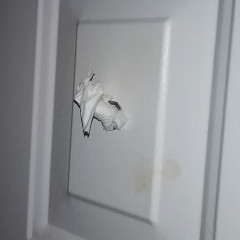 Before venturing out for ice I decided to take a cautionary peek through the peephole. I found it jammed full of toilet paper as if some paranoid, feeble-minded meth-head had attempted to keep people from peeking into the room. I say feeble-minded because the toilet paper here is so thin you can read through it.
I phoned the front desk to find out where the ice machine was located. "The bad news" said the clerk "is that the only ice machine is up here by the office. But the good news is you don't have to come all that way because it's been broken since 2012."
At least my room was clean (in a 'don't look too close' kind of way). There was a "No Smoking" sign conveniently stuck to the bottom of the ashtray they supplied.
Apparently the motel was very old. It must have been built before Homo sapiens walked upright as the showerhead was located below my chin. I dried off and then treated the abrasions caused by the bath towel.
I was looking forward to breakfast because I've noticed that the higher consumer reviews from Expedia travelers always seem to correlate with the amount of all-you-can-eat simulated bacon products served. It turned out that this breakfast was served at a Denny's restaurant. I haven't eaten at Denny's since one crazy night in 1977 that would have made Hunter S. Thompson look like a monk.
We don't have any Denny's where I live, but I've seen them lined up along America's exit ramps like so many crooked teeth. I asked the waitress, who I'll call Pam because her nametag said, "You Can Call Me Pam!", about the "Nutrition Menu" in the rack before me.
"I'm not sure what's inside that thing," she said. "Nobody's ever opened it."
As the first man in America to pick up the Denny's Nutrition Menu, I can report that it unfolds like an old-fashioned road map to diabetes.
I considered the Philly Cheese-steak Omelet but the 2290 grams of sodium made me opt for the Moons Over My Hammy instead.
My Adventure on the Wine Route is certain to take a turn for the better when I head to the 2nd Annual Paso Robles Wine Country Blendfest on the Coast at the Hearst Property in Old San Simeon Village. Stay tuned …