A Stroll Through History On The Roman Road To St.-Emilion
Chapter Sixteen. Part Six.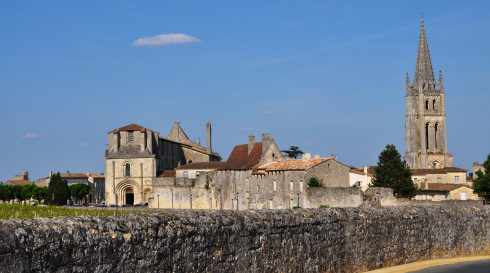 The wines of Bordeaux were my first oenological love, a passion I've shared with my wife Caroline for over thirty years. To rekindle our premier amour we visited Bordeaux and like the forgotten vignerons, monks and armies before us, we hiked an ancient Roman Road through historic vineyards to get to the higher place known as St.-Emilion.
The Roman Road, built to service a triumphant empire 2000 years ago, is now protected from development and allows travelers to walk through Bordeaux vineyards first planted in the 2nd century. As it passes through the vineyards of Chateau Franc-Mayne it is little more than a path strewn with broken cobblestones, sloping gently upward as if propelling you to a higher purpose. This seems somehow fitting as the road leads to the medieval village named for the Friar Emilion, a reclusive 8th century monk who achieved sainthood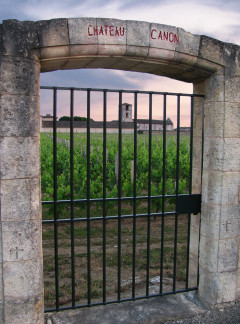 for the miracles he performed.
The Roman Road widens into a rocky avenue and eventually into a paved thoroughfare as it nears the village. Here, an ancient stonewall or clos, keeps curious explorers from wandering into the Premier Grand Cru Classé vineyards of Chateau Canon and its neighbors. Through an arched opening in the wall the chateau rises above orderly rows of Merlot and Cabernet Franc vines.
Above the wall looms the church tower erected by Friar Emilion's followers. This iconic structure crowns the limestone plateau that rises above the surrounding vineyards. A cozy plaza rings the church tower where you can enjoy lunch served from one of the nearby restaurants or boulangeries.
From this lofty perch we enjoyed warm croque monsieur sandwiches (toasty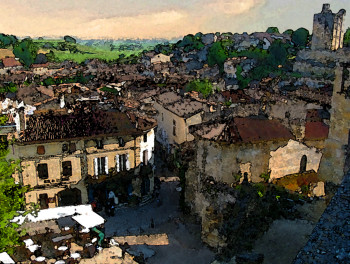 Brioche oozing gooey Gruyere and salty ham) while gazing over earthen tile rooftops that fell away to reveal distant vineyards, hazy and indistinct like a 19th century plein air painting.
The stone beneath St.-Emilion was mined to build the church, and later the city of Bordeaux. In the northeast corner of the village we came upon Chateau Villemaurine, a Grand Cru Classé estate that offers a tour of the excavated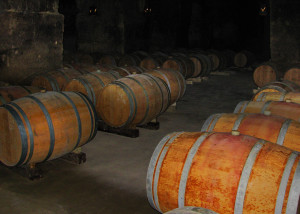 caves. Draped in a soft blanket supplied by the chateau, we followed our lantern-toting guide through four cavernous levels. The excavation encompasses 17 acres and approximately 200 kilometers of tunnels. Centuries later it was discovered that these cool, damp caves were ideal for aging wine, some of which was waiting for us in the tasting room at the end of the tour.
Descending the narrow cobblestone streets of St.-Emilion is akin to travelling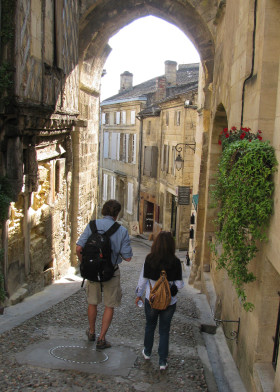 back in time. The centuries seem to fall away as you discover tiny shops and tradesmen who tend their crafts much like their fathers and grandfathers before them. Talented metallurgists create handcrafted cutlery and offer personalized engraving while you wait. Artisanal bakers produce scrumptious macarons and canelés, their sweet scents drawing you into charming confectionaries, or confiseries.
Whether you call yourself a "foodie" or prefer the more traditional "gourmand", the village of St.-Emilion has what it takes to satisfy your exacting appetite. We discovered a variety of chocolatiers, fromageries, and charcuteries, all of which contributed to the growing weight in our backpacks.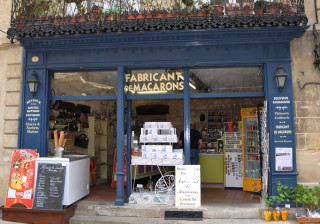 The warm shopkeepers of St.-Emilion and throughout Bordeaux are fluent in English, even though some may lightheartedly reveal their proficiency only after you make a modest attempt to speak French.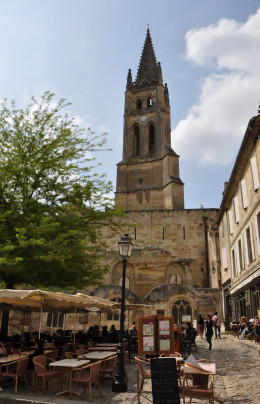 Menus mounted on ancient stonewalls outside charming restaurants captured our imaginations. Sprinkled throughout the village we found dozens of places to dine including informal courtyard bistros under grapevine canopies, casual sidewalk cafes on precariously steep slopes, and exquisite Michelin rated restaurants with wine lists to please the most discerning oenophiles.
Wine bottles of every conceivable size and vintage stand like silent sentinels in the doorways of the open-air wine merchants that seem to populate every street in the village. Whether you're looking for a simple AC Bordeaux or a 100 year-old Premier Cru, you can find it in St.-Emilion. We strolled from merchant to merchant; enjoyed complimentary samples at each stop and added new vinous discoveries to our over-flowing backpacks. For our larger purchases, many of the merchants and chateaux offered shipping to America.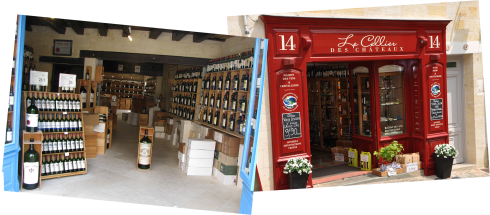 St.-Emilion is located on the Right Bank of the Dordogne River, a region where Merlot and Cabernet Franc flourish. Cabernet Sauvignon dominates the vineyards of the Left Bank where the well-known communes of Pauillac, Margaux, St. Estèphe, St. Julien and Haut Medoc are located.
Wine lovers will find hundreds of amicable wine chateaux in Bordeaux and many offer first rate accommodations. Our host chateau was within walking distance of several neighboring estates but to reach the further chateaux we rented bicycles and journeyed through acres of historic vineyards,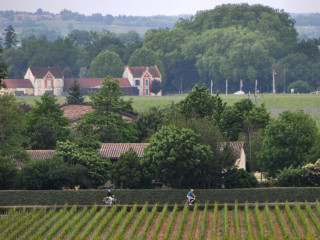 purposefully staying on top of the plateau to avoid a strenuous uphill return. By car you can visit great estates throughout Bordeaux but give yourself plenty of time if you plan on visiting the Left Bank chateaux west of the city of Bordeaux. Getting around the city can be a daunting task at rush hour. Your concierge will be happy to recommend places to visit and make appointments on your behalf.
The wines of St.-Emilion are known for their deep, generous aromas, luscious fruit flavors and soft, supple texture but don't let their feminine side fool you. These are substantial wines that can also display firm mineral notes and age for many years. The wines I've recently opened from the 2005 vintage are delicious and drinking beautifully; the typical sweet black fruit flavors evolving gracefully into a silky mélange of earthy berry and subtle saddle leather.
Like the Roman army 2,000 years ago, Caroline and I traveled the Roman Road to St.-Emilion. We came not to conquer but to be conquered. We conceded to her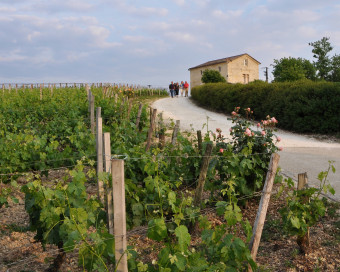 bakers and craftsmen, yielded to her chefs and wine merchants, and surrendered to her captivating charms.
Then, armed with fresh baked bread, soft, supple cheeses, and a bottle of wine, we walked the Roman Road back to our host chateau. With each step we moved closer to where we started, closer to our own place in time. Like so many travelers before us, we returned to the 21st century, forever changed by the higher place known as St.-Emilion.