2006 Napa Valley Cabernet Sauvignon, 10 Years After (part 2)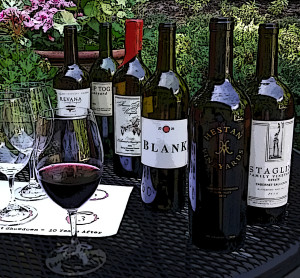 So you think 2016 has been a bizarre year? In 2006 the Vice President shot his friend in the face with a shotgun and Sacha Baron Cohen won a Golden Globe Best Actor award for his portrayal of Borat. But hey, the news wasn't all bad in 2006. I was ten years younger, my friends had never heard of obstructive sleep apnea, and the world was still blissfully unaware of Justin Bieber.
In California the wine trade was schizophrenically trying to evaluate the 2006 Napa Valley Cabernet Sauvignons. Wine historian Jancis Robinson called 2006, "Far from a banner year"¹ while Bo Barrett, winemaker for Chateau Montelena, told the Napa Valley Vintners, "It should be a bitchin' vintage!"²
Suspecting the facts would fall somewhere in the middle, WineSnark canvassed some politicians to find out the truth.
Ha ha ha ha!
We try to keep an open mind here at WineSnark (another joke that never gets old!) so we sent our trusted emissaries to ask Hillary Clinton and Donald Trump what they thought of the 2006 Napa vintage.
The Donald commented, "I like Clos du Bois wines because Clos is a French word that means a walled vineyard and I'm all for walls. Many, many walls, wonderful walls, I'm talking about fabulous walls. Believe me, I will build fantastic walls around all of our vineyards and they will be yuge, really, really yuge, believe me. I don't know who will harvest the grapes once we keep the Mexicans out but I'm gonna build unbelievable walls around our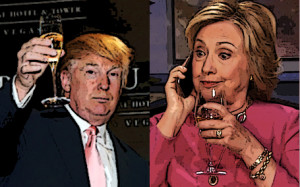 vineyards and have the French pay for it."
There are people who say Hillary flip-flops on the issues, but actually she simply has opposing views on the same subject. While dining at Cipriani on Wall Street, Hillary made this comment to a trusted waitress, or what she calls a secure server. "2006 is clearly the worst vintage in a decade because it unequivocally produced the best wines of the past ten years."
On this ten year anniversary of the vintage, WineSnark revisited the 2006 Napa Valley Cabernet Sauvignons from six prestigious producers. In a blind tasting we rated the wines in order of preference, one point for our favorite and 6 points for our least favorite, so that the low score wins. Here are our results, from last to first place.
When first opened the 2006 Philip Togni Cabernet Sauvignon was harder than a Viagra focus group but it softened up after 4 hours. (Well maybe it was more like an hour and a half). It garnered the highest score which means it finished last with 28 points, but keep in mind the competition was pretty stiff. This historic Spring Mountain Cabernet has a funky edge to the aromas of ripe plum, dark cherry and coffee. Full, tacky tannins overpower the core of dark fruits, leaving a tarry aftertaste. The good news is the unpleasant finish is shorter than Chris Christie's run for president.
Rating:
(3 / 5)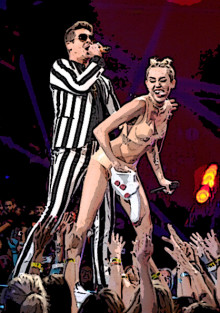 Other newsmakers in 2006 included Miley Cyrus, who turned up as Hannah Montana on the Disney Channel. Seven years later Cyrus appeared on the VMA Awards just moments before Walt Disney turned over in his grave.
Speaking of earth, the dust and clay-scented 2006 Revana Family Vineyard Cabernet Sauvignon finished in fifth place with 25 points. This St. Helena Cabernet, made by the talented Heidi Peterson-Barrett, fared poorly because it needed the most time to open up and by luck of the draw was the first wine we tasted. In reading over my notes I couldn't find any real faults other than its reticence in revealing its flavors and an astringent texture that seemed to soften over dinner. The earthy mineral aromas were joined by scents of licorice and the taster sitting next to the sopressata claimed it smelled like smoked meat. Go figure. This is another big wine with full-bodied flavors of spicy cherry and concentrated blackberry supported by firm tannins that meld with a finish of minerals and cedary oak spice.
Rating:
(3 / 5)

In other news from 2006, Jack Dorsey, Noah Glass, Biz Stone, and Evan Williams founded the popular social-networking service Twitter. They establ
Sorry. I used up my 144 characters.
Do you remember the Robert Parker review that gave an outstanding score to the wine that smelled of fresh horse dung? (read about it here) I was reminded of that review by our fourth place finisher which was a very tasty wine that smelled like a skunk, but you know, in a good way. (One taster commented, "It's very good when you hold your nose.") The 2006 Sherwin Family Vineyards Cabernet Sauvignon has a distinctive skunky aroma that isn't pungent like fresh skunk spray. It's more like that faded, not so offensive funkiness that comes from a skunk that's been dead for a month – you know, a skunk that has stopped making scents. This is another Spring Mountain Cabernet that has long been a favorite of mine and the wine showed better at dinner than it did in the tasting. We found an objectionable greenness in both the aromas and flavors that didn't sit well with any of us. This is a firmly textured wine with black cherry fruit flavors supported by strong tea-like tannins that left a lingering green aftertaste.
Rating:
(3 / 5)

2006 was the year  Facebook welcomed everyone and was no longer exclusive to college students. In other words, it was the year American parents discovered their college kids were sexually active, binge drinking, bong-smoking party animals.
Speaking of herbs, my favorite wine of the night was the 2006 Blank Vineyards Cabernet Sauvignon made by Grace Family Vineyards – but when my score was added to the others it finished in third place with a rating of 11. I love it for its fascinating nose; unique aromas that keep evolving in the glass, shifting from ripe black plum to subtle flowery perfume and finishing with scents of a minty herb that I eventually pinned down as wintergreen. When first poured the wine has a musty scent but as the wine opens up these aromas retreat into a dusty, dried sage quality (10 year-old Rutherford dust perhaps?). On the palate a big soft attack develops into lush flavors of black plum accentuated by the faint wintergreen and dried herb characteristics redolent in the nose. This fluid Cab finishes like a river of soft black cherry pudding.
Rating:
(4.5 / 5)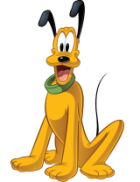 In January 2006, NASA launched the first space mission to the planet Pluto. The spacecraft would eventually travel three billion miles and take nine years to get a close look at our most distant planet. However, just seven months after launch the International Astronomical Union stripped Pluto of its 'planet' status, prompting a senior NASA spokesman to comment, "Doh!"
The Staglin Family Vineyard's 2006 Estate Cabernet Sauvignon is one of those big, teeth-staining reds that keep dental hygienists in Louis Vuitton shoes. Saturated dark, sweet cassis permeates the nose followed by transient floral scents that bubble to the surface and blossom into a purple floral perfume. There's an undercurrent of silky mineral and oak that melds beautifully with ultra-ripe black cherry, plum and cassis flavors, all delivered on a texture that's voluptuous, luscious and rich, which sounds like a pretty good bottle of wine but is actually everything I've ever wanted in a woman. Staglin '06 Cab finished in second place, just one point behind our first place wine.
Rating:
(4.5 / 5)
When all the votes were tallied Hestan Vineyards 2006 Cabernet Sauvignon was the winner with the low score of 9 points. Like Mohammed Ali entering the arena, Hestan's flamboyant silk robe peels off to reveal chiseled muscle and bone. The aromas, both youthful and seasoned after 10 years, are a fruity/savory combination of ripe blackberry (almost jam-like), surrounded by leather, sage, threadbare minerals and an unexpected sweet cinnamon spiciness. The silky '06 Hestan Cab possesses graceful power, a talcum-smooth texture and full-bodied flavors of blackberry and dark plum that hang around longer than a pole dancer with sticky thighs. There was some alcohol apparent in the nose that moved it out of first and into second place on my scorecard.
Rating:
(4.5 / 5)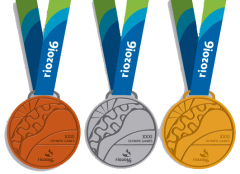 The 2016 Olympic closing ceremony is playing out on television as I put this article to rest so let's cue the national anthem and pass out the medals. In our Olympian competition we encountered three award worthy wines and three that seemed to stumble at the starting blocks. The gap in scoring between our first three and last three wines was substantial as Hestan, Staglin and Blank were rated 9 (gold), 10 (silver), and 11 (bronze) respectively, while Sherwin, Revana, and Philip Togni finished at 22, 25, and 28 points. The 2006 vintage proved that, like an Olympic champion, Napa Valley Cabernet can be as graceful and powerful as Usain Bolt, as gorgeous as Giselle strutting through Olympic stadium in 6" stilettos, and every so often Napa Valley Cabernet can leave a bad taste in your mouth like Ryan Lochte.
¹http://www.jancisrobinson.com/learn/vintages/northern-california
² https://napavintners.com/press/press_release_detail.asp?ID_News=110