Chapter Six, Part Three.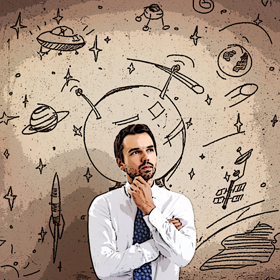 Are you feeling some trepidation about your ability to accurately evaluate and describe wine? Relax. Wine analysis isn't black arts or brain surgery … It's rocket science. Hey, I'm kidding. Describing wine is easy. All you need is a steady stream of euphemisms, metaphors and dialysis treatments.
If you've been following these pages you should now be adept at euphemisms and similes so it's time to let the right brain step up to the plate and take a swing at metaphors. Wine writers use a truckload of metaphors, or maybe it's a ton of metaphors … no, it's a sea of … you get the idea, we use lots of metaphors.
Read More
Chapter Seven, Part Two.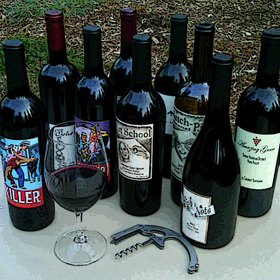 The first thing I do when I sit down to create a new wine label is assemble my puns and pencils. I've learned that my irreverent approach to wine labeling often conflicts with local wine laws, so many of my efforts will not soon be coming to a store near you.
I once worked with an importer to create a label for an inexpensive line of wines from the south of France. Inspired by the great wines of Burgundy's Côte d'Or we developed an image of a chateau sitting near an ancient clos. Clos is a French term meaning a walled vineyard. Our chateau door was wide open, and the winery name below the image announced, Clos de d'Or. It turned out the French have laws against this kind of chicanery and they quickly closed the door on this label.
Read More
Chapter Seven, Part One.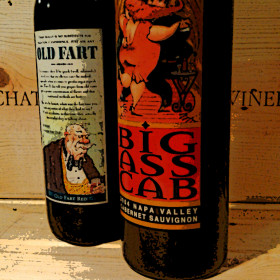 I know the wine trade is steeped in tradition but does that mean wine labels have to be as dry as the wines they adorn? Apparently not, as wine labels with quirky names and images now populate the shelves of nearly every wine retailer.
Some of these labels are as offensive as the swill inside the bottle but the movement towards nontraditional labeling has also caught on with many quality producers. Today you can find outlandish labels on many outstanding wines; labels that are whimsical, outrageous, or in some cases, uniquely practical.
Should the lights go out when you're enjoying a Pinot Noir from the Carneros Della Notte winery you won't have any trouble finding the bottle because theirs is the first wine label to glow in the dark (much like my nose after analyzing a Big Ass Cab).
Read More