Chapter Thirteen, Part One.
"Oak in wine should be like a ghost in a chateau; you sense its presence, but you don't actually recognize it." Pierre Seillan
Before his untimely death in 2002, I had lunch with Bruce Guimaraens, the fifth generation winemaker for the esteemed port houses Fonseca and Taylor-Fladgate. Guimaraens was the great, great grandson of Manoel Guimaraens, who founded Fonseca-Guimaraens in 1822. I probably think being a great, great grandson is a big deal because I was never a great, great grandson; I was just an average great grandson.
Read More
Chapter Nine, Part Eight.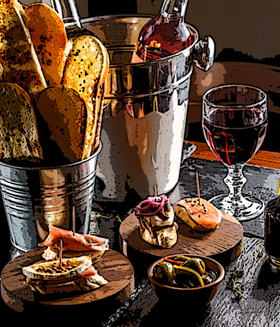 When pairing food with wine, sweet and sour tastes fall neatly into the cancellation category, bitter and piquant are subject to the cumulative effect, and umami is best grouped with neutral pairings, but what about salt? In moderation, salt doesn't seem to have any conspicuous consequence, but how does excessive saltiness in food affect the taste of wine? To learn how (or if) salt fits into the A. cancellation, B. cumulative or C. neutral categories, I invited some friends over for some organoleptic research. They quickly declined until I told them that meant we were going to eat and drink wine.
Good old fashioned research is difficult and time consuming but in the name of conscientious reporting the WASTED team (Wine Snark Academy for Sensory Testing, Evaluation & Debauchery) created a salty feast and drank five bottles of wine because that's the kind sacrifice we're willing to make in the name of, umm … science, yeah that's it, science.
Read More