The impact of the chemical reactions taking place in your mouth when you combine food and wine can be very obvious when you're experiencing the cancellation effect or the cumulative effect, but there's another interaction between food and wine that's just as rewarding, but much less pronounced. I call this subtle interplay the neutral effect. I realize that describing a food and wine pairing as neutral sounds sort of, well … neutral, but that doesn't mean these combinations are boring. Neutral pairings occur when similar flavors come together in a safe, reassuring place, sort of like Switzerland.
Read More
Chapter Nine, Part Six.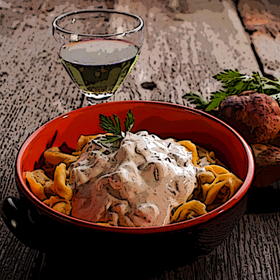 WWhen pairing food with wine the cancellation effect works to your advantage once you understand how to balance the taste or texture of sweet and acidic food with similar traits in wine. While acidity and sweetness cancel each other out when combined on your palate, bitter and piquant sensations accumulate and magnify one another. The same can be said for pairing low acid foods with low acid wines so I'll go ahead and say it; creamy or fatty traits do not cancel each other out; they accumulate on your palate (and also on your waistline). So after many years of deliberation I've decided to call this the cumulative effect.
Read More
Chapter Nine, Part Five.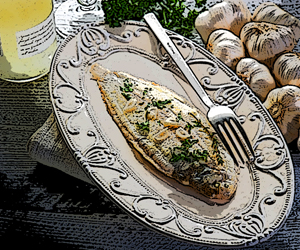 Matching food and wine by weight will put you in the ballpark when choosing the proper wine, but taste is the key to hitting an astronomic-gastronomic home run. Sweet, sour, salt, bitter, umami and piquance interact with one another in predictable ways and once you understand how these principles apply at your dining room table you'll be able to create some major league food and wine combinations. I lump these interactions into three categories I call the cancellation effect, the cumulative effect, and the neutral effect.
Read More
Chapter Eight, Parts One & Two.
Where Have You Been All My Life?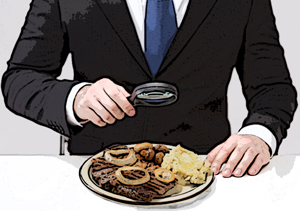 Sweet, sour, salt, bitter … sweet, sour, salt, bitter. I repeated those words at so many events for so many years that the phrase was like my own personal mantra, rooted in my psyche by daily visits to the Deli Lama. Just imagine my concern when I learned of umami – the existence of a fifth taste was surely going to throw off my mantra rhythm. Sweet, sour, salt, bitter … UMAMI? It has a good beet but you just can't trance to it.
Not only did this secretive fifth taste exist, it existed right under my nose – where my mouth is conveniently located. I knew if I was ever going to get my mantra groove back I needed to embrace the mystical taste I'd overlooked for so long. I gathered articles and books on the subject and soon learned that describing the taste of umami is like describing the flavor of wine, it's just so many words on a page. Umami, like wine, must be experienced to be understood.
Read More
Chapter Four. Part Three.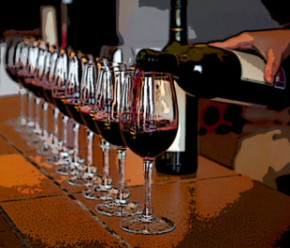 It's wine tasting season in New York once again. A season-ending injury kept me out of the fall tasting line-up and at the first spring event I started slurring my speech, dropped several wine glasses and fell down twice. I became disoriented, dizzy and incoherent so I did the only sensible thing.
I drove myself straight home.
Years ago, when I first started attending wine tastings, I developed an olfactory/gustatory associative process to try to pinpoint the flavors and aromas that seemed so familiar yet so elusive. The first time I recognized the taste of vanilla in a red wine is a good illustration of how this free flowing stream of consciousness unfolds. 
Read More