Chapter Sixteen, Part Two.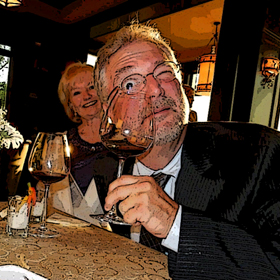 France has hundreds of wine appellations that are broken down into three quality levels; Appellation d'Origine Contrôlée (AC or AOC), Vin de Pays (VdP), and Vin de Table (VdT). These designations are controlled by the Minister of Agriculture, under the auspices of the Institut National de l'Origine et de la Qualité. Rather than adopt the logical acronym INOQ, the organization retained an earlier acronym INAO (for Institut National des Appellations d'Origine) so they wouldn't have to replace the stationary.
Read More
Chapter Eleven. Parts One & Two.
The November 1997 issue of the Wine Spectator rated the Louis Latour 1990 Corton-Charlemagne 98 points … and 88 points.
98 LOUIS LATOUR Corton-Charlemagne 1990
Exotic, wild and savage. A deep, "gonzo-crazy" terroir wine, full-bodied and packed with dried herbs, honey and spicy oak. Almost tannic in structure, it explodes like a small volcano on the palate for an unbelievable experience. Not for the faint of heart though.
88 LOUIS LATOUR Corton-Charlemagne 1990
Mature, with an herbal, slightly leathery accent to the pear and oak flavors. Shows its age via dryness and coarseness on the finish.
In the same issue the 1995 Arrowood Réserve Spéciale received 95 points … and 82 points, and the Rochioli 1995 Allen Vineyard Reserve was awarded 96 points … and 85 points. These dyslexic point spreads were not the result of ADD (Alcohol Drinking Disorder); these Dickensian observations were simply a tale of two critics.
Read More