Chapter Sixteen. Part Five.
California winemakers like to imitate the French. No, they're not on strike. In an attempt to mimic the classic wines of Bordeaux, they often blend Cabernet Sauvignon, Merlot, Cabernet Franc, Petit Verdot and Malbec (the main varieties found in red Bordeaux wine), then they take a 3-hour lunch and go on strike.
Hey, I'm kidding. It's what I do. I poke fun at my friends which probably explains why my Facebook page only has unfriend and unlike buttons. Seriously, many of these Bordeaux imitations are very elegant, feminine wines – in an unshaven sort of way.
Read More
Chapter Nine, Part Five.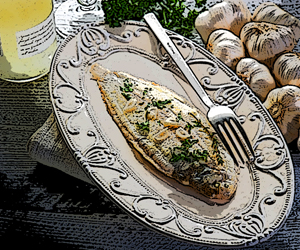 Matching food and wine by weight will put you in the ballpark when choosing the proper wine, but taste is the key to hitting an astronomic-gastronomic home run. Sweet, sour, salt, bitter, umami and piquance interact with one another in predictable ways and once you understand how these principles apply at your dining room table you'll be able to create some major league food and wine combinations. I lump these interactions into three categories I call the cancellation effect, the cumulative effect, and the neutral effect.
Read More
Chapter Eleven. Parts One & Two.
The November 1997 issue of the Wine Spectator rated the Louis Latour 1990 Corton-Charlemagne 98 points … and 88 points.
98 LOUIS LATOUR Corton-Charlemagne 1990
Exotic, wild and savage. A deep, "gonzo-crazy" terroir wine, full-bodied and packed with dried herbs, honey and spicy oak. Almost tannic in structure, it explodes like a small volcano on the palate for an unbelievable experience. Not for the faint of heart though.
88 LOUIS LATOUR Corton-Charlemagne 1990
Mature, with an herbal, slightly leathery accent to the pear and oak flavors. Shows its age via dryness and coarseness on the finish.
In the same issue the 1995 Arrowood Réserve Spéciale received 95 points … and 82 points, and the Rochioli 1995 Allen Vineyard Reserve was awarded 96 points … and 85 points. These dyslexic point spreads were not the result of ADD (Alcohol Drinking Disorder); these Dickensian observations were simply a tale of two critics.
Read More
Ever since I started announcing these posts on Twitter I've had the spooky sensation that people are following me.
Chapter Three. Part Twelve.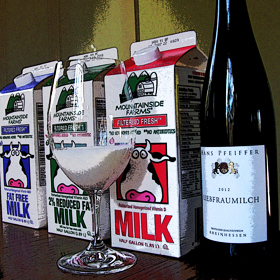 A
nalyzing wine means much more than simply identifying aromas and flavors; you must also learn to identify tactile sensations. This will help you learn what textural profile appeals to you so you can express your likes or dislikes to a salesperson when you're shopping for wine. Take full-bodied wine for example. You might love it. Your spouse hates it. Your goldfish doesn't care one way or the other. And what about wines that are crisp or creamy, hard or soft, regular or decaf?
Wine offers an abundance of textures but the tactile sensation we're discussing today is weight …
Okay, that's long enough.
Read More