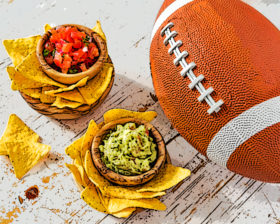 The holiday season comes to an end this Sunday. We celebrated a harvest Thanksgiving, rejoiced in the birth of our savior, and welcomed a new year. Now comes that most sacred of American holidays – the Super Bowl, a holiday commemorated by 114 million people paying homage to hostile 300-pound men battling in day-glo tights. Don't you just love this planet?
I didn't expect the Giants to make it to the Super Bowl and they didn't let me down. They lost in the first round of the playoffs and I spent the following week watching game replays on ESPN because depression makes me so happy. I was so disheartened I actually stopped eating for a minute.
To cheer me up my wife decided to have friends over on Super Bowl Sunday even though she knows I like watching football without a lot of distractions. That's why I always make the kids leave the room when the game begins. This starts with some simple cajoling but usually ends with a tantrum and a lot of tears. Sometimes the kids get upset too.
Read More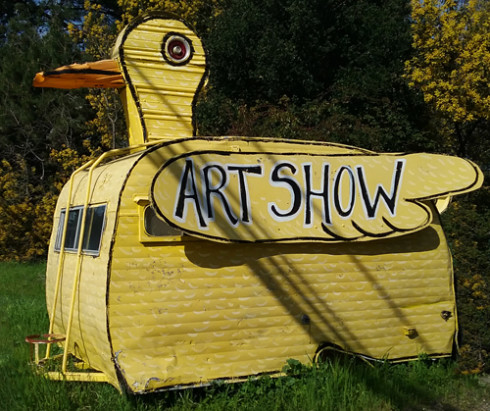 Grapevines aren't the only thing you'll spot when driving through Sonoma County wine country. As you near Sebastopol, located in the heart of Sonoma's Russian River Valley, you're likely to catch a glimpse of an immense metal cow driving a tractor in a field, or a roadside trailer that's been transformed into a colossal yellow duck. Don't worry; you haven't visited one too many tasting rooms. These and hundreds of other metallic creations are located all around Sebastopol.

I first learned Sebastopol was home to these alien personas when a glitch in my GPS system sent me off the main road and onto Florence Avenue. This quiet street, lined with cottages and mission-styled bungalows, is ground zero for the imaginative creatures created by the husband and wife team of Patrick Amiot and Brigitte Laurent (Patrick sculpts and Brigitte paints). I felt compelled to take a closer look and I soon realized that these whimsical sculptures are really garbage. I mean it. This is real trash I'm talking about. No,they're not poor quality, this art is actually created from honest-to-God junk.
Read More
Inspired by the season's first dinner on the patio (which marks the official T-time for white wine drinking) I thought I'd put down in print my take on many of the outstanding Russian River and Sonoma Coast Chardonnays I've encountered at the recent round of wine tastings.
This time around I was pounding the pavement at two outstanding events in Manhattan, one entitled "Taste of Sonoma; On Tour" hosted by an assortment of Sonoma Valley trade organizations and the other presented by wine distributor extraordinaire Michael Skurnik Wines.
Tasting season is a demanding time for the wine makers, winery owners and the assorted experts that pour wine at these events.
Read More