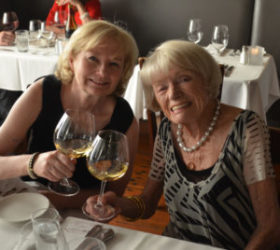 New Jersey summers are spent 'down the shore.' Every year my family heads south to read books on the beach, create music on the deck, and paint. Over the course of our vacation the growing collection of watercolor paintings, almost exclusively seascapes, flowers and lighthouses, compete for a coveted spot on the refrigerator door.
My wife Caroline brings her favorite watercolor books for inspiration and for the last few years that has included Margrit Mondavi's Sketchbook, Reflections on Wine, Food, Art, Family, Romance, and Life. Caroline owns two copies of Margrit's autobiography. The first copy, dog-eared, sand filled and paint spattered, comes with us to the beach. The second copy, pristine and autographed, is kept safely tucked away at home and in Caroline's heart.
Read More
The Auction Napa Valley 2015 came to a close on Sunday night after raising $15.8 million for programs in children's education and community health. While the total didn't break the old record, new highs were set for a single Live Auction item, the E-Auction total, the Barrel Tasting total and how many gallons of Cabernet I can drink without falling down.
The Napa Valley Vintners reported, "Since its inception in 1981, the NVV has given more than $145 million in Auction Napa Valley proceeds to Napa County nonprofits." The proceeds help more than 90,000 clients annually in Napa County, some of whom need the community health assistance after trying to lift all that money.
Read More