Sue McNerney was hoping to turn her passion for wine into a profitable business when the Napa earthquake struck on the morning of August 24th. "I was standing in the kitchen when I saw the pictures on my I-pad and I walked over to the door and I said 'Oh my God. It's gone. It's gone!' "
In 1999 Sue and her husband Bob bought property in the Coombsville region of Napa Valley with the dream of producing estate grown Cabernet Sauvignon. They converted a one-acre horse pasture on their property into a vineyard and named it Belles Filles in honor of their three daughters.
Read More
Chapter Twelve, Part Seven.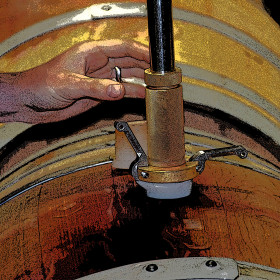 Once wine has fermented in a barrel, or been transferred into a barrel for aging from a fermentation vessel made of stainless steel, cement, or your bathtub, sediment will gradually form and settle to the bottom. If this thick, burgundy-hued sludge isn't separated from the wine it could end up in your wine glass. Then it would only be a matter of time until Riedel introduced a line of spoons to go with their stemware.
To get rid of sediment and other unwanted byproducts, most wine is racked, fined and filtered before bottling.
Read More