How the sweet red wine trend sent me off my rocker.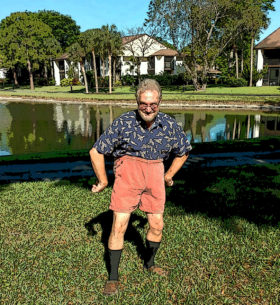 It's the fall wine-tasting season and after sampling a thousand wines over the past month I'm left with the uneasy feeling that I may be suffering from old-timer's disease. The symptoms include difficulty understanding why red wines are getting sweeter, confusion about labels that look like gothic murder scenes, and appalling marksmanship around the spit bucket. I think there might also be something about forgetfulness.
You may be thinking, "Aw fiddlesticks! Tasting wine doesn't make you feel old."
Just as sure as eggs is eggs there's a chasm forming in the bedrock of wines priced under $20 that make us prellennials scratch our balding heads and wonder what in tarnation is going on. I feel old because by golly, I can remember back in the day when wines were dry!
Read More
My family always drinks wine during religious observations, whether it's a baptism, Easter, or Super Bowl Sunday. This year is no different even though the Giants are not playing (I guess God found the New Jersey tithes a little light).
The congregation is meeting at my house this year. That's what happens when you draw the short straw (see illustration 1). We will gather around the 60″ LED 1080i high-definition altar with a glass of wine and watch colossal men try to maim and kill one another. It falls on me to pick the perfect wine to pair with this joyful occasion.
What is the calling, the hidden force, the innate primal drive that makes violent sports so appealing to men? Can anyone explain the macho impulses that drive men to create life threatening competitions like the Super Bowl, cliff diving and beer pong?
Read More
I've always been inspired by Eleanor Roosevelt, who once said, "You must do the things you think you cannot do." I took her advice to heart and I'm happy to report that I'm back at my laptop now that I've made bail.
Speaking of bail, last year I reviewed several wines from the Massanois trade tasting and I was able to attend again this year due to a glaring lapse in security. I only tasted the domestic wines this year because those are the wineries I wanted to pester into giving me a job. I've been ungainfully employed as a blogger since selling The Wine Seller last year but at least they let me keep the computer, the tax records, and the ulcer.
Read More