Chapter Eight, Part Three.
One + One = Three (The Synergy Of Umami).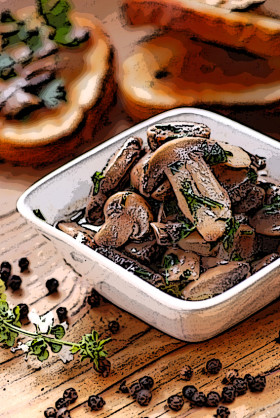 The subtle, savory fifth taste known as umami was first identified by Japanese scientist Kikunae Ikeda in 1907. In researching umami he discovered that it was linked with the amino acid glutamate and his investigations led to the development of monosodium glutamate (MSG) as a flavor enhancer. I could feed you lots of material about the development of umami-rich MSG but you would just be hungry for more in an hour.
The umami tsunami began in earnest six years after Ikeda's discovery when his follower Shintaro Kodama learned that glutamate, when combined with nucleotides, creates a dramatic flavor enhancing synergy. For example, when meat (high in the nucleotide inosinate) is combined with glutamate-rich foods like tomatoes or cheese, a significant umami boost is created. To understand the power of this synergy, think of the flattering outcome when you add cheese to a hamburger or braciola to tomato sauce (or as we say in New Jersey, you put the bruh-johl in the gravy).
Read More