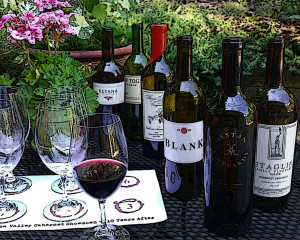 Napa Valley has proven time and again that when it comes to Cabernet Sauvignon (and its half-sibling Meritage), it is capable of producing some of the world's most jaw-dropping, heart-thumping, and awe-inspiring interpretations of this celebrated variety. Napa Valley Cabernet's most provincial quality, some might argue its finest quality, is its graceful power. Not its significant weight and texture- which can present itself like a sumo wrestler in a silk robe, nor its lumbering relationship with oak – which has been known to make termites weep with joy, not even its bold concentration, although it can offer palette-crushing substance. No, the reason we celebrate Napa Valley Cabernet is the same reason we embrace Olympic Rugby but not Olympic Badminton. It's the reason we love Star Wars, Stephen King, NASCAR, and ribeye with the bone in.
Read More
Chapter Sixteen. Part Five.
California winemakers like to imitate the French. No, they're not on strike. In an attempt to mimic the classic wines of Bordeaux, they often blend Cabernet Sauvignon, Merlot, Cabernet Franc, Petit Verdot and Malbec (the main varieties found in red Bordeaux wine), then they take a 3-hour lunch and go on strike.
Hey, I'm kidding. It's what I do. I poke fun at my friends which probably explains why my Facebook page only has unfriend and unlike buttons. Seriously, many of these Bordeaux imitations are very elegant, feminine wines – in an unshaven sort of way.
Read More