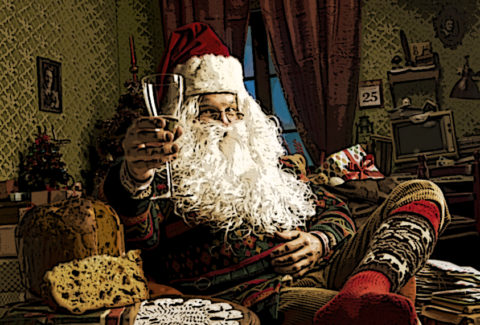 'Twas the night before Christmas and all through the winery,
my tasting room staff wore their holiday finery.
The sales were outstanding. 'Twas like nothing before.
All the wines (even Merlot) seemed to fly out the door.
My winemaker fretted as the deadline drew near.
Wine Spectator 100, would this be the year?
To be on that list would be so prestigious.
But another year missed would be so egregious.
Then out in the vineyard there arose such a clatter.
I feared it was mildew, Pierce's or shatter.
There, atop a small sleigh that defied quantum physics,
sat a round, bearded man and eight tiny critics.
They were chuggin' down Harlan, the music was crankin'.
I knew in a moment it had to be Shanken.
Read More
Chapter Sixteen. Part Five.
California winemakers like to imitate the French. No, they're not on strike. In an attempt to mimic the classic wines of Bordeaux, they often blend Cabernet Sauvignon, Merlot, Cabernet Franc, Petit Verdot and Malbec (the main varieties found in red Bordeaux wine), then they take a 3-hour lunch and go on strike.
Hey, I'm kidding. It's what I do. I poke fun at my friends which probably explains why my Facebook page only has unfriend and unlike buttons. Seriously, many of these Bordeaux imitations are very elegant, feminine wines – in an unshaven sort of way.
Read More
Chapter Thirteen, Part Four.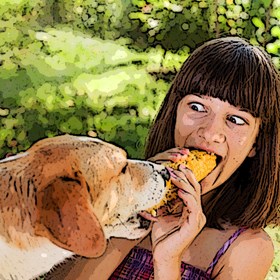 Not long after Kikunae Ikeda discovered umami, a French physician by the name of Louis Maillard (pronounced my-ARD) described the chemical reaction that takes place when amino acids combined with sugar are exposed to heat. This transformation, once known simply as browning, is now called the Maillard reaction. (It is rumored the original name, browning, was named after Maillard's cook, Dorothea Brown.)¹
The Maillard reaction is what turns toasted bread a golden brown and creates the seared crust on protein rich foods like steak or chicken. I think my neighbor was grilling some protein rich food last night because I heard him say, "Hey Carter. Get your dog out of Maillard!"
Read More