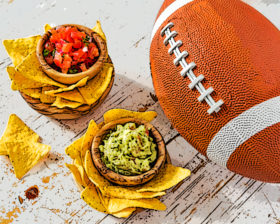 The holiday season comes to an end this Sunday. We celebrated a harvest Thanksgiving, rejoiced in the birth of our savior, and welcomed a new year. Now comes that most sacred of American holidays – the Super Bowl, a holiday commemorated by 114 million people paying homage to hostile 300-pound men battling in day-glo tights. Don't you just love this planet?
I didn't expect the Giants to make it to the Super Bowl and they didn't let me down. They lost in the first round of the playoffs and I spent the following week watching game replays on ESPN because depression makes me so happy. I was so disheartened I actually stopped eating for a minute.
To cheer me up my wife decided to have friends over on Super Bowl Sunday even though she knows I like watching football without a lot of distractions. That's why I always make the kids leave the room when the game begins. This starts with some simple cajoling but usually ends with a tantrum and a lot of tears. Sometimes the kids get upset too.
Read More
My family always drinks wine during religious observations, whether it's a baptism, Easter, or Super Bowl Sunday. This year is no different even though the Giants are not playing (I guess God found the New Jersey tithes a little light).
The congregation is meeting at my house this year. That's what happens when you draw the short straw (see illustration 1). We will gather around the 60″ LED 1080i high-definition altar with a glass of wine and watch colossal men try to maim and kill one another. It falls on me to pick the perfect wine to pair with this joyful occasion.
What is the calling, the hidden force, the innate primal drive that makes violent sports so appealing to men? Can anyone explain the macho impulses that drive men to create life threatening competitions like the Super Bowl, cliff diving and beer pong?
Read More