Chapter Eight, Parts One & Two.
Where Have You Been All My Life?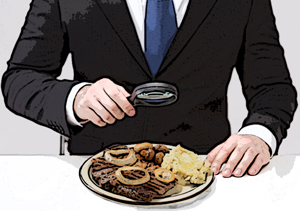 Sweet, sour, salt, bitter … sweet, sour, salt, bitter. I repeated those words at so many events for so many years that the phrase was like my own personal mantra, rooted in my psyche by daily visits to the Deli Lama. Just imagine my concern when I learned of umami – the existence of a fifth taste was surely going to throw off my mantra rhythm. Sweet, sour, salt, bitter … UMAMI? It has a good beet but you just can't trance to it.
Not only did this secretive fifth taste exist, it existed right under my nose – where my mouth is conveniently located. I knew if I was ever going to get my mantra groove back I needed to embrace the mystical taste I'd overlooked for so long. I gathered articles and books on the subject and soon learned that describing the taste of umami is like describing the flavor of wine, it's just so many words on a page. Umami, like wine, must be experienced to be understood.
Read More