Chapter Seven, Part One.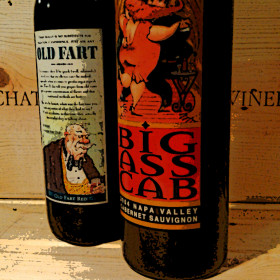 I know the wine trade is steeped in tradition but does that mean wine labels have to be as dry as the wines they adorn? Apparently not, as wine labels with quirky names and images now populate the shelves of nearly every wine retailer.
Some of these labels are as offensive as the swill inside the bottle but the movement towards nontraditional labeling has also caught on with many quality producers. Today you can find outlandish labels on many outstanding wines; labels that are whimsical, outrageous, or in some cases, uniquely practical.
Should the lights go out when you're enjoying a Pinot Noir from the Carneros Della Notte winery you won't have any trouble finding the bottle because theirs is the first wine label to glow in the dark (much like my nose after analyzing a Big Ass Cab).
Read More