Ever since I started announcing these posts on Twitter I've had the spooky sensation that people are following me.
Chapter Three. Part Twelve.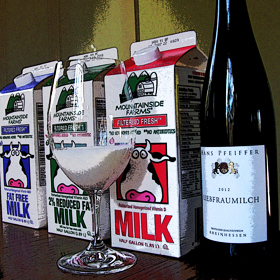 A
nalyzing wine means much more than simply identifying aromas and flavors; you must also learn to identify tactile sensations. This will help you learn what textural profile appeals to you so you can express your likes or dislikes to a salesperson when you're shopping for wine. Take full-bodied wine for example. You might love it. Your spouse hates it. Your goldfish doesn't care one way or the other. And what about wines that are crisp or creamy, hard or soft, regular or decaf?
Wine offers an abundance of textures but the tactile sensation we're discussing today is weight …
Okay, that's long enough.
Read More