The impact of the chemical reactions taking place in your mouth when you combine food and wine can be very obvious when you're experiencing the cancellation effect or the cumulative effect, but there's another interaction between food and wine that's just as rewarding, but much less pronounced. I call this subtle interplay the neutral effect. I realize that describing a food and wine pairing as neutral sounds sort of, well … neutral, but that doesn't mean these combinations are boring. Neutral pairings occur when similar flavors come together in a safe, reassuring place, sort of like Switzerland.
Read More
Chapter Nine, Part Five.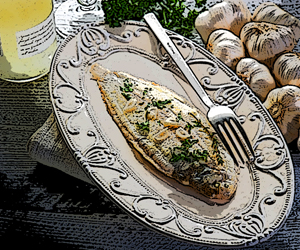 Matching food and wine by weight will put you in the ballpark when choosing the proper wine, but taste is the key to hitting an astronomic-gastronomic home run. Sweet, sour, salt, bitter, umami and piquance interact with one another in predictable ways and once you understand how these principles apply at your dining room table you'll be able to create some major league food and wine combinations. I lump these interactions into three categories I call the cancellation effect, the cumulative effect, and the neutral effect.
Read More