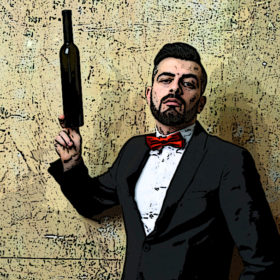 Lately I've come across several articles about the uncomfortable task of rejecting a flawed bottle of wine when it arrives at your table. I thought I'd join the conversation since I've been married for over 30 years and that qualifies me as an expert in rejection. It's actually been a great 30 years and my wife openly admits it's been the best ten years of her life. If she could turn back time she wouldn't ask me to change a thing – except maybe the white suit I wore for ten years following Saturday Night Fever.
Years ago a new restaurant opened in our neighborhood and given the high praise it received from the gourmand filling my gas tank I decided to put on my white suit and take my wife there for her birthday. It's these kinds of decisions that make me the unequivocal rejection expert I am today.
Read More
Chapter Thirteen, Part One.
"Oak in wine should be like a ghost in a chateau; you sense its presence, but you don't actually recognize it." Pierre Seillan
Before his untimely death in 2002, I had lunch with Bruce Guimaraens, the fifth generation winemaker for the esteemed port houses Fonseca and Taylor-Fladgate. Guimaraens was the great, great grandson of Manoel Guimaraens, who founded Fonseca-Guimaraens in 1822. I probably think being a great, great grandson is a big deal because I was never a great, great grandson; I was just an average great grandson.
Read More